Gene Fortson
Position 9 At-Large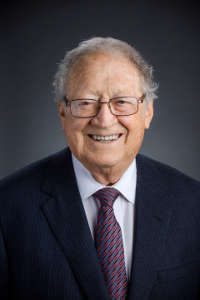 Gene Fortson is the Position 9 At-Large City Director. He was appointed to fill a vacancy on the City Board in September 2006. He has been elected to terms in 2008, 2012 and 2016. From January 2009 until December 2010, he served as Vice Mayor of the City of Little Rock.

A native of Central Arkansas, Director Fortson has degrees from Little Rock Junior College (now UALR), the University of Arkansas at Fayetteville, and the Kellogg Management School of Northwestern University. He has also completed graduate work at Wichita State University.

Prior to his service on the City Board of Directors, he served on the Little Rock Airport Commission, including three terms as chairman. From 1999 to 2001, he served as Co-Chairman, Transportation Task Force of Vision Little Rock.

For more than 20 years, Director Fortson worked for Worthen Bank and Trust, including five years as Chairman and CEO. He later served as CEO of Stebbins and Roberts, Inc. (Sterling Paint Manufacturing Company) for 16 years. Director Fortson has also been President of Colorguild, Inc., and a partner in a variety of other businesses and real estate enterprises.

Director Fortson has been involved in a variety of community activities throughout his career. He was one of the founding trustees of Pulaski Technical College. He has served on the St. Vincent Infirmary Medical System Board of Directors and was President of the Centers for Youth and Families Board. He is a past member of 50 for the Future.

He and his wife Gaylia have two adult children and six grandchildren. He is a member of St. James United Methodist Church.                       
Current Term:
January 1, 2017 to December 31, 2020
Current City Appointments:
                       
Member of Advertising and Promotion Commission
Liaison to Central Arkansas Water Commission
Contact Information:
 
Home:
     
     
133 Hickory Creek Circle
Little Rock, AR 72212
(501) 868-4664
Office:
 

         
Little Rock City Hall
500 West Markham - Room 203
Little Rock, AR 72201
(501) 371-4510
Email:
board@littlerock.gov