Aircraft Firefighting and Rescue Division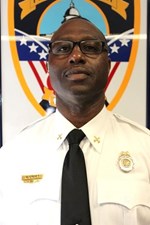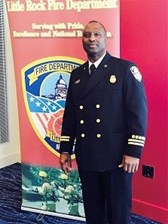 Safety is of utmost importance in protecting the public who choose to travel by commercial air transportation. Also the private General Aviation community who call Clinton National Airport (CNA) their home. The Aircraft Rescue and Fire Fighting (ARFF) Division is responsible for responding to aircraft incidents and accidents at  Bill and Hillary Clinton National Airport as well as providing emergency medical assistance as first responders. In addition, ARFF personnel conduct fire safety inspections of mobile fuel trucks and fixed fuel servicing facilities in partnership with Airport Operations.  All Firefighters assigned to the ARFF Program must meet the Federal regulations regarding certification and training.
The Division is staffed with twelve (12) personnel consisting of nine (9) Fire Apparatus Engineers and three (3) Company Officers. These personnel are divided into three (3) shifts and overseen by a Division Chief. The ARFF station has four (4) state-of-the-art Emergency Response Vehicles assigned to the staff. There are an additional twelve (12) Firefighters who provide support to the ARFF staffing and meet the same training regulations as personnel directly assigned to the Aircraft Rescue and Firefighting (ARFF) station. The goal of the division is meet every emergency with timely, efficient and professional service to exceed the expectations of the customers at CNA. In the event of an emergency aircraft incident or accident, ARFF personnel are prepared to deliver services 24/7 365.
The Division is under the Command of Division Chief Wayne Craft. Chief Craft has been employed by the Little Rock Fire Department since 1987. Chief Craft served in the Operations division for most of his career. Before Chief Craft was assigned to Division Chief, he served as a Training Officer and Aircraft Rescue and Firefighting Coordinator. He is an International Fire Service Accreditation Congress (IFSAC) certified Instructor, (IFSAC) Driver Operator. Chief Craft is a member of the Arkansas Fire Chief's Association, International Association of Fire Chiefs and the Black Chief Officers Committee.
For More Information
Division Chief Wayne Craft
1000 Temple Street
Little Rock, Arkansas 72202
Phone: (501) 374-3467
Fax: (501) 918-3734