Fire Operations Division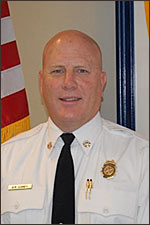 The Fire Operations Division consists of twenty (21) Engine Companies, eight (8) Ladder Companies, one (1) Heavy Rescue (USAR) and one (1) Hazardous Materials Unit all overseen by Assistant Fire Chief Douglas Coney. Under his immediate command are thirteen (13) Battalion Chiefs, and one Division Chief. These companies respond from twenty-one (21) strategically-located fire stations within the City. The City is divided into four (4) fire battalions, and commanded by four (4) Battalion Chiefs each day.
Besides fire protection, other services provided by the Operations Division include:
Urban Search and Rescue, (high angle, water, trench, etc.)
Extractions from automobile accidents, construction accidents, etc.
Hazardous Materials Response
Water Tanker
Bomb Squad (FBI Certified)
 Operations Division personnel are also responsible as first responders on trauma and medical calls. Each employee possesses EMT certification, and is able to provide basic life support.
Assistant Chief Coney has been a member of the Little Rock Fire Department since March 1984. Chief Coney started his career as a firefighter assigned to Central Fire Station and has held the following positions:  Firefighter; Fire Apparatus Engineer; Captain; Training Officer; Battalion Chief (Operations); Training Chief; and Assistant Chief. He is an International Fire Service Accreditation Congress (IFSAC) Certified Instructor, (IFSAC) Driver Operator, Hazardous Materials Technician and an Arkansas Fire Academy Adjunct Instructor. Chief Coney is a member of the International Association of Fire Chiefs, Arkansas Fire Chiefs Association and The National Fire Protection Association.
For More Information
Assistant Fire Chief Douglas Coney
624 South Chester Street
Little Rock, Arkansas 72201
Phone: (501) 918-3700
Fax: (501) 918-3734