Fire Prevention/Code Enforcement and Community Outreach Division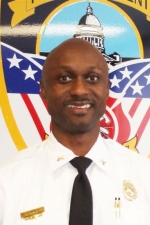 The Fire Prevention/Community Outreach Division, is responsible for Fire Safety Education, for determining the origin, cause and circumstances of fires and explosions that occur in the City of Little Rock; ensures the enforcement of fire prevention and related codes by inspecting facilities in the City; investigates citizen complaints and Internal Affairs matters; inspects night clubs for occupancy and code compliance; issues and monitors burn permits; monitors fire alarm, fire pump, fire sprinkler, and fire standpipe tests; and many other activities to ensure the safety and welfare of the citizens of Little Rock.
The Fire Prevention/Community Outreach Division consists of the Chief Fire Marshal, Deputy Fire Marshal, seven (7) Assistant Fire Marshals that includes two (2) Public Education Officers, and one (1) Accreditation Manager.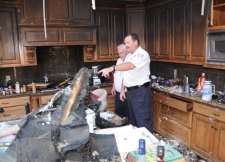 The Fire Marshals are charged with the investigation of fire scenes including structures, vehicles and other fires for the purpose of determining the origin and cause of these fires. This function is helpful in bringing perpetrators of incendiary fires to justice and preventing future accidental fires through knowledge and public education.
The Internal Affairs Division consists of the Chief Fire Marshal, Deputy Fire Marshal, and two (2) Assistant Fire Marshals. They are responsible for the investigation of complaints pertaining to all departmental employees, whether the complaints are inter-departmental in nature or made by a member of the public. The Fire Chief issues a written directive to the Chief Fire Marshal for an investigation to be conducted. These investigations are conducted and referred back to the Fire Chief who makes a ruling on the investigation. The purpose of the investigations is to exonerate the innocent and to administer fair discipline when necessary.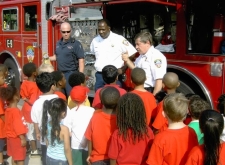 The Little Rock Fire Department provides fire safety programs to the Little Rock public and private schools. Under the direction of the Public Education Officer, the Division delivered on average over 630 programs and events for schools and other venues. The Little Rock Fire Department teaches fire safety education to children and adults. In addition, they teach E.D.I.T.H (Exit Drills in the Home) and "sleep with your doors closed" to children. This instruction is highlighted by utilizing the safety trailer or a stage prop window that is taken to the school or classroom. Our newest stationary safety house, located at the Little Rock Fire Department Training Facility, is used for large station tours. The Little Rock Fire Department also participates in many health fairs, parades, block parties and other community outreach events to teach and provide a positive image of the fire service.
The Fire Prevention/Community Outreach Division is overseen by Division Chief Joseph Gray. Chief Gray has been a member of the Little Rock Fire Department since October 1987. Most of his career has been in Fire Operations. He has commanded all types of fires from residential to major commercial structures and has brought this experience to the Public Education Division. Chief Gray holds a Bachelor of Science Degree from the University of Central Arkansas. His memberships include: the International Association of Fire Chiefs; Arkansas Association of Fire Chiefs; Black Chief Officers Association; International Association of Black Professional Firefighters; and he is also a member of Omega Psi Phi Fraternity.
For More Information
Little Rock Fire Department
624 South Chester Street
Little Rock, AR 72201
Phone: (501) 918-3700
Fax: (501) 371-4485
Visit Sparky.org for more information.