Meet the Director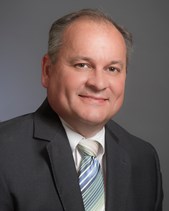 Mr. Randy Foshee is the director of the City of Little Rock Information Technology Department.  Randy began his technology career with the city in 1982 working his way from mainframe operations to the advanced private and public cloud technology of today.  As a night operator for the City mainframe while in college, upon graduating from Arkansas College of Technology with a degree in Computer Programming, he moved into programming with the City and worked his way up through the programming ranks, being promoted as the first Network Security Manager, after which came the appointment to Director of Information Technology in 2007.
In his current position, he oversees and directs all technology for the City of Little Rock's fourteen Departments.  The IT Department itself is comprised of five divisions: Administration, Applications, Operations, Public Safety Applications and Network Security, with an authorized strength of 41 staff members which supports a network of over 1600 workstations and 2000 users.
Randy has personally developed programs for Finance, Payroll, and countless Public Safety systems.  He has overseen the creation of a program for mobile computers in police vehicles which makes electronic police reporting a reality, as well as a Records Management System to manage the data generated.  He was instrumental in the design and implementation of a citywide network, constantly pushing the City of Little Rock to embark on new technology.
In recent years, the concern around Cyber Security has been a top priority for Randy and his team.  He was the driving force behind the purchase of a Dell Cyber Security solution.  Randy reiterated the importance of information security by sending out cyber security training through the city's system for all city employees.  The Department has upgraded its firewalls in both of its Data Centers and will begin the installation of a new Network Core soon.  The recent implementation of a state-of-the-art CAD system in the 911 Center to improved response times to citizens as well as officer safety when responding to calls for service.  The IT Department is also working to convert all phones over to the Voice over Internet Protocol Phone (VoIP) system to provide more reliable and specialized service.
The IT Department, under Randy's direction, always strives to provide excellent service to all city employees in a secure, safe environment.
Randy Foshee, Director
Information Technology Department
718 West Markham Street
Little Rock, AR 72201
(501) 371-4745
LRITInfo@littlerock.gov