The City of Little Rock's Eighth Annual Sustainability Summit to be held on March 30, 2017 

This year we will share a report card style update on the progress of 2020 Sustainability Roadmap. The Summit will focus on three goals from the Sustainability Roadmap. The goals to be discussed are the new Fresh2You Mobile Farmers Market, the City's efforts to promote green roofs, and our improvements in accessible alternative transportation!
We are happy to announce that the Summit will be held in the newly designed ballroom at the renovated Robinson Center, which was renovated in a sustainable manner. Please join us at the Summit as we strive to make our City more sustainable! Thursday, March 30, 2017, 8:30 AM – 1:30 PM. Click here to register.

The Sustain the Rock Awards recognize businesses, non-profits, individuals and departments and employees of the City of Little Rock who, by embracing and promoting an approach to business and daily living that balances environmental responsibility, economic prosperity, and community equity, have made significant contributions to a more sustainable Little Rock. If you would like to nominate a worthy individual or business for the award, please review the 2017 Nominations Fact Sheet, available here.
_________________________________________________________
Click here to view the opening video from the 2016 Summit, "Fourche Creek Float" with Mayor Mark Stodola.
_________________________________________________________
To view the City of Little Rock's 2020 Sustainability Roadmap click on the red image below.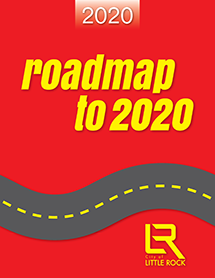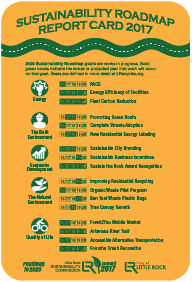 To view our Sustainability Inventory, click here. The inventory is a chronological listing of significant City of Little Rock sustainability initiatives and partnerships
---