About the RCDC
The seed for the Racial and Cultural Diversity Commission were planted in the fertile ground of the City's 1994 FUTURE-Little Rock program and continues through the Vision Little Rock process to examine typical city concerns – crime, education, dismantle racism. Race relations kept surfacing as an obstacle to achieving goals in each of these task force areas. Race relations was identified as the second most important area needing the city's attention by the FUTURE-Little Rock program and sixth as a priority for city concerns by the Vision Little Rock process.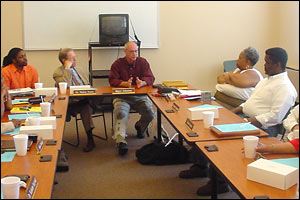 The Commission believes it is vital to focus energy on two (2) fronts concurrently: 1) Education to transform individual attitudes and behaviors of prejudice and racism; and 2) Institutional change with regards to empowering institutions to dismantle racism, and to value and utilize diversity. These two approaches must be integrated to produce a community that truly reflects racial and cultural harmony.
The Racial and Cultural Diversity Commission has been vested with the public trust, the obligation to perform and the right to act. The Racial and Cultural Diversity Commission always acts as a body. The Commission welcomes the richness of diversity of opinion and experience in the expression of individual perspectives regarding matters under consideration; however, only the Commission as a whole has the authority to take a position on any matter before it. An individual member cannot decide for the group, nor exercise his/her authority alone. The Commission will reach decisions and exercise authority through collective action.
The Racial and Cultural Diversity Commission has the primary responsibility for planning the direction the Commission should take and in defining the end results it should seek. The Commission then delegates major responsibility to the Executive Director for finding the means necessary to achieving those ends. The day-to-day operations of the Commission and implementation of Commission projects and programs will be the responsibility of the Executive Director. Commissioners will provide volunteer support with the implementation of projects and programs of the Commission.
For More Information
Little Rock Racial and Diversity Commission
500 West Markham Street, Suite 220W
Little Rock, Arkansas 72201
Phone: (501) 244-5483 / Fax: (501) 244-5467
Ericka Benedicto - Diversity Program Manager Office
(501) 244-5483
ebenedicto@littlerock.gov
Juanenna Williams - Diversity Program Assistant
(501) 244-5483
jkwilliams@littlerock.gov