Education and Policy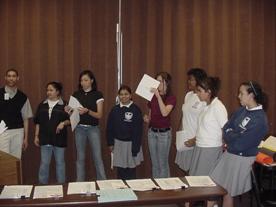 Purpose
To assist educational institutions in Central Arkansas to share information and work together on initiatives to promote positive race relations and develop an understanding of other cultures.
Goals
To expose faculty, staff, and students to other cultures beyond a superficial level. To insure that people from all races and cultures feel comfortable on school campuses. To move beyond bi-culturalism (African-American and White).
"Keepin' It Real" is organized by the RCDC Youth Diversity Advisory Committee, which is made up of students from Central Arkansas high schools. The highlight of this event is a series of workshops conducted by students discussing the racial/cultural environment at their schools and how to enhance that environment.
Workshop Goals
Students and sponsors will complete the workshop with . . .
An awareness and understanding of our differences and commonalities and an appreciation of our interconnectedness--regardless of our differences.
An ability to recognize one's own and others' prejudices and to confront them in a positive, assertive way.
A heightened awareness of and sensitivity to diversity issues.
An ability to demonstrate cross-cultural communication skills and conflict resolution skills within a cultural context.
An ability to lead group discussions on diversity issues.
Measurable, relevant, and realistic goals and action plans based on the unique cultural climate of each school
An ability to plan and implement school-based activities and programs that promote racial/cultural harmony in their schools.
A sense of team purpose and cohesiveness that will encourage continuity.
Knowledge about how to create an effective organizational structure.
Youth Diversity Advisory Committee: Is an arm of the RCDC Education Committee that advises and encourages Central Arkansas educators, students, and others to play a leadership role in addressing the issues of diversity and education.
School-Based Diversity Council: Is an on-going initiative that promotes inclusion at area schools with an emphasis on tolerance, unity, and diversity education. Its purpose is as follows:
To promote open, honest dialogue about diversity issues among students, faculty, staff and the administration.
To promote interracial closeness, trust, and positive attitudes toward others of different cultural and/or ethnic background.
To provide opportunities for personal development and leadership skills enhancement.
To provide opportunities for making decisions and for assuming responsibilities.
Activities
Prepare for the second annual Keepin' It Real conference for high school students of Pulaski County
Establish diversity councils in the high schools of Pulaski County