Little Rock / North Little Rock Bike Share *
Bike share is coming to our area!  Metroplan is proud to partner with Bantam Strategy Group and BCycle to bring a top-tier bike share program to Little Rock and North Little Rock.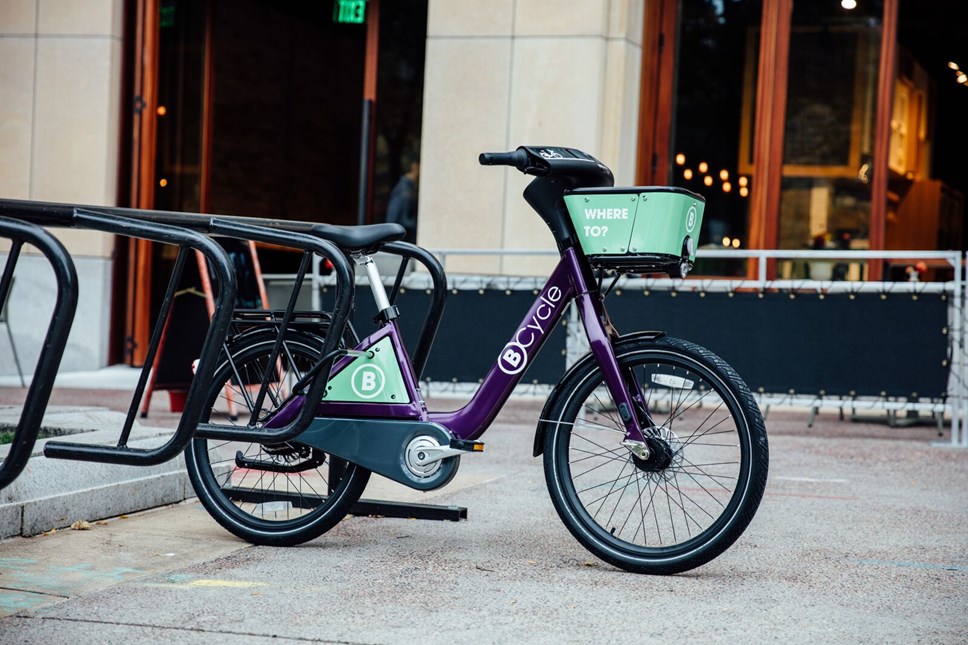 Figure 1.  This is our new steed, the BCycle Dash.  Image provided by BCycle.
What's Bike Share?
"Bike sharing is an innovative transportation program, ideal for short distance point-to-point trips providing users the ability to pick up a bicycle at any self-serve bike-station and return it to any other bike station located within the system's service area." Pedestrian and Bicycle Information Center
Why Bike Share?
Bike share is a means to address the concerns of citizens articulated in Metroplan's Imagine Central Arkansas, Little Rock's 2020 Sustainability Roadmap, and other feedback mechanisms.  In 2016, the League of American Bicyclists identified launching a bike share program as a key step in making Little Rock more bike-friendly.  Among other benefits, bike share will help make our community healthier, safer, and more independent.  
Are We Ready?
Bike share benefits from a quality network of bicycle trails and on-street bicycle facilities, but bike share can also facilitate these improvements.  Bike share has the potential to create a culture shift in downtown Little Rock and North Little Rock, making the bicycle a more recognized and safer means of transportation within the focal area.
Bantam Strategy Group
Bantam Strategy Group is a leading turn-key bike share management and operations company for small-medium size cities and, in our search committee's experience, is enthusiastically recommended by everyone with whom they do business.  Bantam will employ a local team of full-time employees whose sole job is to provide a quality bike share system to our community.  Bantam is a 100% women-owned business.
BCycle
In a volatile market, BCycle is the bike share company that has stood the test of time.  A subsidiary of Trek, BCycle bikes are well-known as some of the highest quality bikes in the bike share market.  Each day, BCycle supports the operation of over 10,000 bike share bikes and 1,000 stations spread across over 45 cities in North and South America. Most importantly, this includes the ongoing operation, maintenance, and development of the software that makes all of these interconnected systems work.
The Bike
The BCycle Dash features full-time active GPS and a state-of-the-art heads up display and touchscreen, which can help guide the user to her destination on bike-friendly streets (Figs. 1 & 2). Some of the more notable features of the Dash bike system include:
Turn-by-turn directions with audio support on the heads-up display when paired to a rider's smartphone using the BCycle app;
Active GPS and accelerometer on all bicycles;
8 speed, internally geared bike designed and engineered by Trek specifically for bike share;
The ability to reserve a bike
The BCycle Dash was designed by Trek specifically for bike sharing. It is fun to ride, low maintenance, easy to adjust, and comfortably fits riders from 4'10" to 6' 5". The bicycle features an onboard self-charging GPS computer that runs off the power generation of the built-in solar panel (Fig. 3).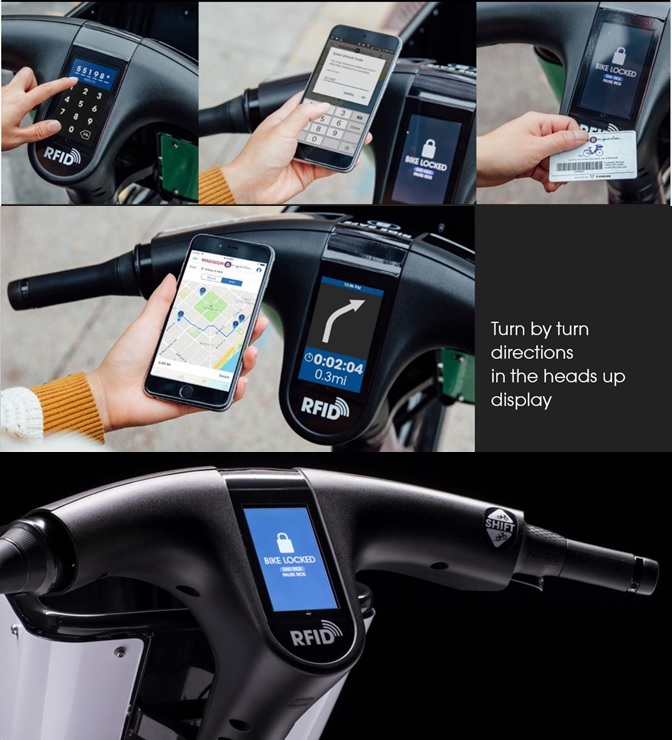 Figure 2.  The Dash's touchscreen, the BCycle app, and the optional RFID card allow several options to interface with the system when checking out and returning a bike.  Turn-by-turn navigation with audio prompts can help get the user where she wants to go.  Images provided by BCycle.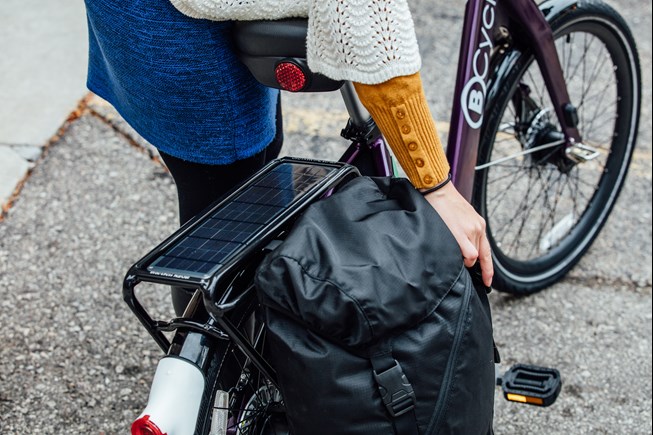 Figure 3.  The Dash's solar charging panel on the back rack still provides plenty of space for rear lights and user-supplied cargo bags.  The basket on the front of the bike provides cargo space as well.  Image provided by BCycle.


The System/Station Placement
The initial launch will have 200 bikes and 20-25 stations.  Station locations have been considered for over a year.  Usage data from other communities shows that high station density is critical for program success.  For that reason, our initial launch focal area will only be in downtown Little Rock and North Little Rock, likely not farther north than Argenta in North Little Rock, not farther south than SOMA, not farther east than Heifer International, and not farther west than the Capital Mall (and perhaps more spatially limited than this).  Consistent with our goal of making this program an accessible transportation option, key targets for bike share stations will include the Little Rock Rock Region Metro hub, high density parking, high density employment centers, and concentrations of restaurants/attractions.  The program will create a park and ride opportunity in North Little Rock.  Sponsorship may inform station placement as well.  
We still have much to consider regarding station locations.  We know our community and its needs very well and Bantam is well-versed in bike share best practices.  In the upcoming months, our community and Bantam will apply all of this experience to create a network that meets our needs but is also informed by the lessons learned in other communities to facilitate program success.   New stations will be added to the system with system expansion.  Stations will be light and modular bike racks, allowing us to easily shift station location based on usage data in our community to optimize our network.
User Interface / Check Out Process
Riders can engage the system in multiple ways. The mobile app and website will be the primary means for users to sign-up and register an account. Once registered, the user can engage the system in the following three ways (Fig. 2):
Touchscreen on-bike technology with a unique user ID and pin
Mobile app checkout
Bike share specific RFID card
Online registration:
Subscriber goes to the website
Under "Join Now", the subscriber creates a username and password and completes their profile information and accepts a liability waiver
Subscriber chooses a membership type and enters their credit card information to create an account
The user chooses the membership type that they would like to purchase. The user may choose to purchase an RFID card or may choose to access their membership through the use of their smartphone. The RFID card will allow the user to check-out a bike using the smart bike technology directly on the bike.
Once signed up, each member enjoys his or her own personal profile and account pages.
Casual (walk-up) user:
User downloads the BCycle mobile app and purchases a pass using the sign-up process in the application.
The user now has access and can take a bike out from the system using their smartphone.
The App
In 2016, BCycle released major upgrades to its mobile app. As part of its dedication to providing many points of access for riders, the BCycle app now offers mobile checkout and extensive map-based routing functionality. This mobile app makes bike share accessible and appealing to more users, as it eliminates a key barrier to entry: "How do I get where I'm going using bike share?" The new BCycle app makes it easy for new users to join and navigate a system, and will become a favorite tool for existing members to quickly get a bike from a station or interact with their BCycle operator. 
When Will It Launch?
The program will launch in Spring 2019. 
For more information, please contact City of Little Rock Bicycle and Pedestrian Coordinator John Landosky jlandosky@littlerock.gov.
* Portions of this page are the modified content of Bantam Strategy Group's Metroplan Bike Share Proposal and from Bantam's Press Release.