Bike Share Sponsors
Metroplan has selected impressive partners in Bantam and BCycle.  In addition to providing many benefits to our community, this bike share program is going to get a lot of attention in our community and in our region.  Your association with this program at its inception will be a powerful means of promoting your organization and demonstrating your commitment to our community.  Unlike print media, this branding will be something with which people interact and associate with positive experiences daily (Fig. 1).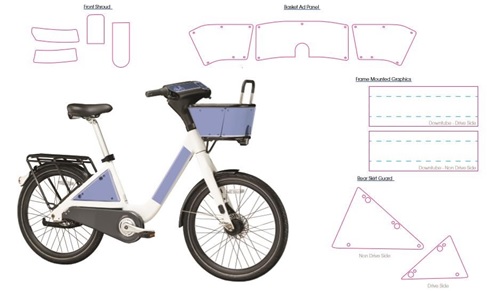 Figure 1.  Bantam has several ways to showcase the brands of bike share sponsors on the BCycle bikes and is considering creative ways to brand bike stations as well.
Bantam will provide sponsorship packets to help identify opportunities for sponsors to advertise their brands and the terms of different sponsorship options.  These packets will not be finalized until Bantam and Metroplan negotiate a contract (the contract will inform the terms of sponsorship).  As soon as the contract is negotiated and signed, Bantam will finalize sponsorship terms and distribute packets to organizations who have expressed interest in partnering.  
Potential Sponsorship Benefits:
* Identifying your organization as a supporter of our community
* Different types of branding opportunities on the bike
* Branding on the bike share mobile app
* Branding on mobile app push notifications
* Branding on print materials
* Branding on the bike share website
* Short-term (~4 week) banner advertisements on the bikes
* Branding on bike share stations
* Gift certificates, short-term promotions, and coupons
* Special recognition as a "Founding Member" who helped launch bike share in our community
* Determination of the location of a bike share station(s) (depending on level of sponsorship)
* Discounted or free use of the system for your employees/members/students (depending on level of sponsorship)
If you believe that bike share sponsorship might benefit your organization, please contact Bantam Strategy Group President and CEO Lindsey Gray West, lindsey@bantamstrategygroup.com, for more information.  Thank you for your interest and we look forward to talking to you about this partnership opportunity!