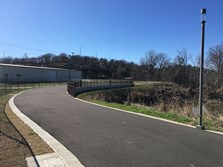 ART - West Terminus
Projects
This page highlights some of the recent and current BikePed projects in Little Rock.  This page focuses on physical facilities for bikes (such as paths, lanes, sharrows, and parking) and pedestrians (such as paths and sidewalks).  This is not an exhaustive list of bicycle and pedestrian projects in Little Rock.
Current Projects
These are projects that are approved, funded, and are currently in some stage of being completed.
Possible Future Projects
The following projects are in some stage of development, but their completion is not yet certain.
Types of Projects
There are several types of projects that can improve the safety and comfort of walking and biking in our community.  This section highlights some of those types of projects.
What Can I Do?
Many residents would like more bicycle and pedestrian facilities in their communities, but they are not sure how to make that happen.  Check out the presentation I gave to the Neighborhood Connections meeting on July 22, 2017 to learn some actionable steps you can take to help implement Complete Streets.