Broadway Bridge Connection Infrastructure Request
Public Works is currently taking requests from residents for infrastructure projects for the 2019-2021.  I have been approached from several people who are interested in projects that would make Little Rock a better place for bicycle and pedestrian modes of transportation but who are not familiar enough with current BikePed challenges and opportunities to make a meaningful request.  It is in that spirit that I share with you this and other ideas.  Unless Little Rock residents fill out an infrastructure request form for this idea, it will not be considered for the 2019-2021 funds.  The demand for each idea is measured, in part, by the number of residents requesting an idea.  Support from local organizations, businesses, and neighborhood associations can also help increase the likelihood that a project is selected for implementation.  Requests are due by September 30, 2017.
ArDOT created an outstanding bicycle and pedestrian facility on the new Broadway Bridge (Fig. 1).  The BikePed facility is one of the reasons the bridge is nominated for a prestigious national award.   The City of Little Rock Parks and Recreation partnered with ArDOT to make a strong connection between the Broadway Bridge and the Arkansas River Trail, primarily for recreational pedestrians and cyclists.  The City is still considering how best to create a strong link between the Broadway Bridge BikePed facility and on-street bike facilities to support bike commuter use.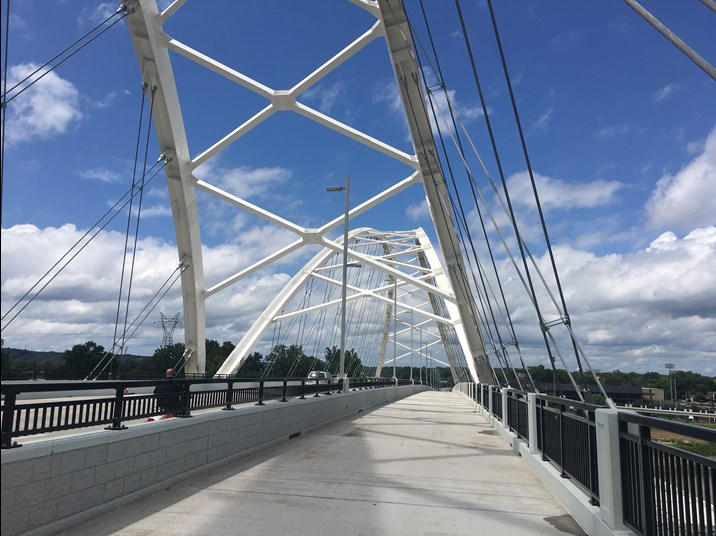 Figure 1.  The separated bicycle and pedestrian space on the Broadway Bridge is suitable for recreation and transportation.
This is not an easy connection to make.  Immediately east of the Broadway Bridge, there are trolley tracks on W. Markham and Spring Streets (Fig. 2); the potential for the tracks to cause a bicycle crash make these roads unsuitable for a route.  Broadway has too much vehicular traffic to support sharrows and not enough width to create bike lanes (Fig. 2).  Arch and Gaines Streets are not a good north-south corridors because they don't have traffic lights to facilitate crossing 3rd Street and they both cease between 4th and Capitol (Fig. 2).  
State Street, the route proposed on the Master Bike Plan, may be the best north-south continuation of the Broadway corridor possible (Fig. 2).  Markham already has sharrows in the westbound lane between Broadway and State St.  State St. already has sharrows in the northbound lane between Markham and 4th St.  When professional planners consider bike transportation corridors, they may have better ideas to create the best connection possible between the low-stress Broadway Bridge facility and an on-street bike network.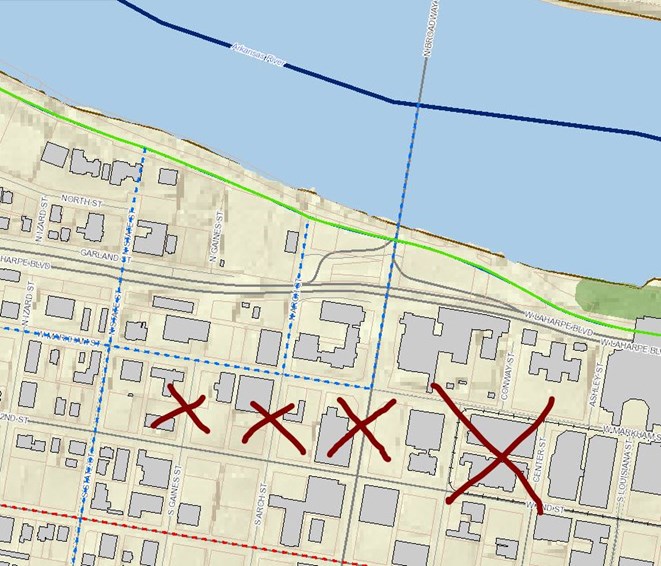 Figure 2. It is important to connect the Broadway Bridge BikePed facility to a quality, on-street bicycle network, but existing conditions make that challenging.  Trolley tracks block an east route, traffic conditions and road width block a straight route, and Arch and Gaines Streets to the west are not continuous.
If this is a project you would like to see completed, feel free to use any of the language below to complete an infrastructure request form and submit it to Public Works no later than September 30th (postal mail and email addresses can be found on the form):
1) Briefly describe the proposed project.  Please include the boundaries of the project.
Broadway Bridge Connection:  In order to make the BikePed facility on the Broadway Bridge an asset for bike commuting, it must better connect to a low-stress, on-street bicycle network.  The facility exits onto a ramp to the Arkansas River Trail or a sidewalk along the east side of Broadway.  I would like the City of Little Rock to create a better connection between that sidewalk and an on-street bicycle network.  This connection may include a ramp, signage and traffic light consideration so that all modes of traffic understand how bikes should be operating during this transition.  I would like the City to create high-quality bike connectivity between the intersection of Broadway and W. Markham and an on-street bicycle network.  I would like any new Master Plan including bike facilities to give special consideration to this new bicycle asset to maximize its value in our transportation system.  
2) Indicate if this is a new project or a continuation of an existing project.
This is a new project.