Kavanaugh L to Crestwood Infrastructure Request
Public Works is currently taking requests from residents for infrastructure projects for the 2019-2021.  I have been approached from several people who are interested in projects that would make Little Rock a better place for bicycle and pedestrian modes of transportation but who are not familiar enough with current BikePed challenges and opportunities to make a meaningful request.  It is in that spirit that I share with you this and other ideas.  Unless Little Rock residents fill out an infrastructure request form for this idea, it will not be considered for the 2019-2021 funds.  The demand for each idea is measured, in part, by the number of residents requesting an idea.  Support from local organizations, businesses, and neighborhood associations can also help increase the likelihood that a project is selected for implementation.  Requests are due by September 30, 2017.
Kavanaugh Blvd. between "L" and Crestwood St. is a 40-42 ft. wide street with two travel lanes (15-16 ft. wide) and two bike lanes (5 ft. wide).  The ADT is 7,900.  It has no sidewalks.  This is a poorly designed street segment for all users in its current configuration.
Motorists
The wide lanes induce speeding by motorists on a section of road with sharp, sloped curves (Fig. 1).  The topography can contribute to motorists not seeing how sharp or how many degrees the turns are until they are in a dangerous situation.  Motorists can and do regularly lose control of their vehicles when speeding around the curve.
Bicyclists
In theory, bicyclists have five foot bike lanes on either side of the street.  In practice, these bike lanes are regularly encroached with dirt and vegetation and have vegetation growing through the pavement (especially in the downhill bike lane).  This can cause the loss of control on a street that has no shoulder in which to spill, causing the person on a bike to fall into the street, into the bike lane, down the slope of the hill, into a brick wall, etc.
Pedestrians
There are no facilities for pedestrians.  The street has no shoulder that would allow a pedestrian to walk to the side of the street.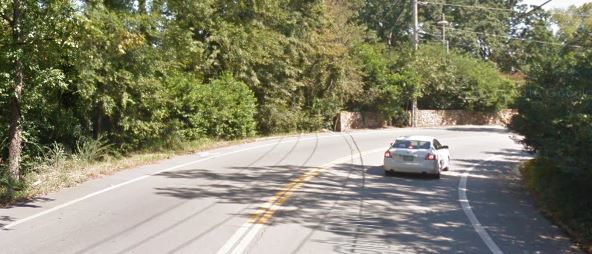 Figure 1.  This is the northern approach to the tight Kavanaugh turn just east of Crestwood.  Wide lanes, no sight-lines, and a relatively straight, uninterrupted approach encourage vehicles to enter the tight curve going too fast.
Creating a pedestrian corridor and improving the bicycle connection on Kavanaugh between L and Crestwood is important for a connection between the Hillcrest and Heights neighborhoods, but is also important for the larger Midline to Heights Connection and even larger Midline corridor.
If this is an area you would like to see improved for all traffic modes, feel free to use any of the below language you would like to complete an infrastructure request form and submit it to Public Works no later than September 30th (postal mail and email addresses can be found on the form):
1) Briefly describe the proposed project.  Please include the boundaries of the project.
Kavanaugh L to Crestwood:  This section of Kavanaugh is dangerous for drivers because the wide traffic lanes and limited sight-lines encourage speeding on a hairpin turn.  It is also dangerous for bicycles because of speeding motorists and vegetation growing through the downhill bike lane.  It should be a primary pedestrian corridor connecting Hillcrest and the Heights, but it has no sidewalk facilities.  I would like the City of Little Rock to narrow the vehicular traffic lanes and better design this section of street for people who are walking or riding a bike. If a new Master Plan reroutes the Midline to a route that bypasses this project's location, I would like the funding requested here to go toward making BikePed improvements to support that corridor.
2) Indicate if this is a new project or a continuation of an existing project.
This is a new project.