Ottenheimer Accessibility Trail
Ottenheimer Park is the home of Arkansas's only Community Therapeutic Recreation program (TR).  TR develops skills for increased mobility, activity, and independence and improves the quality of life for children and adults with disabilities affecting mobility.  Participants include those who use wheelchairs (motorized and non-motorized), AFO (ankle-foot orthosis), and hand canes for mobility as well as other conditions affecting balance such as cerebral palsy and down syndrome.  Even though TR participants use Ottenheimer Park's walking trail daily to improve mobility and fitness, the existing facilities, particularly its trail system, are inadequate for the needs of TR and limit its potential.  
In Spring 2017, the City of Little Rock applied for an ArDOT Recreational Trails Program grant to revitalize the park to better serve its users.  In Fall 2017, ArDOT announced they would fully fund our request, creating accessibility to all of the park's facilities, meeting the needs of this important program and thereby improving the lives of this underserved community.  Below is some of the important work this funding will do.

Figure 1.  Ottenheimer Park has handicapped accessibility from its parking lot to its sidewalk (1a), but while that creates access to the Community Center, the sidewalk does not connect to the walking trail (1b).  Therefore disabled patrons can only access park facilities when the Community Center is open.
It is ironic that a park with TR as its primary purpose is so inaccessible to the community it serves.  The six-foot wide walking trail is inaccessible from the parking lot except through the program building, therefore disabled people can only use the facilities when the park is staffed (Fig. 1).  The playground has a plastic ramp access point, but there is no trail that leads to the ramp (Fig. 2), the ramp is not flush with the ground on either end (Fig. 2), and the playground itself is surfaced with pea gravel which cannot be traversed in a wheelchair (Fig. 3).  TR uses the tennis court for tennis and pickleball, and the basketball court for basketball and yoga, but neither court has trail access (Figs. 4-5).  Court activities must be cancelled if the ground is wet due to the mobility challenges of TR participants, resulting in fewer fitness and outdoor activities in the program.  The uncertainty of court access also creates a challenge for program management.  Even though outdoor social interaction is an important part of TR, none of the park's eight picnic tables have trail access (Fig. 6).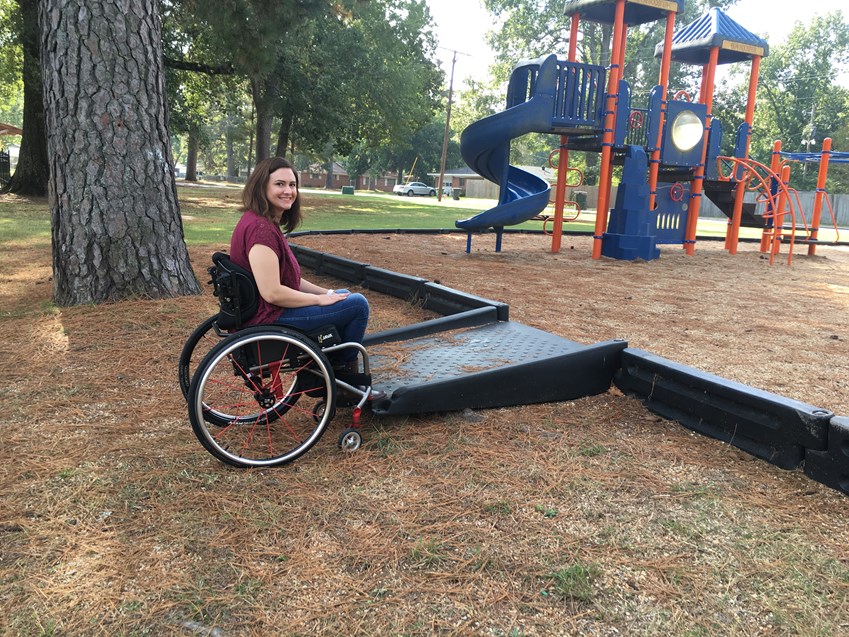 Figure 2.  The playground has no paved path to it, making it inaccessible for TR participants when the ground is wet.  A large tree root elevates a corner light plastic ramp, making it useless for wheelchair accessibility.  The ramp has a one foot drop into the park, making it difficult or impossible to use depending on one's mobility challenge.  An at-grade path surrounding the park would allow 360 degree accessibility.  This is particularly important for mobility-challenged parents given the dangers presented by the road to the SW of the playground and the pond to the NE of the playground.  Pictured is Erin Gildner, Section Chief for Administration, Family Health Branch, Arkansas Department of Health.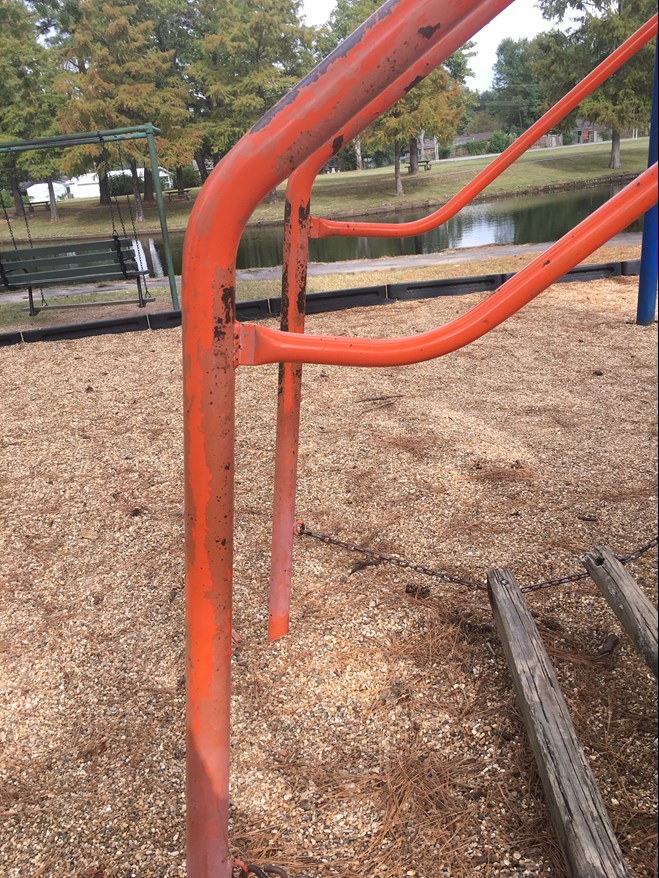 Figure 3.  The playground is surfaced with pea gravel, making it impossible to navigate in a wheelchair.  We will resurface the playground with Fibar mulch.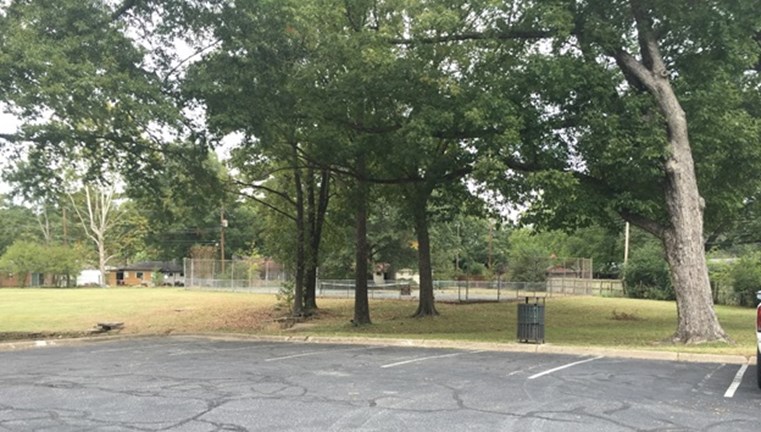 Figure 4.  The tennis court has no trail access.  Getting to the court requires TR participants to navigate pitted and sloped ground.  When the ground is wet, tennis court activities must be cancelled.  The accessibility trail will connect the tennis court to the park's trail system.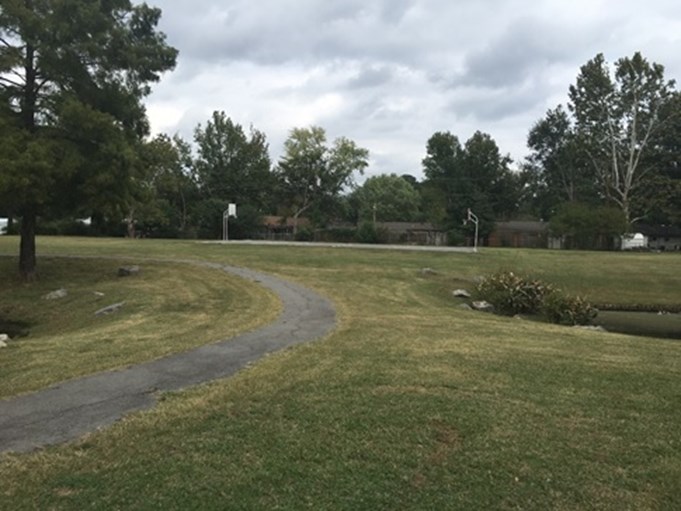 Figure 5.  The basketball court is also used by TR, but activities must be cancelled after a rain.  This unpredictability can be challenging for program management.  The accessibility trail will connect the basketball court to the park's trail system.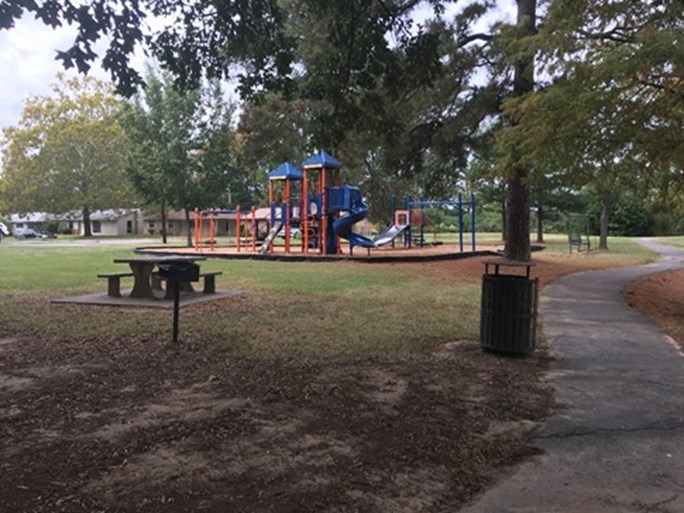 Figure 6.  Not one of the eight picnic tables at Ottenheimer Park has trail access, making these structures underused in the TR program.  One of the picnic tables close to the building will be connected by a new trail.
People with disabilities affecting mobility are at greater risk of inactivity and its associated health complications.   TR promotes physical activity.  The walking trail is an integral part of TR.  It is often used to work on fitness goals for TR participants.  Another important TR component is leisure experiences and learning.  This trail is often used for "strolls", this then becomes a social activity by providing participants an opportunity to visit with each other while moving and enjoying the outdoors.  The purpose of this activity is to promote being outside, being active, and socializing with friends in their leisure time instead of living a sedentary lifestyle which can decrease quality of life as well as level of functioning for participants.
The new trails (Fig. 7) will provide greater space for these activities.  In addition to dramatically increasing accessibility, adding linear feet to Ottenheimer's trail network would provide more capacity for the 20-45 children and adults that participate in TR on any given day. Trails would be ten feet wide, allowing easier side-by-side socializing for people using wheelchairs, greater ability for people with wheelchairs to pass one another.
The Therapeutic Recreation Division has partnerships with various disability service agencies as well as area schools.  With these improvements, those schools in the area with Community Based Instruction classes could also use this facility to meet their state-mandated fitness/PE goals for each student.  The TR Division may be able to offer walking clubs for clients from other agencies as a way to provide fitness for the disability community as a whole. 
The ArDOT RTP funding will dramatically improve this facility and program (Fig. 7).  New trail elements (Figure 7, yellow) will provide access from the parking lot to the trail system, access to the tennis court, access to the basketball court, 360 degree access to the playground (particularly important for disabled parents), access from the road to the trail system, and access to a picnic table.  All trails will be ten feet wide, creating better opportunities for side-by-side social experiences for mobility-challenged TR participants.  The park is also centrally located in the Cloverdale neighborhood with minimal sidewalk facilities (Fig. 8); improvements to Ottenheimer Park will better serve Cloverdale residents too.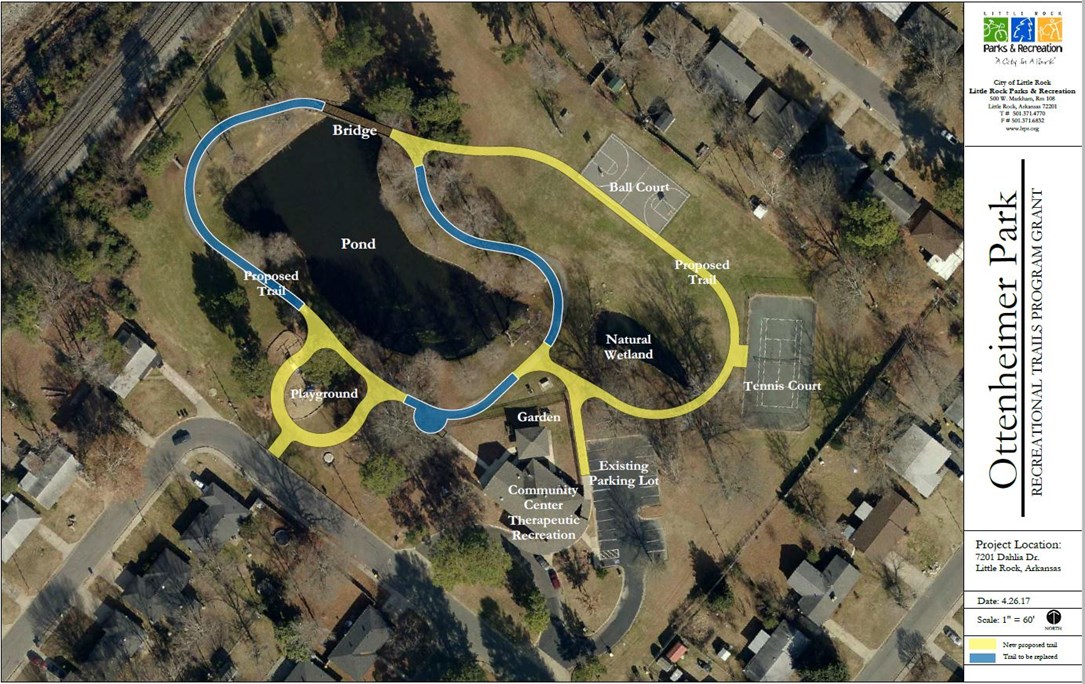 Figure 7.  Blue trail is where a dilapidated 6 ft. wide walking trail currently exists.  The City of Little Rock will remove that trail and replace it with a 10 ft. wide asphalt trail, allowing people in wheel chairs to move side by side or to pass one another.  Yellow trail is where we will add new trail, creating access from the road and parking lot and to the playground, basketball and tennis courts, and a picnic table.  Concept Map created by Leland Couch.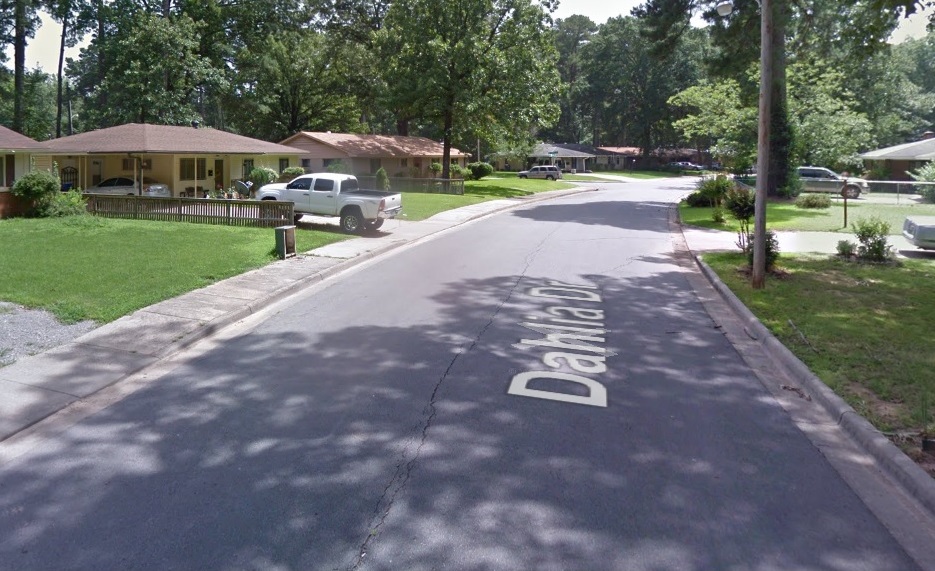 Figure 8.  Sidewalks in the Cloverdale neighborhood are only found on one side of the street and have no greenspace between the street and the sidewalk.  These sidewalks provide pedestrian access to Ottenheimer Park for some residents of Cloverdale, but do not themselves provide a comparable aesthetic, safe space, open space, or facility as Ottenheimer Park.  Photo by Google Streetview.
This project has been conceived since 2010 but has not been constructed due to lack of funds.  Ottenheimer Park improvements will not only serve Little Rock residents.  Arkansans travel from all around Central Arkansas to participate in Arkansas's only TR program (Fig. 9).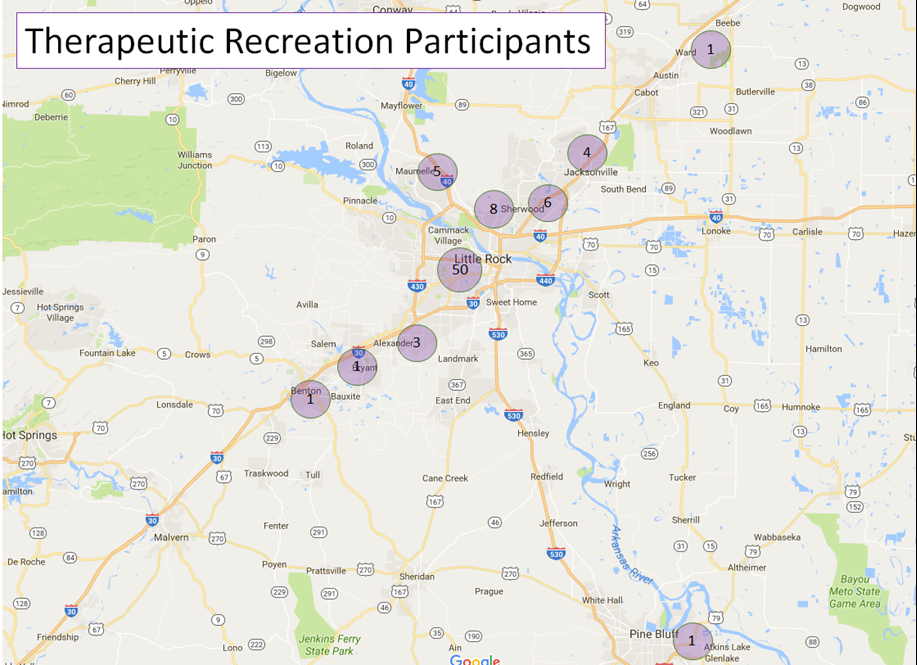 Figure 9.  People travel from across Central Arkansas to participate in Arkansas's only Therapeutic Recreation program.  Purple circles are where regular TR participants live and the numbers inside the circles represent the number of participants from each location.  Improvements to Ottenheimer Park will serve disabled residents of multiple communities in Central Arkansas.
In addition to the connectivity issues described above, Ottenheimer Park's existing six-foot wide walking trail is in major disrepair.  Fissures (Fig. 10) and potholes (Fig. 11) in the asphalt are common, trees have grown through the asphalt and removed (Fig. 12), the edges of the trail are eroding away (Fig. 13), and the ground drops away at the edge of the asphalt in one section, sloping into a pond (Fig. 14).  Any of these issues would be problematic in a typical park, but each of these issues represents important safety and service concerns to the community Ottenheimer Park serves.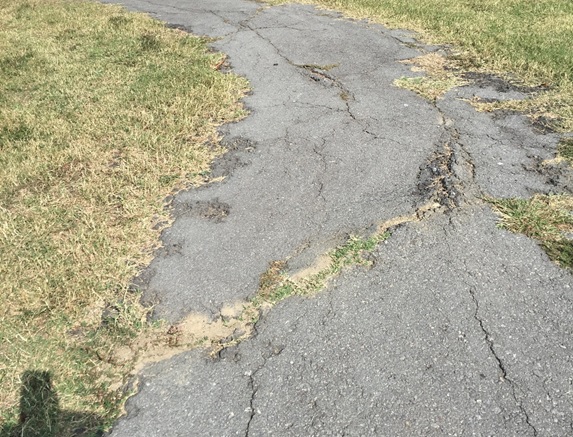 Figure 10.  Trail fissures represent a significant safety concern for TR participants with mobility issues.  They have the potential to catch narrow wheelchair wheels and present tripping hazards to participants with balance issues.  We will remove and replace the entire six-foot wide walking trail with a ten-foot wide walking trail.  Note too the edges of the trail are eroding away.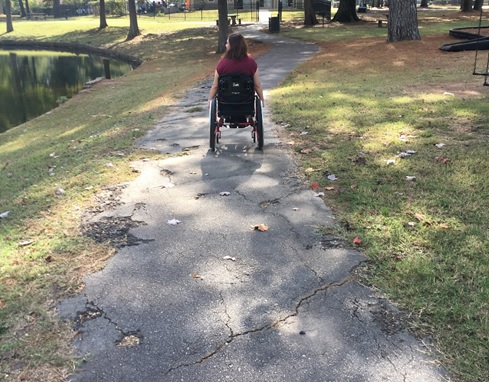 Figure 11.  Potholes in the trail make mobility difficult and even dangerous for TR participants with mobility challenges.  We will replace this entire trail with a ten-foot wide trail.  Pictured is Erin Gildner.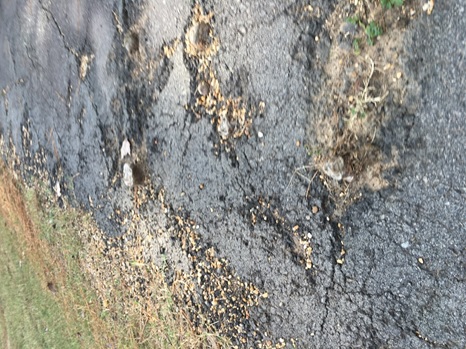 Figure 12.  Trees have grown through the trail and have been removed in three places in this picture.  Remaining stumps represent dangers for TR participants who walk the trail daily.  We will remove these hazards.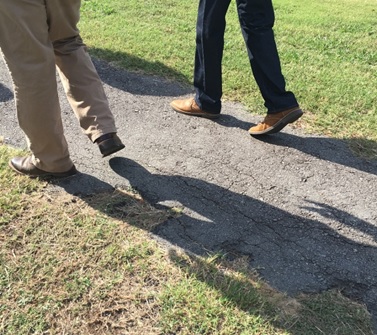 Figure 13.  The edges of the trail are eroding throughout the trail, in some places narrowing to less than three feet wide.  An important component of TR is social activity, requiring participants to move side-by-side.  TR participants must also pass one another going in opposite directions.  Mobility challenges of TR participants often do not allow them to move into the grass to let others pass.  Variations in trail width therefore represent challenges to TR.  Removal and replacement of this trail will itself significantly improve the park for TR participants.  Pictured are Leland Couch and Dave Roberts.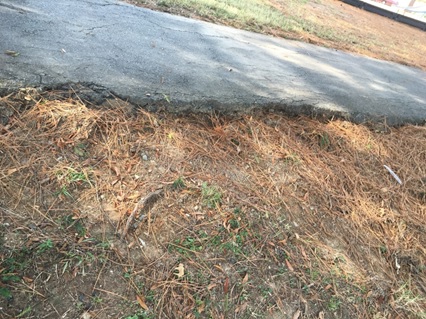 Figure 14.  In a section of the trail close to the main building, the ground drops away from the edge of the asphalt and slopes into a pond.  This represents a critical safety concern for those participants in chairs or with balance difficulties.  We will reroute the current trail so that it has three feet of level ground on each side of the trail.