Temporary Exhibits
Conflict and Crisis: The MacArthur-Truman Controversy
Ongoing
On April 11, 1951 President Harry S. Truman relieved General Douglas MacArthur from all his commands for publicly criticizing governmental policies in the Korean War. MacArthur received a hero's welcome home while Truman was widely scorned. The subsequent controversy created an enduring debate over the issue of civilian authority over the military, limited war versus total war and the containment of communism. The dismissal of MacArthur by Truman created a political controversy which remains today. This exhibit is on loan from MacArthur Memorial, Norfolk, Virginia.
Vietnam, America's Conflict
Ongoing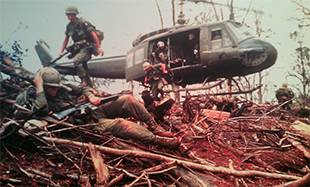 Vietnam, America's Conflict brings together the powerful photography of Jim Guy Tucker and Bruce Wesson, graduates of Little Rock's Hall High School class of 1961. The work of these two schoolmates captures the faces of men, women, and children learning first hand their own profound lessons of war. Using the portraits in this exhibit, Tucker and Wesson remind museum patrons of the reality of war.
Undaunted Courage, Proven Loyalty: Japanese American Soldiers during World War II 
Closing December, 2021
When WWII began for the United States, Japanese Americans, many of them citizens, faced a difficult predicament. Even though they lived in a country created on the concept that, "all men are created equal," the President, the military, the federal government, and much of the population considered Japanese Americans to be "more Japanese, and less American."  Undaunted Courage looks closely at the treatment of Japanese Americans during WWII and the service of Japanese American men who served their country while at home their loved ones where being moved to internment camps. 
Imagery and Irony
Ongoing
Set within the First Call gallery, this exhibit focuses on the political cartoons of Nina Allender and their relationship to World War I propaganda posters, while exploring her influence on the women's suffragette movement.
War and Remembrance
Ongoing
Learn how photos, letters, other memorabilia and events help us to understand the Civil War perspective through memory and time.