Assistant Chief Alice Fulk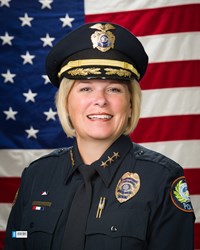 Alice Fulk is a Little Rock native, a product of the Little Rock public school system and a  24-year veteran of the Little Rock Police Department. A graduate of Little Rock's Hall High School, Fulk has a Bachelor of Arts degree in criminal justice from the University of Arkansas – Little Rock, and a Master of Arts degree in Human Resource Management from Webster University. During her police career, Fulk attended the Senior Management Institute for Police, Arkansas School of Law Enforcement Supervision, Arkansas Leader, and the Little Rock's Chamber of Commerce Leadership Class XIV. Fulk is also a member of the International Association of Chiefs of Police and Infra Gard, serves on the Arkansas Municipal League Public Safety Advisory Board, and serves as a Board Member of Women and Children First.
She joined the Police Department in 1992, and has held positions in patrol and investigative and various other roles within the Department. While in patrol, Fulk worked as a Community-Oriented Police Officer and a School Resource Officer before her 1998 promotion to Sergeant. She worked in the Training Division and Detective Divisions until her 2001 promotion to Lieutenant. As a lieutenant, Fulk worked in both patrol and the Detective Division, until her promotion to Captain in 2003.
As a Captain, Fulk commanded the Records and Support Division from 2003 - 2004, the Northwest Patrol Division from 2004 – 2006, the Internal Affairs Division from 2006 – 2010, and the Major Crimes division from 2010 until her promotion to Assistant Chief of Police on May 14, 2015. During her police career, Fulk has received numerous commendations and professional certifications.
In her position of Assistant Chief of Police of the Department's Executive Bureau, she oversees the operations of the Training Division, Headquarters Division, Records and Support Division, Professional Standards Section, and Administrative Services Section.