Communications Division

For Emergencies Please Call 9-1-1
Non-Emergency Calls - (501) 371-4829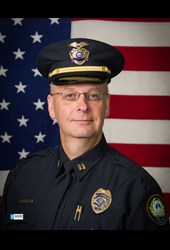 The Communications Division is under the command of Captain Ty Tyrrell, who reports to the Assistant Chief of Police - Executive Bureau.
Captain Tyrrell joined the Little Rock Police Department in 1993.  Captain Tyrrell has had a wide variety of assignments at the Department to include: Patrol as an officer, sergeant, lieutenant, and captain, Property Crimes Detective as a detective and sergeant, Management Research Lieutenant, Training Division Lieutenant, Information Technology Lieutenant and Special Investigations Division Captain.  The primary focus of Captain Tyrrell's career at LRPD has been in the areas of patrol operations and technology. 
Captain Tyrrell has completed a significant amount of professional training and holds a Bachelor of Science degree in Criminal Justice from the University of Arkansas at Little Rock.  Captain Tyrrell is retired from the Arkansas Army National Guard with over twenty four (24) years of service including two deployments to Iraq.
The Communications Center is a 24-hour operation which provides emergency and non-emergency services for police, fire and other city services as needed. The Center serves as the Public Safety Answering Point (PSAP) for all Little Rock 9-1-1 calls.