Records and Support Division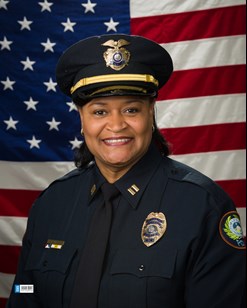 Captain Tanya Washington, D.P.A.
The Records and Support Section is under the command of Captain Tanya Washington, who reports to the Assistant Chief of Police - Executive Bureau.
Captain Washington is a twenty-five (25) year veteran of the Little Rock Police Department and has expertise in various areas of the department to include Uniform Patrol, Community Oriented Policing, Emergency Management/Homeland Security, Investigations (Domestic/Homicide/Property Crimes), Special Events, Special Operations, and Youth Programs. She was a member of the Special Response Unit (S.R.U.), and served on the Chief's Command Council for several years. Captain Washington also served as Logistics Commander for the Special Weapons & Tactics (S.W.A.T.) Team, and Commander over the L.R.P.D., 2009 Presidential Inaugural Task Force, in Washington, D.C.
Captain Washington's resume includes a Bachelor of Arts Degree in Health and Physical Education, Master of Arts Degree in Business and Educational Security Management, and a Doctoral Degree in Public Administration (D.P.A.). Captain Washington is a graduate of the Senior Management Institute for Police (S.M.I.P.)/Police Executive Research Forum (P.E.R.F.), FEMA's Emergency Management Institute, FBI-Criminal Justice institute - Arkansas Leader, Session XXIV, Criminal Justice Institute - School of Law Enforcement Supervision, and Dale Carnegie Supervisors School. She is a certified Law Enforcement Instructor and holds a Senior Certificate from the Commission on Law Enforcement Standards and Training.
Captain Washington has received numerous commendations, community service and leadership awards. She is also a member of several local and national professional organizations, to include current President of the Arkansas Chapter of the National Organization of Black Law Enforcement Executives (N.O.B.L.E.).
Records Section
The Records Section is under the supervision of a civilian supervisor and is responsible for the maintenance, dissemination and proper coding of all records in accordance with local, state, and federal laws. This section also ensures the timely submission and control of all records in a secure, orderly, and systematic manner.
Technology & Equipment Section
The Technology and Equipment Section is under the direction of a Lieutenant and is responsible for the maintenance and service of all departmental vehicles, compliance of all A.C.I.C./N.C.I.C. regulations, and assists the Command Staff in the coordination of Crime Analysis activities and reporting. This section also conducts project research analysis and compiles monthly, quarterly, and yearly reports as directed by the Chief of Police. In addition, this section ensures departmental compliance with appropriate criminal statistics reporting protocol, supervises the maintenance and upgrading of computerized police records management systems, and serves as a liaison with the Office of Information Technology and the Communications Center.
Accreditation Section
The Accreditation Section is under the direction of a Sergeant and is responsible for the management and distribution of departmental directives, coordinates and assists in announced and unannounced inspections of all departmental components to ensure compliance with all standards mandated by the Commission on Accreditation for Law Enforcement Agencies, Inc. (C.A.L.E.A.), ensures that all C.A.L.E.A. compliance files are up-to-date, serves as a liaison to C.A.L.E.A. for all accreditation matters, and provides assistance to all Departmental units to ensure clarification and continued compliance with C.A.L.E.A. standards. In addition, the Unit maintains and assists staff in the research, development, and preparation of new and/or revised departmental orders and forms, assists in the identification of new programs, policy and procedures or acquisition of equipment to improve the performance of the department in compliance with applicable standards, and serves as a management tool to the Chief of Police by conducting comprehensive review and analysis of departmental operations, procedures, personnel and facilities.