Records and Support Division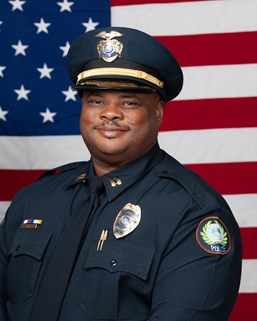 Captain Sidney Allen
The Records and Support Section is under the command of Captain Sidney Allen, who reports to the Assistant Chief of Police - Executive Bureau.
Captain Sidney Allen is a twenty-nine (29) year veteran of the Little Rock Police Department.  Captain Allen joined the police department in September of 1990 as and Police Cadet and was promoted to the rank of Patrol Officer in March of 1992.  As a Patrol Officer, he worked as a Patrol Officer, Drug Abuse Resistance Education (D.A.R.E.) Officer, Crime Prevention Officer, Background Investigator in the Personnel Unit, as well as program coordinator for the Citizen' Police Academy.
He was promoted to the rank of Sergeant in August of 2004.  As a Sergeant, he worked in the Patrol Division and the Personnel and Background Unit.  In July 2006, he was promoted to the rank of Lieutenant.  As a Lieutenant he was assigned to the Patrol Division, Special Operations Division, Special Assignments Unit, Public Affairs and Major Crimes. 
Records Section
The Records Section is under the supervision of a civilian supervisor and is responsible for the maintenance, dissemination and proper coding of all records in accordance with local, state, and federal laws. This section also ensures the timely submission and control of all records in a secure, orderly, and systematic manner.
Technology & Equipment Section
The Technology and Equipment Section is under the direction of a Lieutenant and is responsible for the maintenance and service of all departmental vehicles, compliance of all A.C.I.C./N.C.I.C. regulations, and assists the Command Staff in the coordination of Crime Analysis activities and reporting. This section also conducts project research analysis and compiles monthly, quarterly, and yearly reports as directed by the Chief of Police. In addition, this section ensures departmental compliance with appropriate criminal statistics reporting protocol, supervises the maintenance and upgrading of computerized police records management systems, and serves as a liaison with the Office of Information Technology and the Communications Center.
Accreditation Section
The Accreditation Section is under the direction of a Sergeant and is responsible for the management and distribution of departmental directives, coordinates and assists in announced and unannounced inspections of all departmental components to ensure compliance with all standards mandated by the Commission on Accreditation for Law Enforcement Agencies, Inc. (C.A.L.E.A.), ensures that all C.A.L.E.A. compliance files are up-to-date, serves as a liaison to C.A.L.E.A. for all accreditation matters, and provides assistance to all Departmental units to ensure clarification and continued compliance with C.A.L.E.A. standards. In addition, the Unit maintains and assists staff in the research, development, and preparation of new and/or revised departmental orders and forms, assists in the identification of new programs, policy and procedures or acquisition of equipment to improve the performance of the department in compliance with applicable standards, and serves as a management tool to the Chief of Police by conducting comprehensive review and analysis of departmental operations, procedures, personnel and facilities.