Found Objects Art Contest 
We want you to create environmentally-friendly centerpiece sculptures! 
The City of Little Rock and the Sustainability Commission are accepting entries for the Found Objects Art Contest, sponsored by the new exhibit Washed Ashore: Art to Save the Sea coming in April to the Clinton Presidential Center. Individuals and organizations are invited to create sculptures constructed from found litter. The sculptures will be displayed and judged at the 2019 Sustainability Summit on March 28th.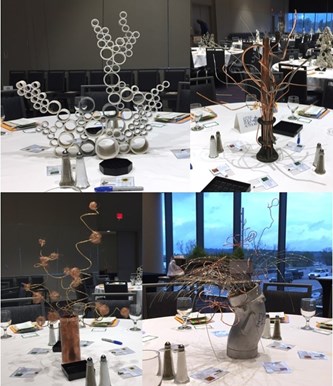 In previous years the Little Rock Parks Department has created sustainability themes centerpieces for 30 tables at the event. The centerpieces in the above images were constructed from reclaimed PVC pipe and metal. 
Download the contest details to learn everything you need to know about participating in this art contest: Found Objects Art Contest Details