Streetlight Canvass Pilot Project
Introduction:
On October 22nd, 2018 the City of Little Rock completed a pilot streetlight canvass. This pilot project was performed in partnership with the Midtown Neighborhood and the University District and was supported by the Sustainability Commission and City's Data Governance Committee. The City of Little Rock wants to ensure that all residents feel secure in their neighborhood and a key part of security is having adequate lighting during night time. To ensure that Little Rock streets continue to be well lit the City developed a plan to have volunteers visit every streetlight in a specified neighborhood to determine the number of streetlights that are not lit. Due to existing partnerships the City chose to pilot this project in the Midtown Neighborhood. The Midtown neighborhood boundaries are as follows:
Northern boundary: Charles Bussey/20th St
Southern boundary: Asher Ave
Eastern boundary: Elm Street
Western boundary: Monroe St
Methods:
The Sustainability Commission created walking routes that covered every street within the neighborhood boundaries. Nine (9) routes that averaged 1.5 miles were created. The route maps showed star icons indicating the approximate location of all the streetlights along that route.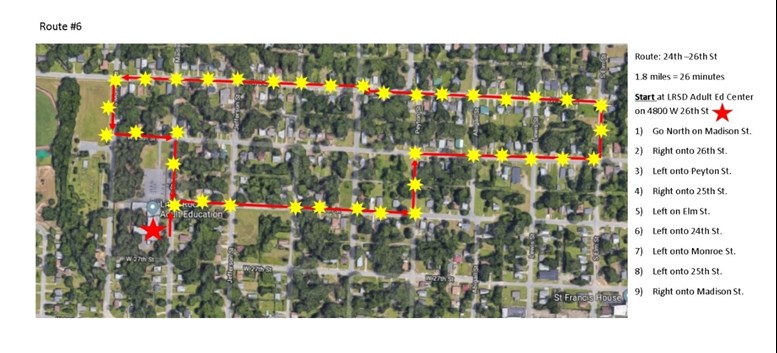 Fig. 1. Example of route maps provided on the canvassing day.

The initial canvass was performed on October 22nd, 2018 at 7 p.m. and began at the LRSD Adult Education Center on Madison St. The following information was recorded along each route:

     1) Street lights that were not on (reported by using the LR 311 mobile application).
     2) Street lights that were blocked by tree limbs (recorded on paper).
     3) Street lights that appeared dimmer than others (recorded on paper).
Results:
There are approximately 296 streetlights in the Midtown Neighborhood.
37 streetlights were reported as out = 12.5% outage rate
27 streetlights were reported as partially or fully blocked by tree limbs = 9% of streetlights obscured
1 streetlight was reported as dim.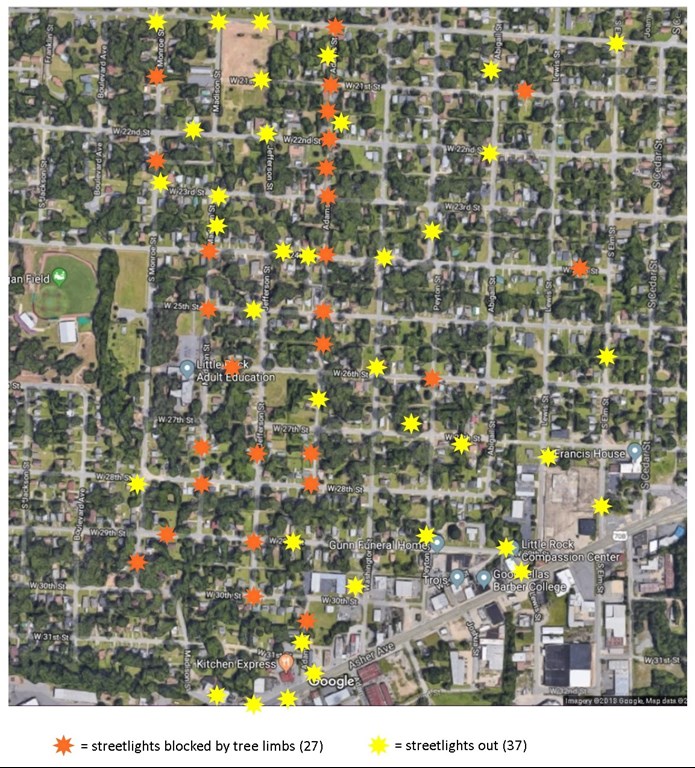 Fig. 2. Map of streetlights that were reported in 311 as out and streetlights that were recorded as obstructed by tree limbs. 
Conclusion:
At 12.5% the Midtown Neighborhood has a larger percentage of non-working streetlights than the 5% outage rate provided for in the City's streetlight contract. The percentage of non-working streetlights across the whole city or in other neighborhoods is unknown and could be higher, lower, or equal. The high percentage of non-working streetlights in this area and across the city is most likely due to lack of outage reporting by residents. More focus needs to be placed on educating residents to use 311 to report streetlight outages.

Due to the color differences between streetlights in this neighborhood it was difficult to determine if a street light appeared dim. Therefore only one streetlight was recorded as "dim."

9% of street lights in the Midtown Neighborhood were reported as blocked by tree limbs. Most of this overgrowth occurs in or near alleys where streets are more narrow and there is less space between trees and utility poles.
Questions about this project? 
Contact Lennie Massanelli at 501-371-4586 or lmassanelli@littlerock.gov