FOR IMMEDIATE RELEASE :
Monday, Jan 30, 2017
City of Little Rock Public Relations
Office (501) 371-4421
Media Releases
Contact(s):
Fire Division Chief Selected for Prestigious Leadership Program
Doan Earns Scholarship to Attend Executive Development Institute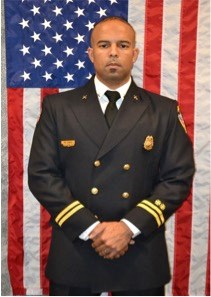 The International Association of Fire Chiefs announced that the division chief of training for the Little Rock Fire Department has been accepted into the Fire Service Executive Development Institute, a prestigious year-long program for those taking on new leadership roles.
Division Chief Michael Doan, who has been with the Fire Department for more than 13 years, received a scholarship to attend the cohort program. Doan has risen through the ranks at the Fire Department, progressing from firefighter to engineer to captain to division chief in record time. 
"Becoming a member of the Little Rock Fire Department family was the wisest professional decision I've ever made," Doan said. "I am honored to be selected for this training and am eager to meet with my peers from around the country."
Motorola Solutions Foundation has provided the IAFC with a grant to fund the program.
"Motorola Solutions Foundation recognizes how these challenging times require a new breed of leader to head our local fire departments and national fire service", said Matt Blakely, Executive Director of Motorola Solutions Foundation. "We're proud to help support the education of these leaders to ensure they have the skills necessary to meet these complex and emerging issues confronting our communities."
Doan's Training and Professional Development Division boasts one of the highest success rates in Arkansas for the certification of National Registered Emergency Medical Technicians. He holds memberships in in the International Association of Fire Chiefs (IAFC), the International Association of Black Professional Firefighters (IABPFF), the Black Chief Officers Committee (BCOC), and the National Forum of Black Public Administrators (NFBPA). He is currently completing his public administration degree at Arkansas Baptist College
"To be chosen from a multitude of applicants from across the U.S. and Canada speaks highly of Michael's character and commitment to excellence," Fire Chief Gregory Summers said. "Professional development has become the norm within our organization and I'm pleased to see Chief Doan explore the many opportunities within our fire service community."
The Fire Service Executive Development Institute is a leadership-development program created and implemented by the IAFC to provide new and aspiring chiefs with the tools they need to have productive tenures. The members of the cohort will meet in March for their first session. The group will communicate between sessions using an online community.
###
About the International Association of Fire Chiefs (IAFC)
The IAFC represents the leadership of firefighters and emergency responders worldwide. IAFC members are the world's leading experts in firefighting, emergency medical services, terrorism response, hazardous materials spills, natural disasters, and public safety legislation.  Since 1973, the IAFC has provided a forum for its members to exchange ideas, develop professionally and uncover the latest products and services available to first responders. 
About Motorola Solutions Foundation
The Motorola Solutions Foundation is the charitable and philanthropic arm of Motorola Solutions. With employees located around the globe, Motorola Solutions seeks to give back to the communities where it operates. The company achieves this by making strategic grants, forging strong community partnerships and fostering innovation. The Motorola Solutions Foundation focuses its funding on public safety, disaster relief, employee giving and education, especially science, technology, engineering and math programming. For more information on Motorola Solutions corporate and foundation giving, visit http://responsibility.motorolasolutions.com/