FOR IMMEDIATE RELEASE :
Tuesday, Nov 17, 2015
City of Little Rock Public Relations
Office (501) 371-4421
Media Releases
Contact(s): Jennifer Godwin | (o) 501 371 4421 | (c) 501 804 4822
Paris Condolence Book to Open at City Hall
Arkansans Invited to Leave Messages of Support
LITTLE ROCK, Ark. (Nov. 17, 2015) – Little Rock Mayor Mark Stodola is inviting Arkansans to leave messages of support for Paris in a condolence book that will be placed at City Hall beginning Wednesday, Nov. 18.

The announcement comes after an orchestrated series of attacks on France's capital left dozens dead and wounded hundreds of others.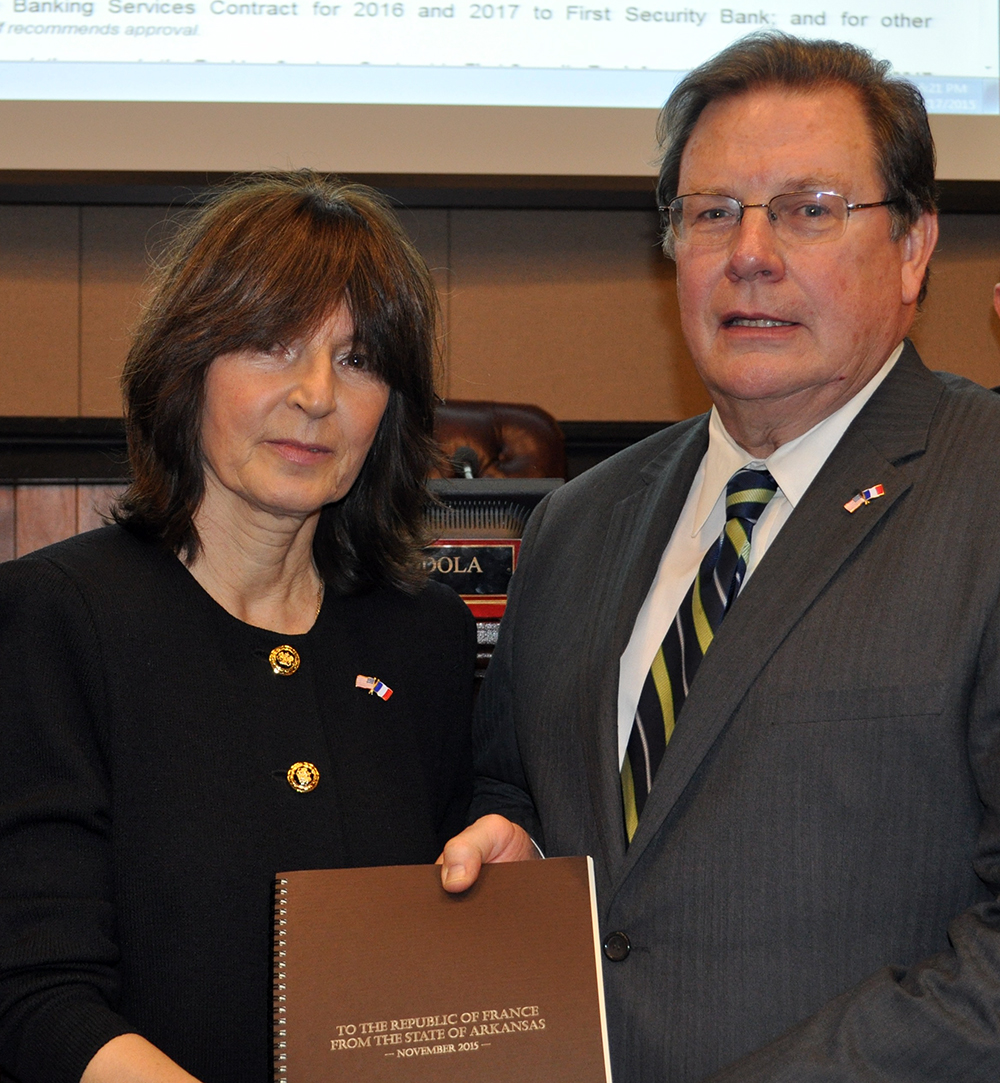 The condolence book will be placed in the Rotunda of City Hall on Wednesday morning. Visitors will be able to sign their names and leave messages of solidarity and extend expressions of sympathy.

"We stand with the people of Paris during this unimaginable tragedy," said Little Rock Mayor Mark Stodola. "This condolence book is an opportunity for Arkansans pay their respects to the victims of these attacks, their families, and all of those who have been affected by such senseless terrorism."

Beatrice Moore, the honorary French consul for the State of Arkansas, presented the condolence book to the Little Rock Board of Directors on Tuesday. It will be in the Rotunda area of City Hall from Wednesday, Nov. 18, to Friday, Nov. 20.

Over the weekend, the book will be available for signing at the MacArthur Museum of Arkansas Military History from 9 a.m. – 4 p.m. Saturday, Nov. 21, and 9 a.m. – 1 p.m. Sunday, Nov. 22. The book will return to City Hall on Monday, Nov. 23, and remain there until Wednesday, Nov. 25. City Hall is open to the public from 8 a.m. – 5 p.m. weekdays.

From City Hall, the condolence book is expected travel to the French Embassy in Washington, D.C.

Little Rock's connection to France goes back centuries. The City got its name from Frenchman Benard de la Harpe, who noticed the "la petite roche" outcropping as he led an exploration party up the Arkansas River in 1772. Present-day Arkansas is home to nearly 20 French companies, including Dassault Falcon, which chose Little Rock for its largest facility in the world.