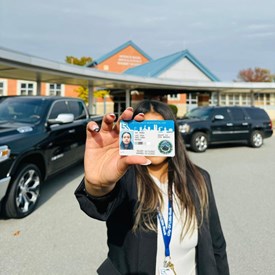 About the Little Rock ID
In 2018 the Little Rock Police Department worked with longtime City Director Joan Adcock and Latino community members to launch the Little Rock Municipal ID program to increase safety and access to essential services for individuals who do not have a driver's license or state-issued ID. With team members trained in identifying fraudulent documents, the Office of Diversity, Equity, and Inclusion operates the Municipal ID program out of the Wakefield Neighborhood Resource Center at 7414 Doyle Springs Rd in Southwest Little Rock.
The innovative program is the first of its kind in the southern region of the United States and meets the needs of immigrants, older adults, and people experiencing homelessness, among others.
Any Little Rock resident aged 14 or older who can prove their identity and residency may apply for a Little Rock ID. The cost of an ID is $10, payable by money order. Some exceptions to the fee may apply. We process ID applications by appointment on Tuesdays, Wednesdays, and Thursdays from 8:30 am to 4:00 pm. Make an appointment using the calendar widget below or calling the office between 8:30 am - 4:00 pm at 501-565-7233.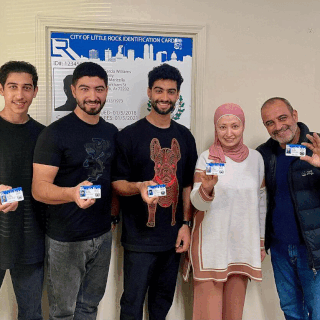 Why should I get the Little Rock ID? 
If you're a resident of the City of Little Rock, obtaining a Little Rock ID has several benefits, including:
1. Emergency Contact Information  Your Little Rock ID includes an emergency contact on the back. It's a practical tool in case of an accident, wallet loss, or another emergency.
2. Affordability  The City of Little Rock ID costs $10 and is valid for three years. Compared to other official identification options, it's an affordable choice for establishing your identity.
3. Work Opportunities  Recent changes in Arkansas state law allow individuals as young as fourteen to work. The Little Rock ID can help establish identity during the job application process.
4. Access to Medical Services  In medical settings, presenting a valid identification is often required. Your City of Little Rock ID can simplify the process of obtaining essential medical services when you need them.
5. Identification in Schools  Whether you are a student or a parent, this ID serves as a valuable means of identification in school environments where proof of identity is necessary.
6. Police Recognition  City and county police departments accept the Little Rock ID as a valid form of photo identification.
How do I get the Little Rock ID? 
You must provide documents to prove your identity and residency to obtain a Little Rock ID card.
Residency means that you live in the City of Little Rock. Proof of residency in the city of Little Rock must be established through two documents if you are over age 18. If you are under age 18, experiencing homelessness, or living in a domestic violence shelter, proof of residency may be established by only one document. If a document submitted as proof of identity also establishes residency, it will be considered as one of the documents necessary to prove residency in the city of Little Rock.
Documents that are renewed annually will only be valid if dated within one calendar year of the date of application. Documents that are renewed on a monthly basis, such as utility bills, must be dated within six months of the date of application. Proof of residency documents in the name of a spouse, domestic partner, or civil union may be accepted if submitted in conjunction with a valid current certificate of marriage, domestic partnership, or civil union.
For those under 18, proof of residency documents in a parent's name along with the minor's birth certificate showing the parent's name are accepted.
CLICK THIS LINK FOR A LIST OF ACCEPTED IDENTITY AND RESIDENCY DOCUMENTS.
Wakefield Neighborhood Resource Center
8:30a.m. - 4:00 p.m. 
(501) 565 -7233