About Mayor Scott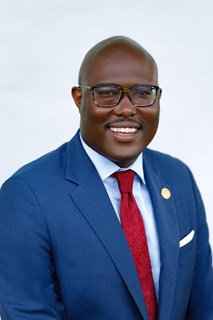 Frank Scott, Jr. began his second four-year term as Mayor of Little Rock
on Jan. 1, 2023. Mayor Scott is the City's 73rd Mayor and is Little Rock's first-ever popularly-elected African American mayor.
During his time in office, Mayor Scott has worked
toward uniting Little Rock's diverse neighborhoods through expanding
our economy, creating new opportunities for educational growth for Little
Rock's students, enhancing public safety and improving the quality of life
and place in Arkansas' capital city.

Mayor Scott has pledged to be Little Rock's Chief Growth Officer, and
has overseen the creation of more than 10,000 new jobs to date. Little Rock's
population has grown to more than 203,000 residents as the Mayor
pushes jobs growth and economic development, making Little Rock a
catalyst for the new South. New developments, such as Trex, Amazon, Trader
Joe's, Fiocchi, Topgolf and more highlight the momentum of this
growing and thriving city.
Under the Mayor's leadership, the City established the position of Chief
Education Officer and helped implement a Community Schools model in
six Little Rock School District schools. These schools integrate
individualized student support services, expand and enrich learning
opportunities, and operate as a neighborhood hub to provide other needed
trainings and services for students' families.
Mayor Scott worked with the Little Rock Board of Directors to make the
Little Rock Police Department the highest-paid municipal force in the
State, and to provide LRPD with the equipment and tools it needs to
protect Little Rock neighborhoods including the implementation of full-time social workers within the LRPD.
Mayor Scott has also worked to expand community programs to reduce violence as part of his holistic and
comprehensive crime reduction strategy.
With quality of life and place as a priority, Mayor Scott has established a task force to address downtown development and density. Another task force is tasked with the goal of eliminating food deserts and ensuring all
Little Rock residents have access to nutritious food. His renewed emphasis on parks and recreation has led to improvements at city parks and at the Little Rock Zoo, even as he works to identify and implement
long-range strategies for War Memorial and Hindman parks.
Anything is possible if we unite vision and purpose to our potential.
- Mayor Frank Scott Jr.
Mayor Scott, who was first sworn in as Mayor in January 2019, began his public-service career in the office of Arkansas Gov. Mike Beebe, where he first served as Deputy Policy Director and later as Director of
Intergovernmental Affairs. While on Beebe's staff, Scott continued his education, earning a Master's Degree in Business Administration from the University of Arkansas at Little Rock.
That degree, with a concentration in finance, complemented Scott's undergraduate degree in Business Administration from the Fogelman College of Business at the University of Memphis.
Determined to put his finance training to work, Scott accepted a position as a Community Banker with First Security Bank, giving him insight into the issues facing small businesses across the City. At the same time, he
continued to devote a significant amount of time to serving both his City and State as a member of the Port of Little Rock Board of Directors and as a member of the Arkansas Highway Commission – experiences which
gave Scott an understanding of the critical infrastructure that forms the backbone of any city.
He currently serves as president of the African-American Mayors Association, a national organization representing African-American mayors from across the country.
As an associate pastor, youth mentor, and professional, Mayor Scott lives out the values he learned growing up in Southwest Little Rock, the same area where he lives, today. He gives back to the City that invested in him
and reminds young people regularly that values are the foundation of a
purpose-filled life.
Contact Mayor Frank Scott, Jr.
Little Rock City Hall
500 West Markham Street, Room 203
Little Rock, Arkansas 72201
(501) 371-4510
mayorscott@littlerock.gov

For media inquiries, contact Communications Director Aaron Sadler at asadler@littlerock.gov or at (501) 371-6801. 
2021 - Mayor Scott's State of the City Address: Speech and Slides
2020 - Mayor Scott's State of the City Address: Speech and Slides
2019 - Mayor Scott's State of the City Address: Speech