Targeted Community Development Initiative & Task Force
In January, 2021 the Little Rock City Board passed resolution no. 15,382 to support the Targeted Community Development Initiative that seeks to address systemic inequality, enhance development, and improve the living conditions and overall appearance in areas of Wards 1, 2, 6, and 7 (as a result of revised ward boundaries part of Ward 3, in the 12th Street corridor, is now also included). Together, these areas roughly encompass the lower half of the city south and east of Interstate 630.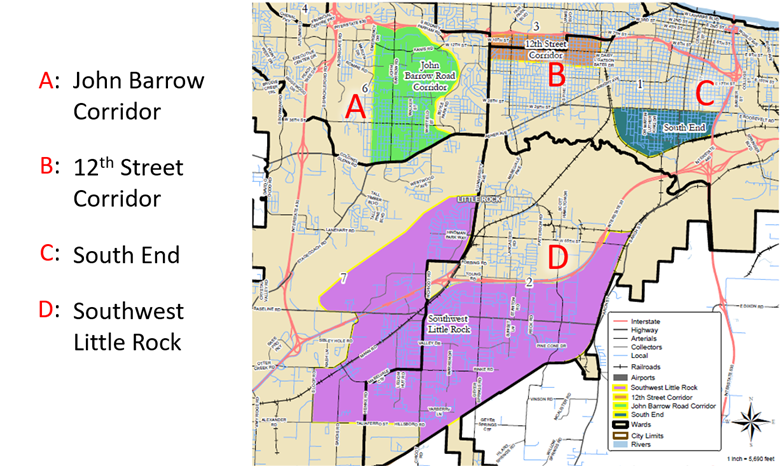 The resolution "calls on City Government to initiate policy making and provide funding…in the amount of $5 million annually for five years with the option to renew at the end of the first five years" after a review of outcomes related to six stated goals:
Improve living conditions and overall appearance;

Improve housing stock and infrastructure;

Stabilize neighborhoods by improving conditions of rental housing;

Seek to improve outcomes for marginalized families, youth and children through programming using evidence-based practices;

Assist in the development of businesses through micro-contracting programs; and

Policymaking to enhance development and improve living conditions.
The document also directs the establishment of a seven-member task force to develop short-, medium-, and long-term recommendations.
In August 2021 the City announced the names of community members selected to serve on the task force: 
Kimberly Enoch (Chair, Ward 2 / 3)

Adam Fogleman (Vice Chair, at-large)

Dr. Anika Whitfield (at-large)

Director B.J. Wyrick (Ward 7)

Tara Bruce (Ward 2 / 3)

Robert Webb (Ward 1)

Tamara Farisa (Ward 6)
In February 2022 Mayor Scott's administration appropriated the first $1 million for the Targeted Community Development effort. Meanwhile, the task force presented its plans to City Directors to complete tours of the targeted areas and, in conjunction with the City's Office of Diversity, Equity, and Inclusion, survey residents in Wards 1, 2, 6, and 7 to determine their top development priorities. The task force asked City leaders to determine opportunities for American Rescue Plan Act funds to meet some of the needs in Targeted Community Development areas.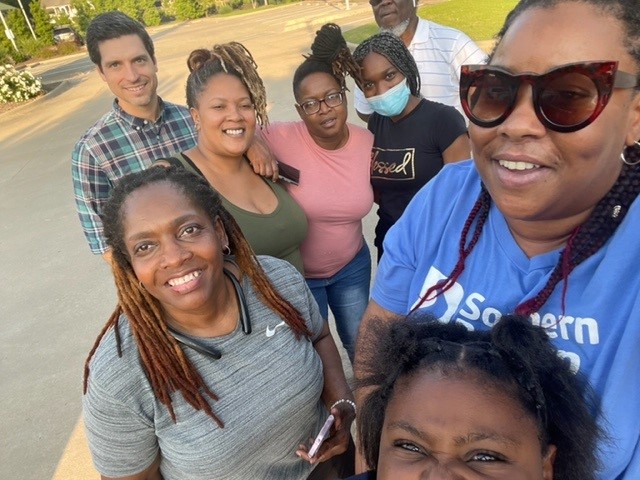 In August 2022 the task force returned to the Board to make its first five short-term recommendations: 
1. SHORT-TERM: Programs (all targeted areas)
The City should increase affordable access to indoor and outdoor recreational opportunities. Prioritize programs for youth and young adults, but also ensure we're adequately serving older adults, people with disabilities, and young children.
2. SHORT-TERM: Economic Development (all targeted areas)
The City should establish a regular schedule for revisiting targeted neighborhood action plans and fund staff support. Begin immediately.
3. SHORT-TERM: Infrastructure (all targeted areas)
The City should build more walking paths and sidewalks, prioritize installing additional streetlights, address hazardous ditches, and ensure park equipment is safe and inclusive. Prioritize areas in the most need. Begin immediately.
4. SHORT-TERM: Infrastructure (all targeted areas)
The City should formalize the processes for neighborhood associations, neighborhood-focused nonprofits, or private residents to implement public infrastructure improvements. This process must prioritize targeted areas.
5. SHORT-TERM: Programs (all targeted areas)
Hire U of A Community Design Center to collaborate with AEDI and TCDI task force to design a comprehensive and community-inclusive master plan for all targeted areas.
The task force presented final recommendations to City leaders February 28, 2023. Click the image below to view the full list.
Do you have feedback for us? Click here to enter your comments.