Little Rock Parks & Recreation COVID-19 Information
Parks with Public Wi-Fi Map -  Click Here
Welcome to Little Rock Parks & Recreation!
Turning Little Rock into "A City in a Park"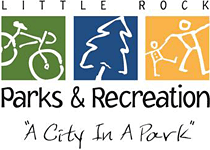 No matter where you live in Little Rock you're only minutes from the wide open spaces of a City Park – and some of the most fun things to do in Little Rock! Whether you live in downtown, midtown, north, south, east, west or southwest, you're not far from the best free family fun in Little Rock. Our city is nestled among a profusion of open green spaces and natural areas set aside for recreational, educational, ecological and aesthetic benefits for the people who live here to enjoy at their leisure.
Little Rock's parks system is not only a source of pride for the city, but it has received national recognition for excellence! Little Rock Parks & Recreation became the 30th agency in the United States to receive accreditation of Parks and Recreation Agencies. Come find family fun in Little Rock at one of our many parks.
Would you like to donate to Little Rock Parks & Recreation?  Then check out the City Park Conservancy to donate online!

Click Here to register using our new ActiveNet Registration System
Little Rock Parks & Recreation
John Eckart, Director
500 West Markham Street, Room 108
Little Rock, Arkansas 72201
(501) 371-4770
For Pavilion Reservations please call 501-371-4770.