OpportUNITY Little Rock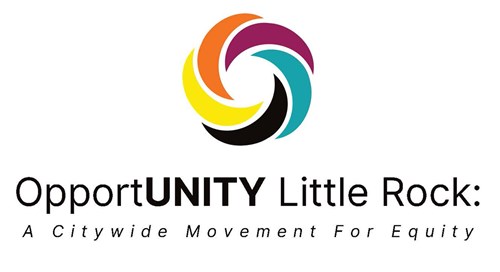 OpportUNITY Little Rock is a public-private partnership that bridges access and opportunity by training business executives to lead their internal diversity, equity, and inclusion (DEI) efforts and supports minority and women business enterprises (MWBEs) to competitively engage as suppliers.
The City of Little Rock's Office of Diversity, Equity, and Inclusion (ODEI) is a leader in this effort, emphasizing:
Supplier Diversity

 

– Ensuring more MWBEs can effectively compete by partnering with the City's Procurement Division to offer trainings for current and future suppliers and one-on-one coaching sessions.
Talent Pipeline

 

– Collaborating with the City's Human Resources Division to broaden recruitment networks and enhance retention and advancement efforts.
Leadership Accountability

 

– Equipping leaders to drive strategy to achieve established DEI goals and offering leadership trainings and departmental support as they take responsibility for fostering inclusion among their teams.
Commit to Equity
By joining this movement, businesses will stay in-the-know, receiving resources and support to develop and implement DEI practices and gaining access to business opportunities. Upcoming events and opportunities include:
Supplier Drive
10 a.m.-2 p.m. Saturday, Oct. 9, Centre at University Park
City of Little Rock staff will be onsite to register new MWBE vendors/suppliers. ¡Nosotros hablamos español! Click this link to schedule your appointment or just drop by! https://calendly.com/cityoflittlerock/supplier-drive
DEI for Business Leaders
Beginning Oct. 12
UA Little Rock and the Little Rock Regional Chamber of Commerce will partner to host the first cohort of executive leaders working to strengthen their internal DEI efforts. Contact Christine Cotton at cecotton@ualr.edu for registration details.
MWBE Drop-In Office Hours
9 a.m.- Noon Every Other Wednesday Beginning Oct. 13, Centre at University Park
City of Little Rock staff and collaborators will be available to coach MWBEs as they navigate certification and doing business with the City and other state and federal governmental contract opportunities.
Industry Day
1-5 p.m. Thursday, Nov. 4, LOCATION TBD
Representatives from government agencies will be on hand to share information about doing business with public entities. Stay tuned for additional details.
Don't miss this OpportUNITY! Businesses interested in participating in OpportUNITY Little Rock can register here! Become a City vendor by visiting the Supplier Portal.