OpportUNITY Little Rock seeks to provide business leaders with the skills and knowledge to bolster their internal diversity, equity, and inclusion efforts and support small and diverse businesses to competitively engage as suppliers. 
Want to receive updates about opportunities and free resources? Click here to sign up.
Interested in doing business with the City of Little Rock? Click here to visit our Procurement page, learn more, and create your supplier profile.

COMING SOON...Video and resources from the 2023 Economic OpportUNITY Summit & Expo
The City of Little Rock hosted the 2023 Economic OpportUNITY Summit & Expo at the Willie Hinton Neighborhood Resource Center and Substation in Little Rock's 12th St. corridor August 15th & 16th, 2023. This event provided a powerful platform for meaningful dialogue aimed at fostering collaboration and mutual growth between policymakers, business leaders, and the diverse talents in Little Rock.
Organized in partnership with the Little Rock Regional Chamber and an alliance of community stakeholders, this free two-day event was a spark for transformational change in our economy. Thank you to all of our partners, collaborators, speakers, and vendors who made the event a great success.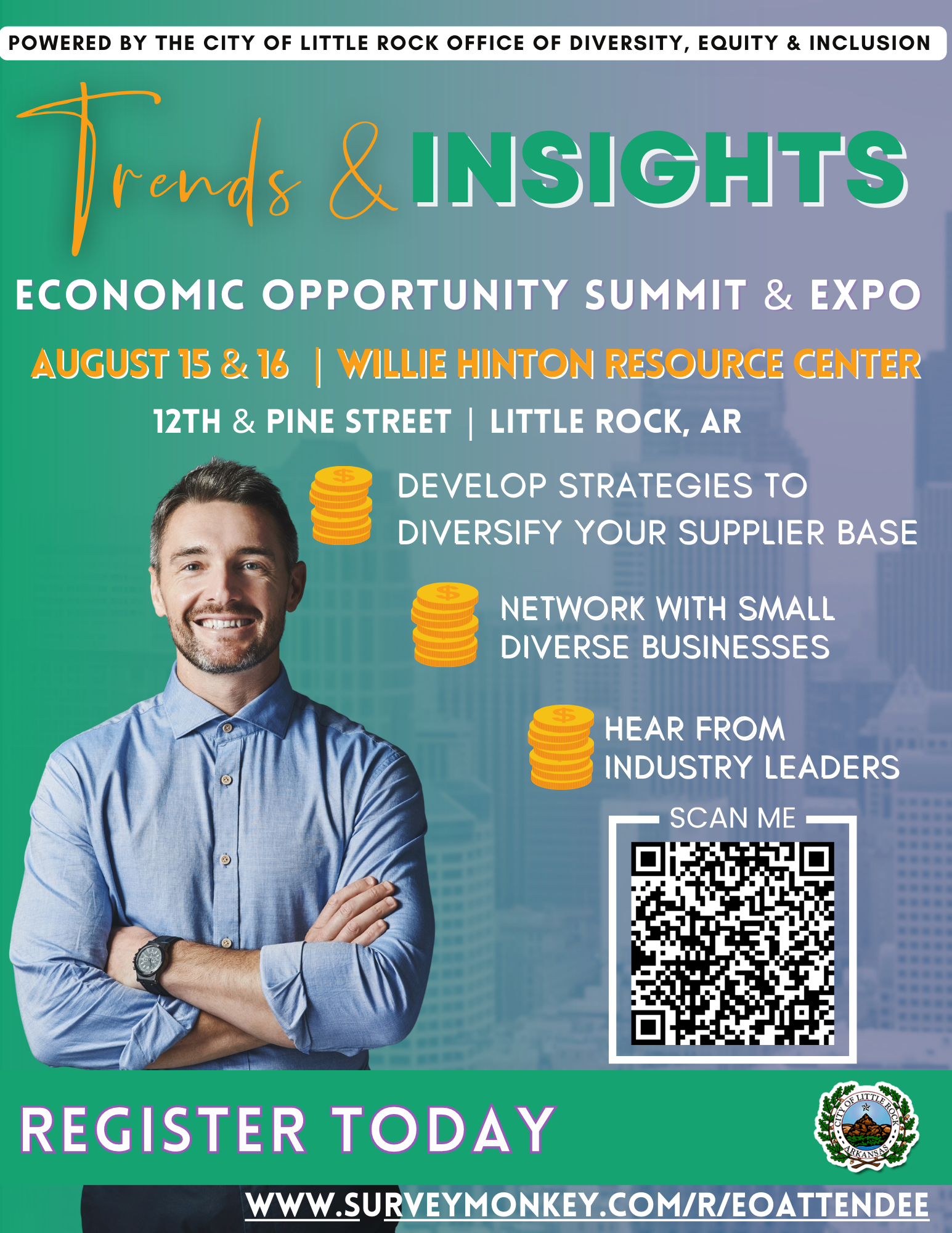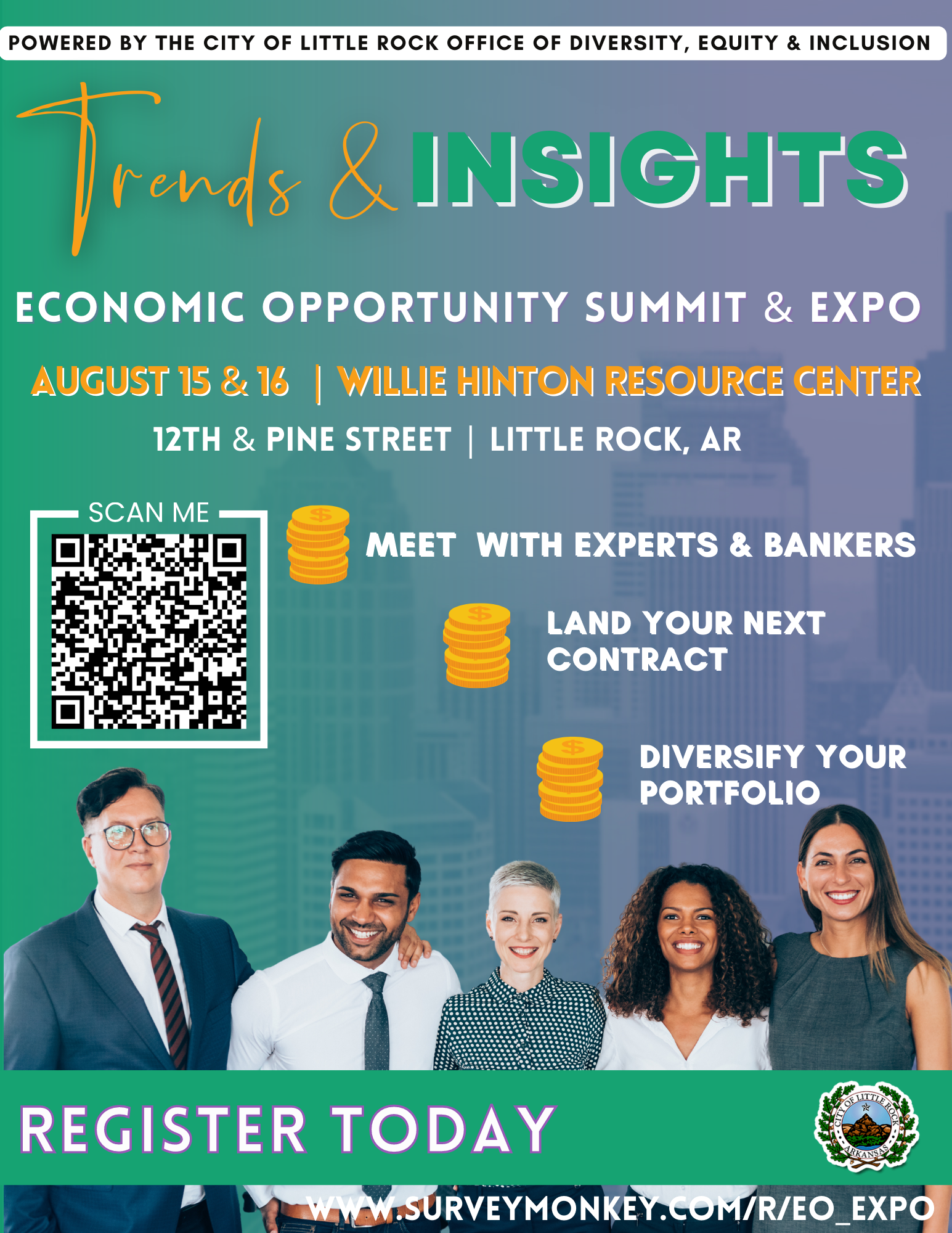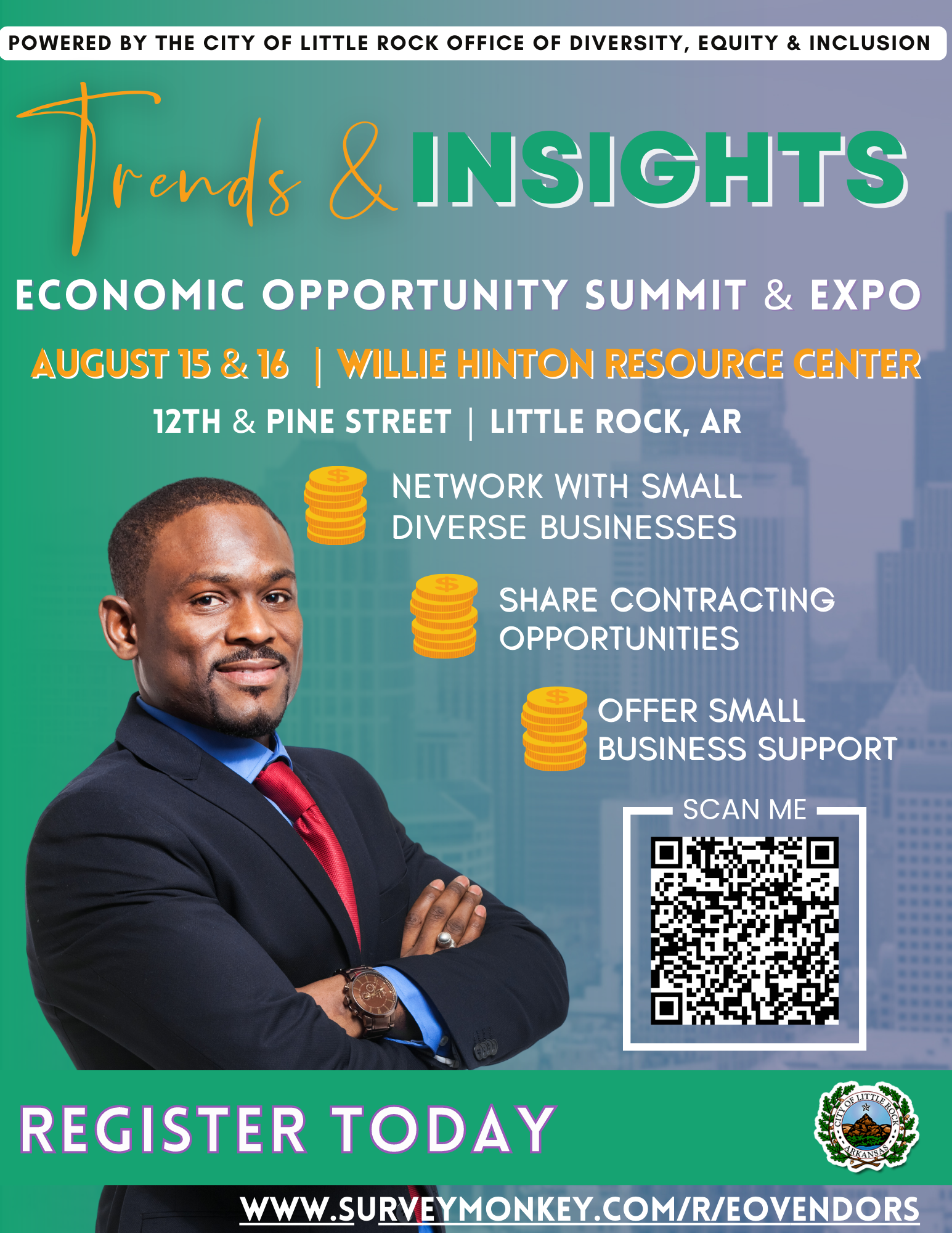 The Summit, on the first day, featured interactive panels consisting of industry leaders, representatives from financial institutions, and local businesses. The discussions revolved around the importance of diversifying supply chains, strategies for economic inclusivity, and ways to foster sustainable and inclusive economic growth. The audience was made up of top-level CEOs, policymakers, financial sector professionals, small and diverse business owners, and business development professionals.
Day two, the Expo, provided a unique platform for the procurement teams of local industries to meet with local businesses and share current and future contracting opportunities. We also had technical assistance and bankers onsite to equip local businesses with the tools they need to prepare for contracting engagements. In addition, there was ample opportunity for professionals in the small business development ecosystem to network. Attendees included small and diverse business owners, policymakers, and purchasing decision-makers.
The Summit & Expo will shine a spotlight on Little Rock as a dynamic hub of innovation and enterprise in the new south. Our goal is to develop a shared understanding of the benefits of building an inclusive economy and activate decision-makers to commit to joining us in diversifying spend. At the same time, we want to support development of business structures to take advantage of lucrative contract opportunities. We believe that by focusing on industry, small and diverse businesses, financial institutions, and public service entities, we can stimulate a robust, sustainable economic environment that benefits everyone. Want to be a part of the movement? Click here to join us today.
CLICK HERE to view the 2023 schedule.