MacArthur Museum of Arkansas Military History is closed for renovations. Our tentative date for reopening will be September 2018. 
Our off-site programming will continue as well as our outdoor special events within MacArthur Park. Please check our event page on this website and our Facebook page for updates. 
The MacArthur Museum of Arkansas Military History was created to interpret our state's military heritage from its territorial period to the present.
Located in the historic Tower Building of the Little Rock Arsenal--the birthplace of General Douglas MacArthur--the museum preserves the contributions of Arkansas men and women who served in the armed forces.
Exhibits feature artifacts, photographs, weapons, documents, uniforms and other military items that vividly portray Arkansas's military history at home and abroad.
Regular Museum Hours:
Monday - Saturday
Closed for renovations
Sunday
Closed for renovations
Free Admission. Donations appreciated. 

503 E. 9th Street
Little Rock, AR  72202
Phone:  (501) 376-4602
Fax:  (501) 376-4597
Email:  MacArthur Museum
Executive Director, Stephan McAteer
Upcoming Events:
"Reading, Writing, and Rock & Roll - Creative and Critical Reading for the Classroom"
Teacher Professional Development Workshop
June 6, 2018, 9:00 am - 3:30 pm, doors open at 8:30 am
MacArthur Museum of Arkansas Military History and Clinton Presidential Library will host this workshop at the Clinton Library classroom, 1200 President Clinton Ave, Little Rock, AR 72201. The workshop is free and includes a tour of the current temporary exhibit, "Louder Than Words: Rock, Power, & Politics." Lunch will be provided. Registered participants will receive 6 hours of professional development credit. Space is limited to 30 participants. Questions can be directed to Shane Lind, 501-376-4602 or Kathleen Pate, 501-244-2704.
To register, please complete the registration form by June 1: https://docs.google.com/forms/d/1DwILe2bP5l26oMcWQX-xVE9VmUuOBEQMUaPMonB29-Q/edit
Session One (3 hours): Pat Hoy, PHD will focus on practical work, work that will help teachers learn and practice many new ways to integrate reading and writing activities in all of their course work.  Teachers will explore how to promote and practice active learning that leads students to discover the excitement that can arise from such participatory learning, work that can become a routine part of classroom activities and homework. 
In this session, which will be delivered in three parts, participants will read and make use of a variety of short texts (argumentative, exploratory, fictive, non-fictive, visual, and musical).  The aim will be to find stimulating ways to improve thinking, imagining, and self-expression—skills that follow close order behind engaged reading.
Dr. Hoy directed the undergraduate writing program at New York University for twenty years. He is a recipient of the Cecil Woods, Jr. Award for Nonfiction from the Fellowship of Southern Writers.
Session Two (1 hour): Shane Lind of MacArthur Museum of Arkansas Military History and Kathleen Pate of Clinton Presidential Library will discuss education programs offered to schools by their institutions.
Session Three (1 hour): Tour the "Louder Than Words - Rock, Power, & Politics" exhibit that is currently on display at the Clinton Presidential Library.
Session Four (1 hour): Arkansas Historic Decisions Learning Exchange (ARHDLE), a coalition of officials from local museums who seek to use public deliberation as a tool to enhance outreach programs, assisted University of Arkansas Clinton School of Public Service students in partnering with MacArthur Museum of Arkansas Military History to develop instructional materials that engage in substantive discussions about important historical issues and current events.
This forum uses historical accounts of the trial of David O Dodd, a seventeen year old Arkansan hanged as a spy during the American Civil War, to connect to modern ideas of justice.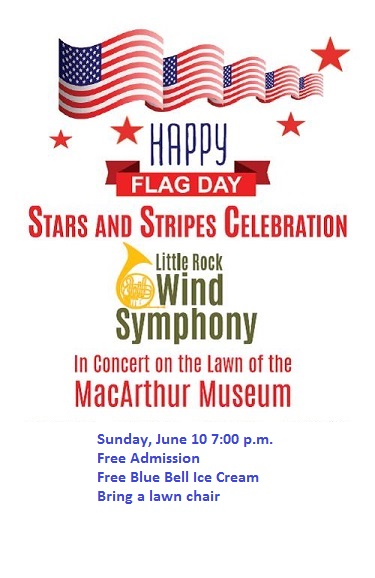 Join us Saturday, July 28 for our annual Vintage Military Vehicle Show on the outside grounds of the Museum 9:00 a.m.- 2:00 p.m.
If you are interested in bringing a vintage Military Vehicle to the show, please click the link below:
https://docs.google.com/forms/d/e/1FAIpQLSfZ-Ki8acjTcbJSBNXxH6RAhBZWKfiFMetO_ZOLDMGvbjvb5g/viewform
Watch the City of Little Rock's website for changes or closing due to inclement weather.