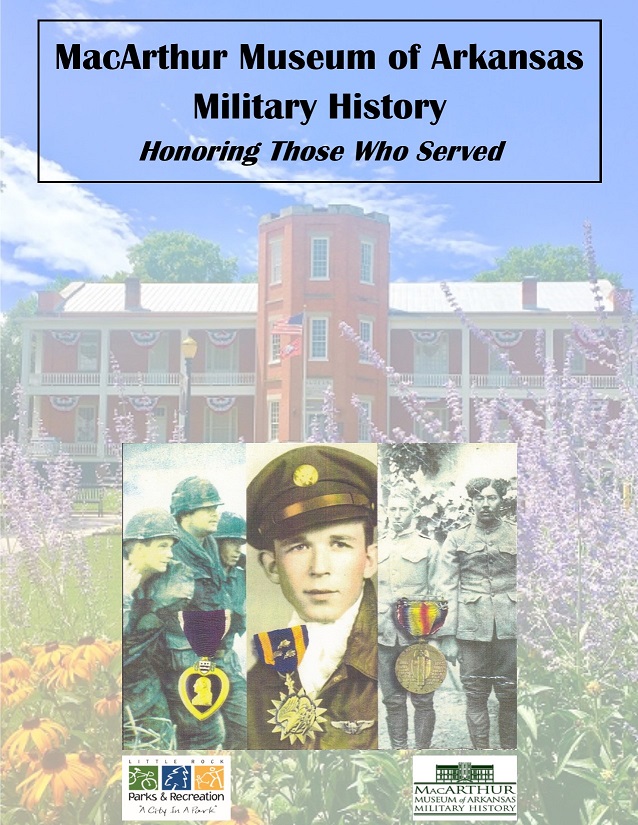 The MacArthur Museum of Arkansas Military History was created to interpret our state's military heritage from its territorial period to the present.
Located in the historic Tower Building of the Little Rock Arsenal--the birthplace of General Douglas MacArthur--the museum preserves the contributions of Arkansas men and women who served in the armed forces.
Exhibits feature artifacts, photographs, weapons, documents, uniforms and other military items that vividly portray Arkansas's military history at home and abroad.
| | |
| --- | --- |
| Regular Museum Hours: |   |
| Monday - Friday | 9:00 a.m. - 5:00 p.m. |
| Saturday  | 10:00 a.m. - 5:00 p.m. |
| Sunday | 1:00 p.m. - 5:00 p.m. |
The museum will be closed Thanksgiving Day, Christmas Eve, Christmas Day and New Year's Day. 
Free Admission. Donations appreciated.

503 E. 9th Street
Little Rock, AR  72202
Phone:  (501) 376-4602
Fax:  (501) 376-4597
Email:  MacArthur Museum
Executive Director, Stephan McAteer
Upcoming Events
Tuesday, October 15 - 6:30 pm- 8:30 pm
Movies At MacArthur: Black Hawk Down: The Untold Story
Black Hawk Down: The Untold Story presents the heroic efforts of soldiers from the 2nd Battalion 14th Infantry Regiment, 10th Mountain Division. These men demonstrated extraordinary courage, skill, and discipline as they fought their way into a "baited ambush" to rescue special operations forces pinned down at the crash site of Super Six-One while also attempting a rescue a the crash site of Super Six-Four. Two soldiers were killed and eighteen wounded in what many have described as the most ferocious urban combat since the Battle for Hue during the Tet Offensive in 1968.
Special guest at the screening will be, Colonel Randall Larsen, USAF (Ret) who is the documentary's Executive Producer/Director. He served in both the Army and Air Force for a combined total of 32 years of active duty military service and as military attaché at the US Embassy in Bangkok, the chief of legislative liaison at the US Transportation Command, and the commander of America's fleet of VIP aircraft at Andrews AFB MD. His decorations include the Legion of Merit, Distinguished Flying Cross, Bronze Star, and 17 awards of the Air Medal (3 with "V" Device for Valor). The event is open to the public free of charge. Popcorn and beverages are provided.
Admission is free. Popcorn and Beverages will be provided.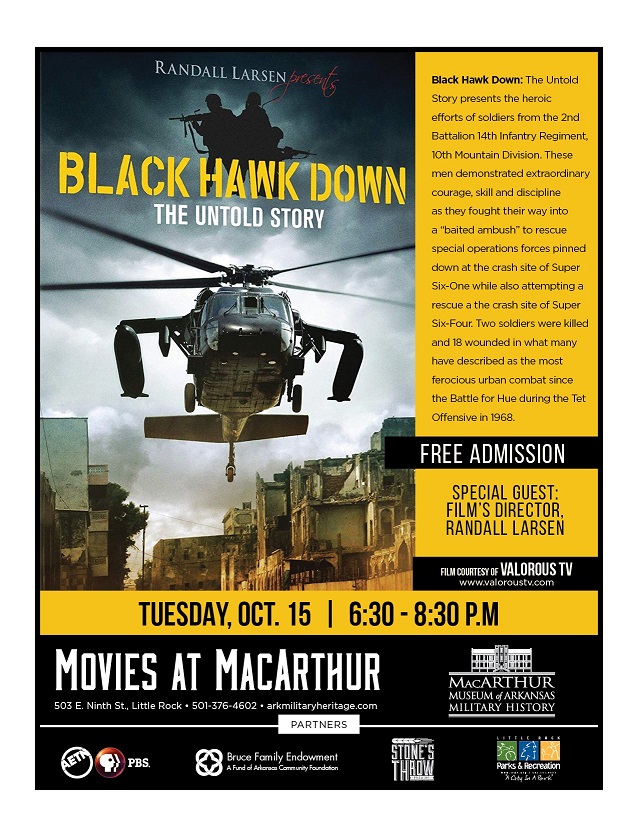 Thursday, October 24 - 5:30 p.m. - 8:30 p.m.
23rd Annual Big Boo!seum Bash
MacArthur Museum of Arkansas Military will be a host site for the 23rd Annual Boo-seum Bash! We will be partnering with the Arkansas Inland Maritime Museum. Join us museum for games, prizes and candy!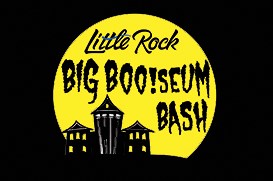 Thursday, November 7, 2019 at 12 PM – 1 PM
Hampton Sides- Book Signing 
HAMPTON SIDES is best-known for his gripping non-fiction adventure stories set in war or depicting epic expeditions of discovery and exploration. He is an acclaimed journalist and the author of the bestselling histories Ghost Soldiers, Blood and Thunder, Hellhound On His Trail, In the Kingdom of Ice, and, most recently, On Desperate Ground.
ON DESPERATE GROUND tells the story of one of the most harrowing clashes in American history, the Battle of Chosin Reservoir, during which Mao's numerically superior armies surrounded and tried to destroy the First Marine Division in the frozen mountain wilds of North Korea. In this deeply researched work of literary non-fiction, bestselling historian Hampton Sides offers a gripping chronicle of the extraordinary feats of heroism performed by the beleaguered Marines, who were called upon to do the impossible in some of the most unforgiving terrain on earth.
Join us November 7th 12-1 p.m. for a presentation and book signing by this incredible author! Admission is free.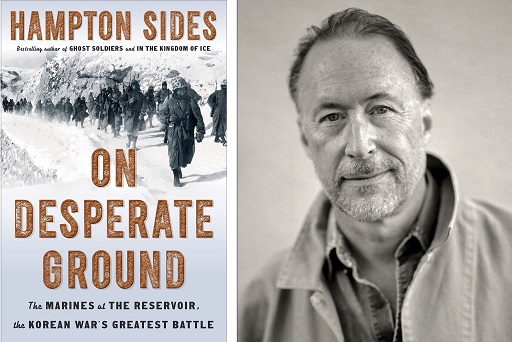 Our friends at @calibrarysystem is celebrating Tim O'Brien's Classic "The Things They Carried" by seeking to record oral histories with Arkansas Vietnam War Veterans. The Arkansas Vietnam War Project collects oral histories, letters, photographs and diaries from Arkansans who served during the conflict. If you or someone you know would like to contribute to this amazing project please visit the Butler Center website (link in bio). To participate in an oral history interview contact Brian Robertson at brianr@cals.org or call 501-320-5723.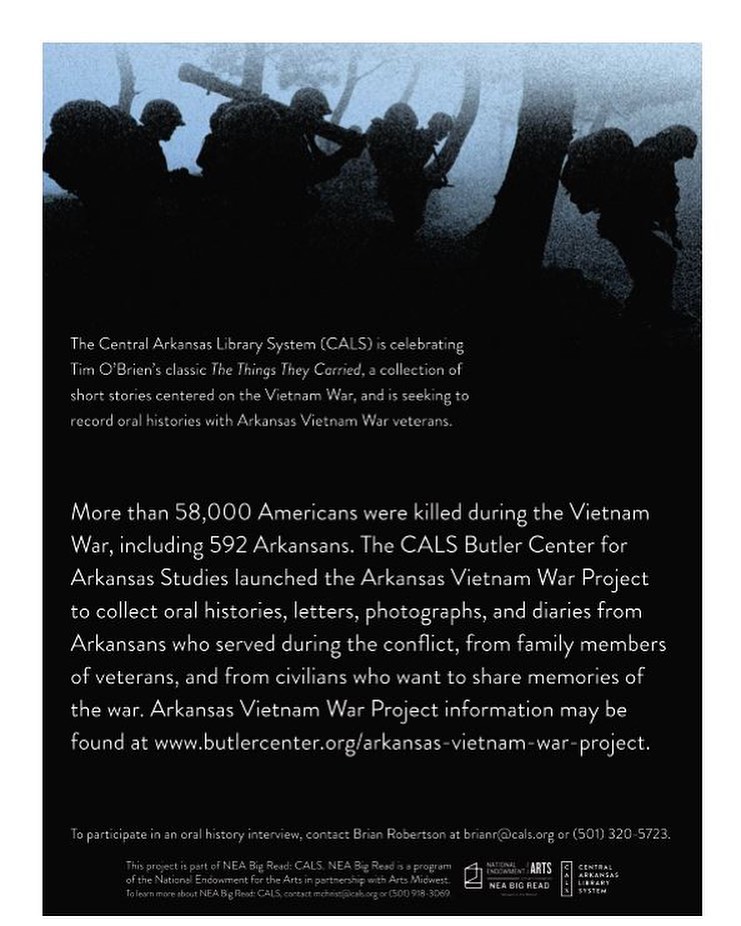 Allison Collection of World War II Photographs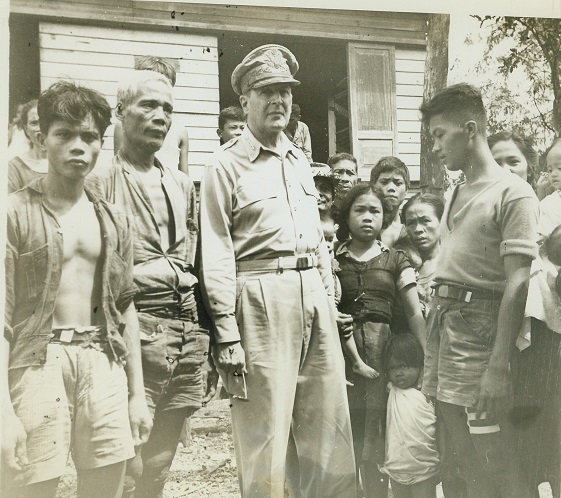 During World War II, James Allison, a sports writer working for the Houston Press, noticed that many photographs not printed in the daily newspaper were routinely discarded. He received permission to save these images, and by war's end he had amassed a collection of more than 4,600 photographs. In August 1977, Allison donated his collection to the Arkansas Museum of Science and History, located in the historic Arsenal building in MacArthur Park. Today, the MacArthur Museum of Arkansas Military History owns and preserves these images.

Click here to view the Allison Collection on Flickr.
Watch the City of Little Rock's website for changes or closing due to inclement weather.