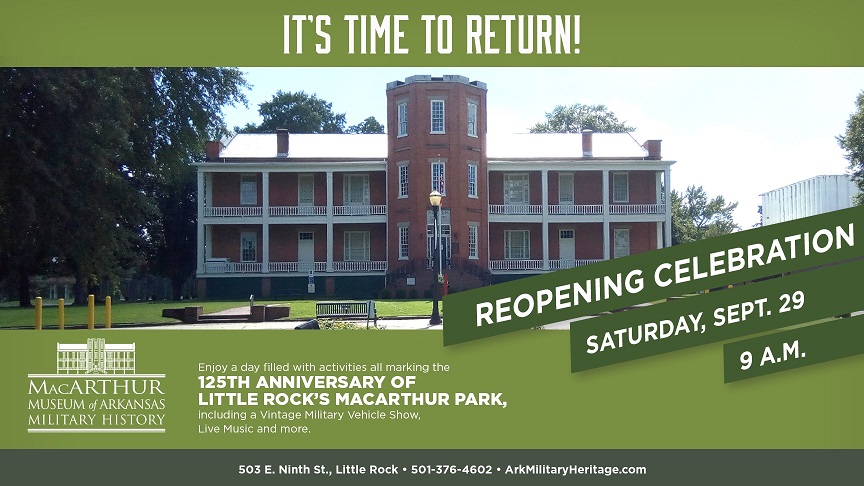 Schedule of Activities
MacArthur Park 125th Anniversary – Celebrating Little Rock's First Public Park
Saturday, September 29, 2018
9:00 a.m. – 2:00 p.m. - Vintage Military Vehicle Show featuring military vehicles from the Arkansas Military Vehicle Preservation Association. 
10:00 – 10:30 a.m.  -  Grand Re-opening of the MacArthur Museum of Arkansas Military History
Music provided by Five Star Brass Quintet of the 106th Army (Arkansas) Band
Remarks and Ribbon Cutting re-opening the military museum following a $1.55 million renovation
10:00 a.m. – 4:00 p.m.  -  MacArthur Park History Walk
Explore MacArthur Park using a "passport" to learn more about the park's history during the territorial/Civil War periods, late 19th century/early 20th century periods, and World War II/Modern periods.  There will be eight "passport sites" in total, with other sites to visit as well. Passports and Park materials may be picked up at the MacPark Group Table.  Stamped passports to all eight sites may be turned in for raffle prizes from the Arkansas Arts Center, Little Rock Parks, Arkansas Paranormal Expo, MacArthur Museum of Arkansas Military History, Mac Park Group, Quapaw Quarter Association, and others. 
AAC Friend Level Membership.
AAC Children's Theatre Tickets (4).
Flat Screen Television- MacPark Group.
AAC class/workshop.
QQA- ticket to Spring Tour of Homes and ticket to Mother's Day Brunch.
MMAMH- Gift basket and passes to the 8th Annual Paranormal Expo.
Parks and Rec- Round of Golf at Rebsamen Gold Course.
11:30 a.m. – 1:00 p.m. Woodmen Life will provide grilled hot dogs and chips to first 400 visitors.  Bottled water courtesy of Premium Refreshment Services.   Bluebell ice cream will be provided free.  Families are encouraged to bring picnic lunches.
12:00 – 2:00 p.m. - Concert by Funkle Sam of the 106th Army (Arkansas) Band on the North Plaza. Katie Sunshine will be hoop dancing with Funkle Sam.
4:00 – 8:00 p.m. - Evening German Biergarten.  Local breweries set up to sell beers. *Will have entry fee of $10 which will buy admission, three beer tokens, and a bratwurst plate.
The MacArthur Museum of Arkansas Military History was created to interpret our state's military heritage from its territorial period to the present.
Located in the historic Tower Building of the Little Rock Arsenal--the birthplace of General Douglas MacArthur--the museum preserves the contributions of Arkansas men and women who served in the armed forces.
Exhibits feature artifacts, photographs, weapons, documents, uniforms and other military items that vividly portray Arkansas's military history at home and abroad.
Regular Museum Hours:
Monday - Saturday
Closed for renovations
Sunday
Closed for renovations
Free Admission. Donations appreciated. 

503 E. 9th Street
Little Rock, AR  72202
Phone:  (501) 376-4602
Fax:  (501) 376-4597
Email:  MacArthur Museum
Executive Director, Stephan McAteer
Upcoming Events: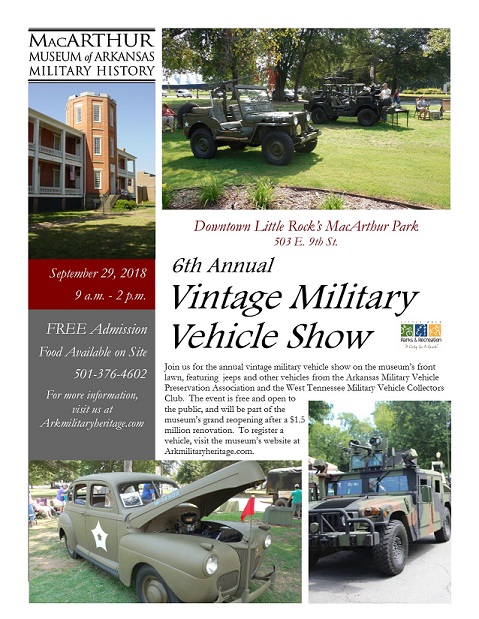 Join us Saturday, September 29 for our annual Vintage Military Vehicle Show on the outside grounds of the Museum 9:00 a.m.- 2:00 p.m.
If you are interested in bringing a vintage Military Vehicle to the show, please click the link below:
https://docs.google.com/forms/d/e/1FAIpQLSfZ-Ki8acjTcbJSBNXxH6RAhBZWKfiFMetO_ZOLDMGvbjvb5g/viewform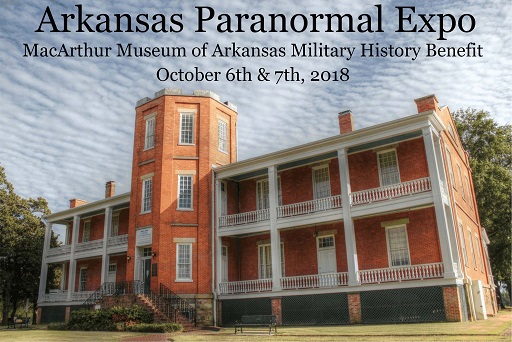 October 6-7, 9:00 a.m.-5:00 p.m.
8th Annual Arkansas Paranormal Expo
The Arkansas Paranormal Expo is a benefit supporting the MacArthur Museum of Arkansas Military History. The Tower Building which was built in 1840, is listed on the National Register of Historic Places and is the birthplace of General Douglas MacArthur. It is our mission to raise funds to help preserve this beautiful, historic building. 

The Arkansas Paranormal Expo has grown to be the biggest and most popular event of its kind in all of Arkansas. This year's Expo will once again precede its honorable reputation. The talented A.P.E. organizers are adding even more vendors and speakers! Subjects such as, UFO's, Bigfoot, Cryptozoology, The Supernatural, Psychic Phenomena & Ghost Hunting will take the stage, proving in-depth education and intriguing insight. We are proud to showcase and support keynote speakers, local experts and forerunners of paranormal exploration. For more information contact http://www.arkansasparanormalexpo.com/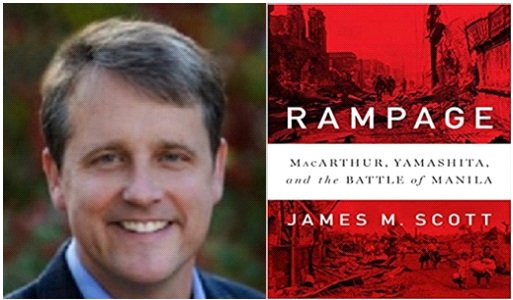 Lecture and book signing with James Scott, Wednesday, October 10, 7:00 p.m.
Join us at the museum for a lecture and book signing with author James Scott. Mr. Scott will be discussing his new book Rampage which will be released October 2, 2018. Rampage based on extensive research in the United States and the Philippines, including war-crimes testimony, after-action reports, and survivor interviews, recounts one of the most heartbreaking chapters of Pacific war history.
A former Nieman Fellow at Harvard, James M. Scott is the author of Target Tokyo, which was a 2016 Pulitzer Prize finalist and was named one of the best books of the year by Kirkus, The Christian Science Monitor and The Fort Worth Star-Telegram. His other works include The War Below and The Attack on the Liberty, which won the Rear Admiral Samuel Eliot Morison Award. His fourth book, Rampage, will be released on October 2, 2018.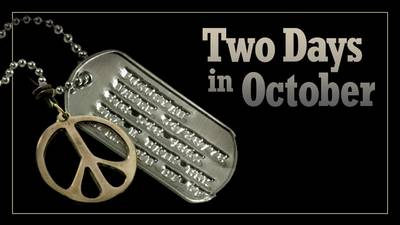 Movies at MacArthur: Tuesday, October 16, 6:30 p.m. - 8:30 p.m.
In October 1967, history turned a corner. In a jungle in Vietnam, a Viet Cong ambush nearly wiped out an American battalion, prompting some in power to question whether the war might be unwinnable. On a campus in Wisconsin, a student protest against Dow Chemical, the maker of napalm, spiraled out of control, marking the first time that a campus anti-war demonstration had turned violent.
Directed by Robert Kenner, Two Days in October tells the emotionally wrenching parallel stories. The film features firsthand accounts from the people whose lives were irrevocably changed by what happened — American and Viet Cong soldiers, relatives of men killed in battle, protesting students, police officers, and university faculty and administrators. Collectively, their words speak to the heartbreak caused by the war and the stark division it wrought on the home front. Two Days in October is based on the book They Marched Into Sunlight, by Pulitzer Prize-winning journalist David Maraniss.
Winner of the 2005 Peabody Award and the 2006 Primetime Emmy for Exceptional Merit in Non-Fiction Filmmaking.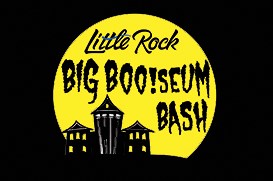 October 25, 5:30 p.m. - 8:30 p.m. 23rd Annual Big Boo!seum Bash
MacArthur Museum of Arkansas Military History will partner with Wildwood Park for the Arts this year for the 23rd Annual      Boo-seum Bash! Outside on the front lawn of the museum there will be games, prizes and candy! 
Watch the City of Little Rock's website for changes or closing due to inclement weather.