3-1-1 Synopsis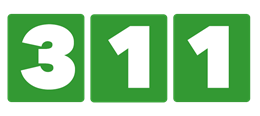 311 is now an app, too
Little Rock 311 is available for Android and Apple smart devices. The free app lets citizens make a request directly from their phones and then track that request. On a smartphone, open your app store and search for Little Rock 311 to download this app.
What is 3-1-1?
Little Rock 3-1-1 is a simple, three-digit number that residents, businesses and visitors can call to reach the City to make inquiries regarding services, report problems, check the status of issues or obtain general information. Instead of having to scroll through a list of more than 200 seven (7)-digit City numbers, all people need to know is 3-1-1. From obtaining library hours, to reporting a stray dog in your neighborhood and a whole lot more, 3-1-1 operators are ready to assist.
Why was 3-1-1 created?
The 3-1-1 service is part of an ongoing effort by Little Rock to make City Government easier and more responsive to the needs of residents, its business owners and visitors. The City of Little Rock 3-1-1 system is a part of the 2004 Bond Project approved by the voters.
When do I call 3-1-1?
Remember that 3-1-1 is for non-emergencies while 9-1-1 service is for emergencies, such as house fires and violent crimes, which require an immediate response from police, fire crews or an ambulance. 
Customer service operators will staff the phone from 7:00 AM – 5:00 PM, Monday - Friday. If calling after 5:00 PM, you will be prompted to leave your contact information, concern and address of the issue. The service request will be entered on the next business day.
Individuals living outside the Little Rock City Limits can reach 3-1-1 customer service agents by calling (501) 371-4437.
If a non-English speaking individual calls 3-1-1, a third-party translation service will join the call, if so needed.
The 3-1-1 Operators are equipped with computer-based technology that will enable hearing impaired individuals to easily communicate with the City of Little Rock utilizing their current TDD/TTY devices.
After hours and on weekends, the 3-1-1 Call Center will be closed; however, police reports can be made by calling (501) 918-4397. Residents may also leave a voice message or send an email to LittleRock311service@littlerock.gov.
The new 3-1-1 system will provide crucial community feedback on information citizens need most and want from their local government. Locations for various types of requests can be found by visiting 'Citizen Connect' on the City of Little Rock home page.
For emergencies call 9-1-1
Reasons to Call 3-1-1
City Services
To request information or report a non-emergency item, for example:
General City Service Information of Phone Numbers
City Event Information
Locations and Hours of Operation of City Properties
Potholes that Need Repaired
Street Sweeping Requests
Sidewalk Repairs
Missed Garbage Pick-ups
Missed Recycling Pick-ups
Garbage and Recycle Bin Issues
Dumpster Requests
Report High Grass and Weeds
Request Bulky Item Pick-up
Tree Trimming on Public Property
Taxi/Limo Complaints
Report Graffiti
Parking Enforcement Issues
Traffic Light Outage
Street Light Outage
Stray Animals
Aggressive Animals and Trap Requests
Golf Course Maintenance
Trail Maintenance
Trash in the Park
Operating a Business Without a Permit
Working Without A Permit
Violations on a Commercial Property
How to Dispose of Hazardous Materials and Medications
For emergencies call 9-1-1