BFC Bronze
Little Rock a Bike Friendly Community (Bronze) 2016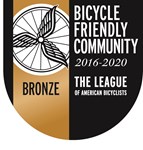 Little Rock was named a Bike Friendly Community by the League of American Bicyclists.
The City of Little Rock and our bike advocate community have been working to make Little Rock more bike friendly. Earning Bike Friendly Community status is a validation of the hard work so many have done to get Little Rock to this point.
The City of Little Rock's official announcement:
Today, the League of American Bicyclists recognized Little Rock with a bronze Bicycle Friendly Community (BFC) award, joining 374 visionary communities from across the country. With the announcement of 34 new and renewing BFCs, Little Rock joins a leading group of communities in all 50 states that are transforming our neighborhoods.

"We applaud these communities for making bicycling a safe and convenient option for transportation and recreation," said Bill Nesper, vice president of programs at the League of American Bicyclists. "We are encouraged by the growing number of leaders who see bicycling as a way to build more vibrant, healthy, sustainable and connected communities and be a part of the solution to many complex challenges faced at both the community and national levels. We look forward to continuing to work with these communities as we move closer to our mission of creating a Bicycle Friendly America for everyone."

The BFC program is revolutionizing the way communities evaluate their quality of life, sustainability and transportation networks, while allowing them to benchmark their progress toward improving their bicycle-friendliness. With this impressive round, there are now 374 BFCs in all 50 states. The bronze BFC award recognizes Little Rock's commitment to improving conditions for bicycling through investment in bicycling promotion, education programs, infrastructure and pro-bicycling policies.

"We are pleased to receive this designation because we have, through our Complete Streets ordinance, pledged to make our street system friendly to all modes of transportation, including walking, biking, driving, and mass transit," City Manager Bruce T. Moore said. "Recognition of our efforts shows that Little Rock is on the right course to transform our streets into a modern, multimodal transportation network."

The Complete Streets ordinance, recently recognized as one of the best new Complete Streets policies of 2015 by Smart Growth America, requires new and resurfaced streets to include multimodal transportation options as the default policy. Multimodal streets will allow greater self-sufficiency for people who can't drive or don't own a car, will let people make healthier transportation choices, and will help Little Rock remain competitive in attracting young professionals craving a vibrant, healthy community in which to settle.

The City's Bike Master Plan, part of the Master Street Plan, also identifies the corridors of greatest need for bike facilities and plots a network of connectivity, allowing people to safely and conveniently traverse the City by bike. Streets on the Bike Master Plan should be fitted with bike facilities when resurfaced, but a street need not be on the plan to receive bike facilities.
The BFC program provides a roadmap to building a Bicycle Friendly Community and the application itself has become a rigorous educational tool. Since its inception, more than 900 distinct communities have applied and the five levels of the award – diamond, platinum, gold, silver and bronze – provide a clear incentive for communities to continuously improve.

About the Bicycle Friendly America Program:
The Bicycle Friendly Community, Bicycle Friendly State, Bicycle Friendly Business and Bicycle Friendly University programs are generously supported by program partner Trek Bicycle Corp. To learn more about building a Bicycle Friendly America, visit www.bikeleague.org/BFA. The League of American Bicyclists is leading the movement to create a Bicycle Friendly America for everyone. As leaders, our commitment is to listen and learn, define standards and share best practices to engage diverse communities and build a powerful, unified voice for change."
Our next League of American Bicyclist evaluation will be in 2020.  We will continue to make our community a safer and more enjoyable place to bike for recreation and transportation.  We intend to retain Bronze bike-friendly status or even earn Silver bike-friendly status.  Please check back to this site for ways you can help Little Rock continue to move in a bike-friendly direction.