Southeast Trail
The Arkansas River Trail (ART) is Central Arkansas's premiere active transportation and recreation corridor. The proposed Southeast Trail, a joint project between Pulaski County and the City of Little Rock, will leverage all ART connectivity, add several important destinations to the combined network, and connect it to the airport, bringing active, healthy, sustainable, equitable, and safe transportation and recreation options to East Little Rock.
The Southeast Trail will construct a 12 ft. wide shared-use path from the ART to the airport on and along the levee, connecting the Clinton Presidential Library, Clinton School of Public Service, Heifer International, Residents of Harbor Town, Rock City Yacht Club, Carver Magnet Elementary School, East Village, East Little Rock Community Center, and Dassault Falcon Jet (Figs. 1-3).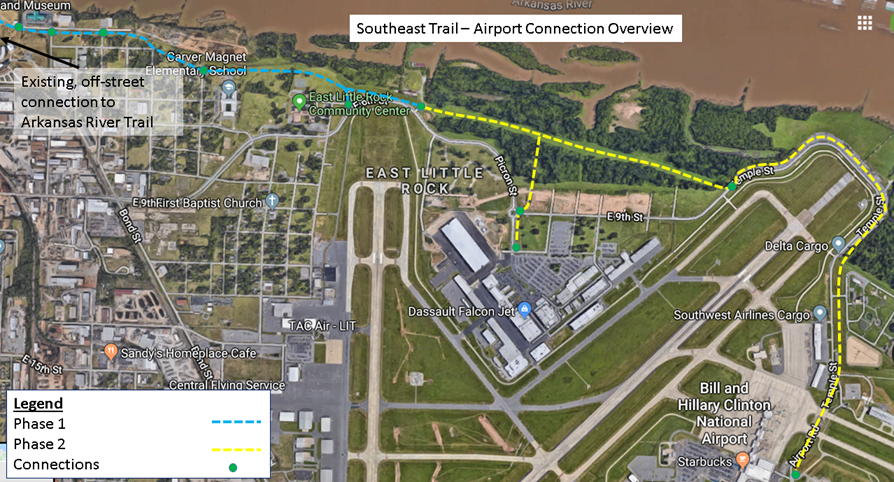 Figure 1.  This is the proposed alignment of the Southeast Trail from Heifer to the airport.  This is not a final alignment; details must still be resolved and the alignment may change, especially in the yellow section.
To ensure a transportation function, this portion of the Southeast Trail will have 10 access points along its alignment, directly connect important origins and destinations, and connect to pedestrian, bike, bus, streetcar, and air networks (Figs. 1-2).  It will increase transportation equity, suitability to Millennials and retirees of a new residential development, economic development of East Village, and visitation to Heifer and Clinton Library. It will also provide a commuting option for ~1850 Dassault Falcon Jet employees and Safe Routes to School for Carver Magnet Elementary School, eSTEM - East Village Elementary and Junior High Schools, and the Clinton School of Public Service.  It will provide Safe Routes to Parks for East End and Cheatam Parks, access to East Little Rock Community Center, and transportation option to/from the Little Rock Airport. Linkages to the Arkansas River Trail, the Southwest Trail, transit, and the airport will provide regional benefits as well.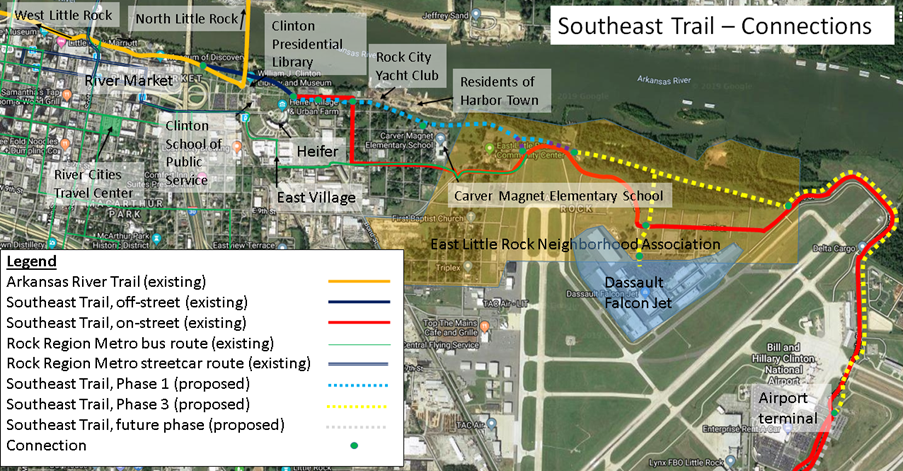 Figure 2.  Proposed new Southeast Trail construction from Heifer International to the airport terminal, emphasizing connectivity to important origins and destinations and connections to the street grid, air travel, and the Rock Region Metro bus and streetcar networks.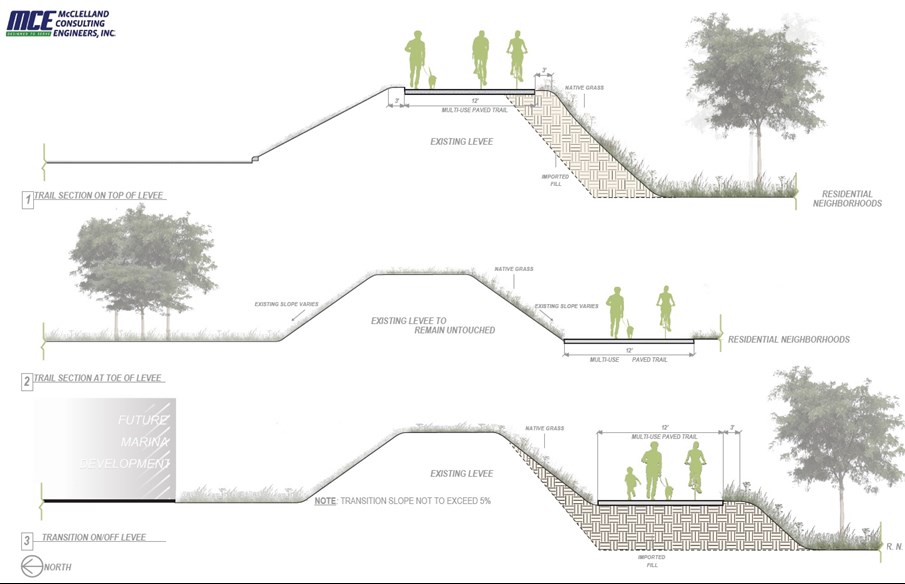 Figure 3.  Cross sections of the Southeast Trail in different alignments courtesy of McClelland Consulting Engineers, Inc.  Figure not always to scale: all slopes above which trails align will be 3:1 or shallower and there will be shoulder ≥ 3' wide on both trail sides.


Many recreational road riders and cycling club members may already know the Southeast Trail as a road route adopted into the City of Little Rock's Master Bike Plan in 2011 and designated the Southeast Trail in 2015 (Fig. 4).  The off-street Southeast Trail shared-use path will retain some of the same connectivity but encourage more people (Tab. 1) and a greater diversity of people to walk or ride this corridor.  The Southeast Trail will ultimately reach the Little Rock Port and Terry Lock and Dam as well. Especially with Class 1 and 2 ebikes allowed on our shared use trail system, the Southeast Trail will provide a transportation alternative to the Little Rock Port's workforce.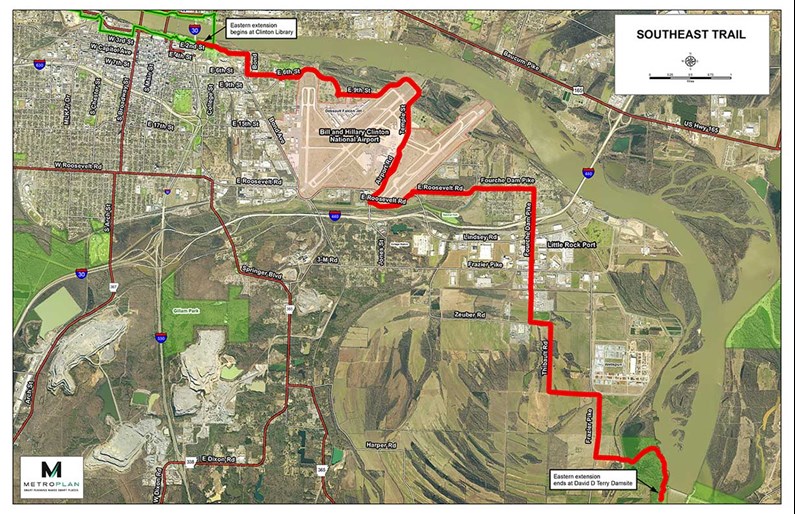 Figure 4.  Map of the Southeast Trail road route from arkansasrivertrail.org.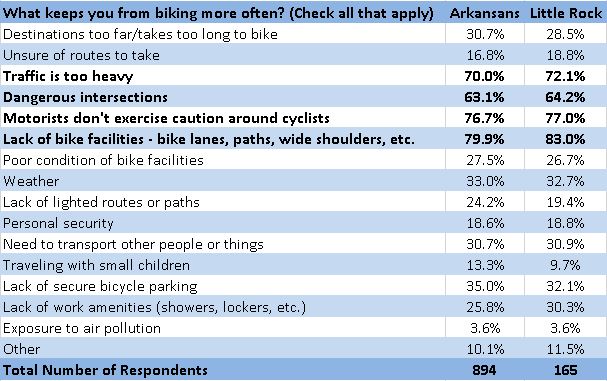 Table 1.  The top four responses, by far, from Arkansans and Little Rock residents as to what discourages them to bike more often is a fear of getting struck by a motor vehicle.  The top answer is a lack of facilities separated from vehicular traffic (data from Arkansas Bicycle and Pedestrian Transportation Plan outreach).
This project has garnered significant community support.  Burkhalter Technologies, Inc. has provided in-kind contributions for the project and we have letters of support from Bicycle Advocacy of Central Arkansas, Carver Magnet Elementary School, Clinton National Airport, Clinton School of Public Service, East Village, East Little Rock Neighborhood Association, the Little Rock Convention and Visitors Bureau, Moses-Tucker, Museum of Discovery, Pulaski Drainage District 2, Rivermarket, and Rock Region Metro.  If this is a project you, your running/biking club, or organization supports, the City would love to get a letter of support to submit with funding requests for upcoming funding opportunities.  Please reach out to John Landosky (jlandosky@littlerock.gov) to learn more.
Thank you for your interest!