Training Division
Recruit Training (501) 918-4302
In-Service (501) 918-4306
Police Recruiting (501) 918-4305
Administrative/Records (501) 918-4300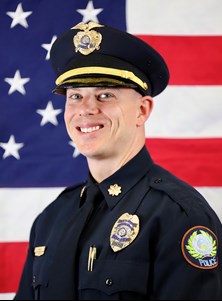 Major Cody Miller

The Training Division is under the command of Major Cody Miller, who reports to the Assistant Chief of Police – Executive Bureau.
Major Cody Miller is a Central Arkansas native graduating from Cabot High School in 2004.  He began his law enforcement career in 2008 after graduating from the University of Arkansas at Little Rock with a bachelor's degree in Criminal Justice.
As a patrol officer, he was assigned to the Northwest Division where he served as a Field Training Officer before transferring to the Major Crimes Division in 2013 as a Violent Crimes Unit Detective.  He was promoted to the rank of Sergeant in 2014.  As a Sergeant, he worked in all patrol divisions, the Headquarters Division as the Property Room Sergeant, and Training Division as the Recruit Training Sergeant.  He was promoted to the rank of Lieutenant in 2018.  As a Lieutenant, he was assigned to the 12th Street Station as a watch commander and served as the River Market Unit Commander from 2019 to 2022.  Major Miller was promoted to the rank of Major in February 2022.
Major Miller has obtained several law enforcement certifications and has attended several executive-level leadership courses.  He has received numerous civilian and supervisor commendations, an Officer of the Month award, and a Police Unit Commendation award.  Major Miller is married and has two kids.
Major Miller is currently assigned as the Training Division Commander.  As the Training Division Commander, he is responsible for the operation Department's CALEA-Certified Training Academy.  The Training Division is broken into five units; Administrative/Records Unit, In-Service Unit, Recruit Training Unit, Police Personnel Unit, and Field Training Coordination.
The In-Service Unit conducts the annual 40 hours of in-service training that is required for sworn members of the Department along with conducting several specialized training classes. 
The Recruit Training Unit operates LRPD's Recruit Training Academy, which provides 960 hours of entry-level training for all LRPD recruits. 
The Police Personnel Unit is responsible for recruiting, testing, and screening all police applicants interested in a career at LRPD. 
The Field Training Coordinator oversees the 480-hour Field Training Program, which must be completed by each Recruit Academy graduate before that recruit being allowed to patrol on his/her own.