LGBTQ Liaison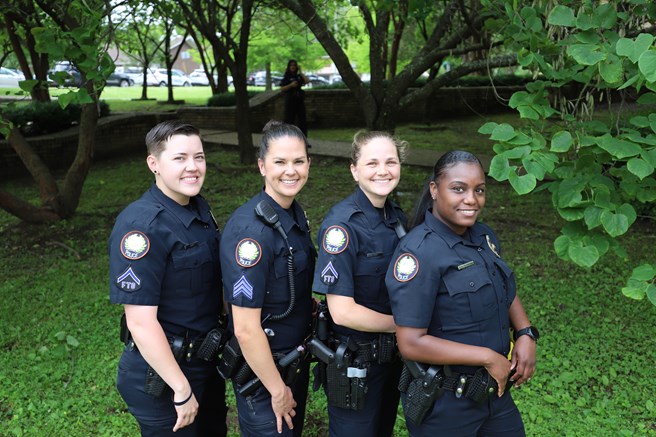 The LGBTQIA+ Liaisons
(From left to right: Officer Jump, Lt. Gurley, Det. Toro, and Officer Brandon)
Head LGBTQ+ Liaison:
Officer Tracy Brandon (she/her): tbrandon@littlerock.gov
Tracy Brandon is LRPD Crime Prevention Liaison from Chicago, Illinois. In 2015 she graduated from UALR and earned a bachelor's degree in Criminal Justice, a minor in Legal Studies, and an associate's degree in the Science of Law Enforcement. Officer Brandon was also a member of the Army National Guard until 2017 and ascended to her current position with the LRPD in 2019. Currently, she is attending Eastern Gateway Community College in Ohio for Cyber Security and is an active LGBTQ+ Liaison.
LGBTQ+ Liaison:
Detective Bailee Toro (she/her): btoro@littlerock.gov
Bailee Toro is an LRPD Detective for Violent Crimes. In 2015 she graduated from Arkansas State with a Bachelor's degree in Criminology and a minor in Military Science. Detective Toro became the first female in the state of Arkansas to be commissioned as 2nd Lieutenant Combat Engineer Officer in the year of 2017. Throughout her career she has worked as a Field Training Officer and on the Violent Crimes Apprehension Team (VCAT). Toro is also currently on the part-time bike squad and is an Emergency Vehicle Operation Instructor (EVOC).
Lieutenant Tabitha Gurley (she/her): tgurley@littlerock.gov
Tabitha Gurley is a Lieutenant in the LRPD Major Crimes Division from Northeast Arkansas. Gurley has a Bachelor's degree in Criminal Justice. Gurley began working for the LRPD in 2005 where she then was promoted to detective for Juvenile Crimes in 2009. Later she was promoted to Sergeant and was assigned to the Training Division as the Field Training Sergeant and Recruiting Training Sergeant. In 2022 Gurley ascended to her current position.
Officer Bailey Jump (she/her): bjump@littlerock.gov
Bailey Jump is an officer at the Northwest Division. Jump has been with the Little Rock Police Department since 2016. She's also, a Field Training Officer (FTO) and has been since 2020.
Victim Services:
Jenny Smith (she/her): jsmith@littlerock.gov
Jenny Smith is the LRPD Victim Services Specialist. Smith works with both the elderly and the LGBTQIA+ community to provide victims with resources such as shelters and doctors.
Resources:
Therapy
Chenal Family Therapy
-Elizabeth Wiggins
501-290-4226
-Joshua Garrett-Jones
501-236-6853
-Kristen Davis
501-254-7280
Serenity Health & Wellness LLC
501-271-3655
Health
Park West Pharmacy
501-224-3499
Ryan White Program
Pamela Randolph
HIV Field Operation Manager
501-682-6990
Vector Health & Wellness
479-316-6565
Arkansas HPG
501-349-7777
Shelter
Lucie's Place
501-508-5055