Recycling in Little Rock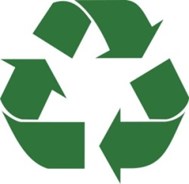 According to the EPA recycling is "the separation and collection of materials that otherwise would be considered waste, the processing and remanufacturing of these items into new products, and the use of the recycled products to complete the cycle." Recycling turns items like those bottles, paper, and cans that you're done with into new products. LRecycles promotes recycling because it reduces the use of virgin raw materials during production, reduces energy usage, reduces air and water pollution, and lowers greenhouse gas emissions.
A lot of items and materials can be recycled, but only certain items are accepted in our curbside recycling program. Curbside recycling is picked up on the same day as regular trash pick up.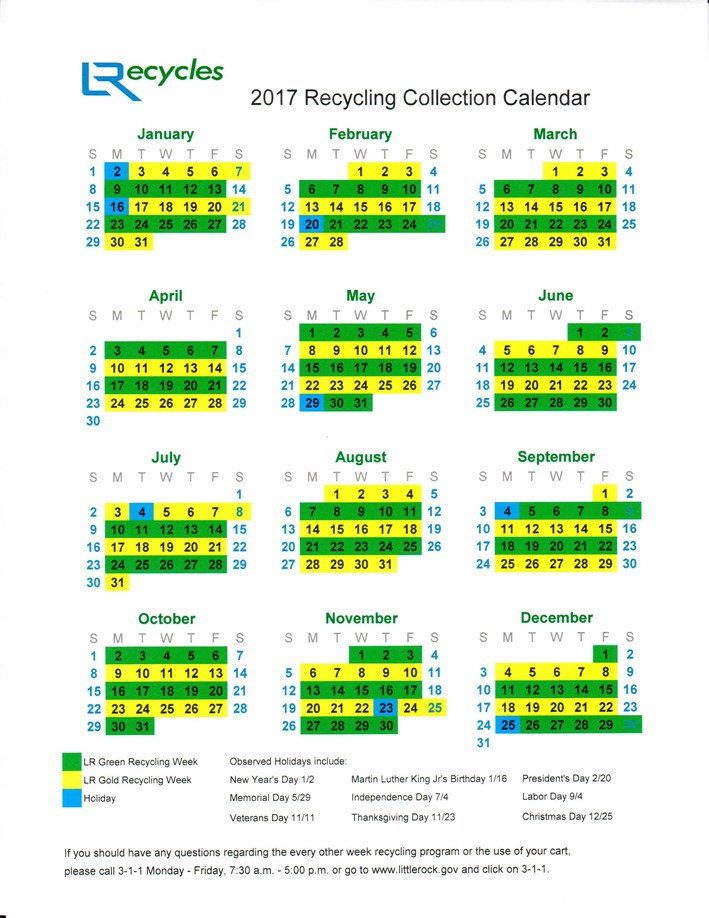 To print a copy of the calendar above, please Click Here.
Interactive Recycling Collection Map(click here)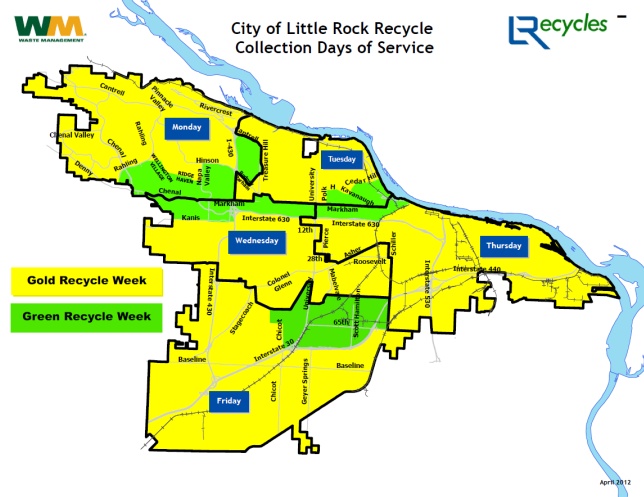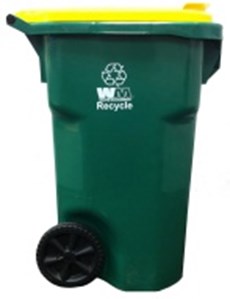 When is my recycle pick-up?
Your recycling is picked up every other week, the same day as your garbage collection.
Where is my recycle pick-up?
Recycling pick-up will be in the same location your garbage is picked up.  For example, if your trash is picked up in the alley, recycling will be picked up in the alley. 

Please allow for a minimum of three (3) feet between the trash cart and recycling cart.
Should I bag my recycling?
No, recyclables should go in the cart loose (not bagged). 

Single stream recycling means you don't have to separate any of your recyclable items from each other.

 P

aper, plastic, aluminum, and glass can all be placed loose in the cart.

The exception is shredded paper, which should be placed in tied-off clear bags and then in the recycling cart.

As a reminder, we no longer accept plastic bags (i.e. grocery bags) in the recycling program. Please return your plastic bags to Kroger, Walmart, or any participating plastic bag take back store.

 
What do I do with my old recycling bin?
You may keep your old recycling bin for your personal use, or you may place it in the sixty-four (64)-gallon cart to be recycled.