Changes in Tri-Creek Greenway Phasing / Scopes of Work
In July 2020, the City applied for Transportation Alternatives Program grant funding to construct more of the Tri-Creek Greenway connecting Western Hills, Hindman, and Brodie Creek Parks as a follow-up to Phase 1 (Fig. 1).  The City was not awarded that funding.  In September 2020, while the Phase 2 grant was still under review, the City applied for Metroplan Surface Transportation Program funding to complete Phase Three of the Tri-Creek Greenway from Western Hills Park to the Mississippi/Rodney Parham intersection (Fig. 2).  That application was fully funded.   Metroplan has since permitted the City to change the Phase Three scope to to include the alignment proposed in the Phase 2 application but not go farther north than Boyle Park (i.e. exclude the connection between Kanis Park and Boyle Park).  Because the original phases have already been discussed and published in Metroplan's innagural Best Planning Practices (2021), confusion is understandable.
BikePed Little Rock will keep this page as an archive of the original Phase 2 scope but, since it is no longer relevant to how the trail will be funded, we will retire "Phase 2" as a Tri-Creek Greenway phase.  The remaining page no longer relevant other than to clarify the original phasing and scope of work.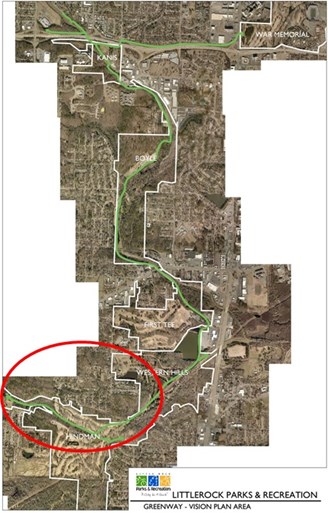 Figure 1. Map showing the entire Tri-Creek Greenway and the approximate scope of work of the 2020 TAP grant.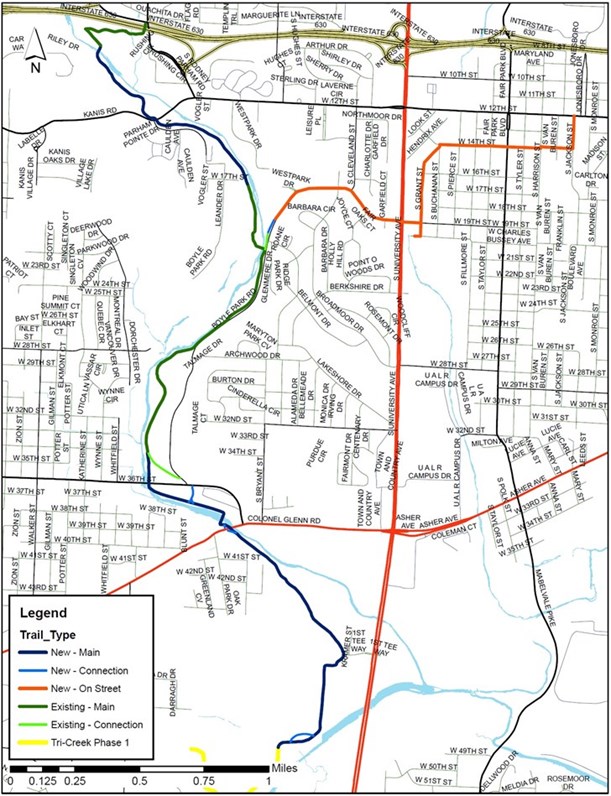 Figure 2.  Map of the original Tri-Creek Greenway Phase Three scope of work.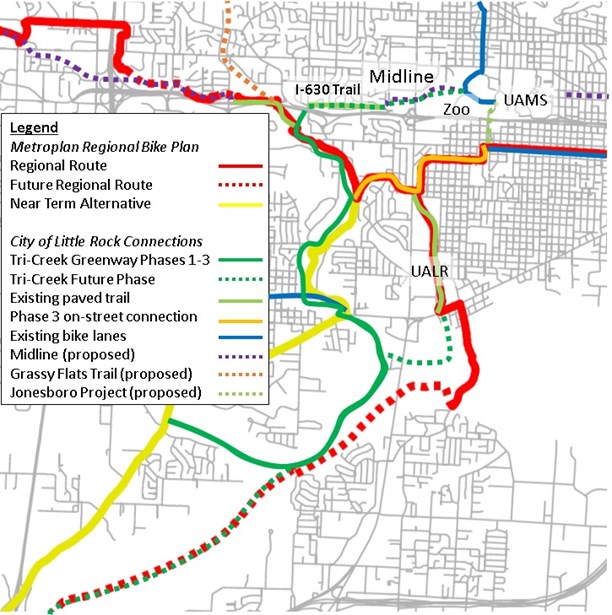 Figure 3.  Map of the (former) the Tri-Creek Greenway Phases 1-3 superimposed onto Metroplan's Regional Bike Plan (link's Fig. 5-10) to illustrate immediate and future connectivity at local and regional scales.  This map assumed that Phase 2 (ARDOT TAP) and Phase 3 Metroplan (Metroplan STP) was funded.  The ARDOT TAP was not funded and Phase 3 was modified to absorb that project scope.
Tri-Creek Greenway Phase Two (archive)
Phase Three will also create on-street connectivity from the Tri-Creek Greenway to existing bicycle corridors (Fig. 3).
In order to create as much connectivity as possible, this project may be a mix of new 12 ft. trail and existing trails in Brodie and Hindman Parks and will use an existing bicycle and pedestrian bridge in Hindman Park (Fig. 2).  If necessary, future phases will create a continuous 12 ft. wide alignment for the Tri-Creek Greenway in this area.


Figure 4.  Map of the portion of the Tri-Creek Greenway the 2020 TAP grant would construct.
Phase 2 would connect to existing paved trail networks of Brodie Creek (0.65 mi.), Hindman (6.7 mi.), and Western Hills (4.3 mi.) Parks and nearly 2 mi. National Park Service trail (Fig. 4). Trail networks in Hindman and Western Hills are 6-10 ft. wide former golf course trails; Western Hills and Hindman closed for golf in 2007 and 2019 respectfully. Together with the ~1.3 mi. of TAP-funded Trail, the Trail will link ~15 miles of interconnected paved trail network. Soft surface mountain bike trails will be developed by the National Park Service grant in Western Hills and eventually in Hindman as well.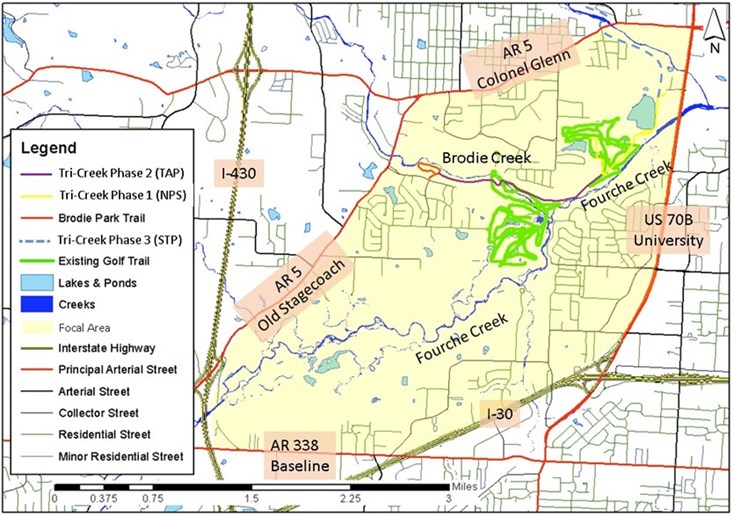 Figure 5. Map of the Phase 2 Focal Area affected by the 2020 TAP grant and the Tri-Creek Greenway.
Phase 2 will be constructed in an area bordered by AR 5, US 70B, I-30, AR 338, and I-430 (Fig. 4 Focal Area). These borders are challenging to walk or bike along or across, isolating residents in the Focal Area. Fourche and Brodie Creeks separate the residential street network within the Focal Area even further, isolating residents into three pockets, Yellow, Blue, and Green. (Fig. 5). Phase 2 will connect ~1991 residents in 790 households (Fig. 5 Yellow) to >3896 residents in >1571 households (Fig. 5 Green) to ~1546 residents in 766 households (Fig. 5 Blue).  The TAP-funded Phase 2, existing park trails, Tri-Creek Phase 1, and residential street network together will connect Figure 5 Green to Western Hills Elementary and Figure 4 Yellow to Meadowcliff Elementary (Fig. 6).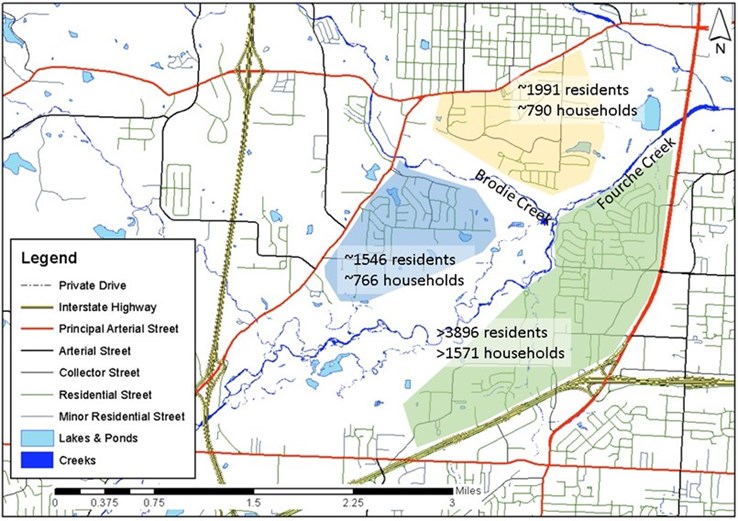 Figure 6. Brodie Creek, Fourche Creek, and the street grid separate the Figure 5 focal area into three pockets.  The TAP-funded trail would literally unite this portion of Little Rock via active transportation (link's pg. 7).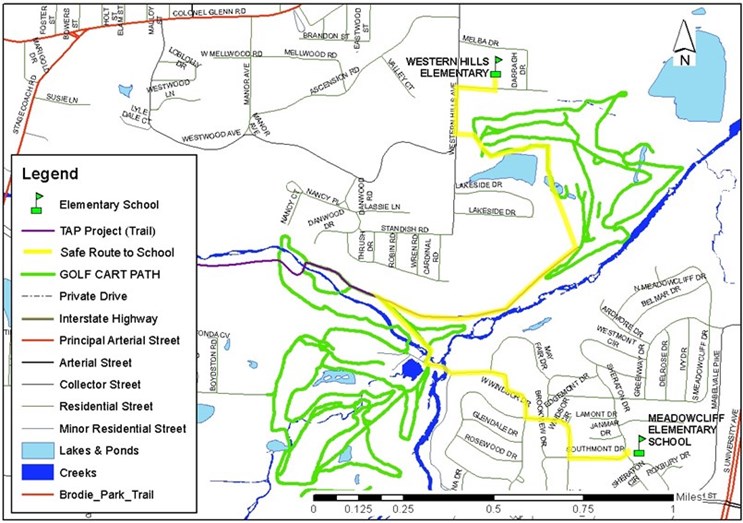 Figure 7.  TAP 2020 Trail would create Safe Routes to Schools for Western Hills and Meadowcliff Elementary Schools.
ArDOT TAP awards were announced in early 2021; Tri-Creek Greenways Phase 2 was not funded.