Tri-Creek Greenway Phase Three
***This page reflects the current Phase 3 scope of work (see also Phasing Changes)***
In September 2020, the City of Little Rock applied for Metroplan Surface Transportation Program funding to complete Phase Three of the Tri-Creek Greenway.  The project was fully funded for $3M.  We will use these funds to create a continuous trail corridor connecting Brodie Creek, Hindman, Western Hills, First Tee, and Boyle Parks (Fig. 1).  This project will also include an on-street component, connecting this trail system to the Coleman Creek Trail (going south) and the 12th Street bike lanes (going east, Fig. 2).  
Phase Three is the most ambitious bicycle and pedestrian project proposed by the City of Little Rock since the Arkansas River Trail.  It creates over 6.5 miles of continuous corridor. By creating a major portion of the overall Tri-Creek Greenway, Phase Three reaps many of the project's overall benefits, including: connecting five City parks, increasing transportation equity, increasing bicycle and pedestrian safety, creating Safe Routes to Schools, decreasing risk and health inequalities, and increasing economic vitality.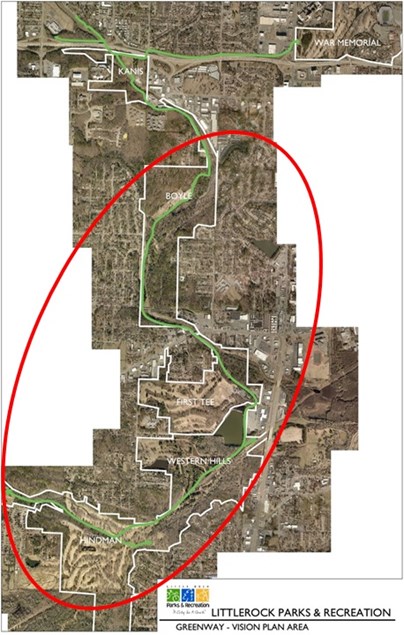 Figure 1.  Map of the entire Tri-Creek Greenway showing the portion constructed with 2020 STP funding.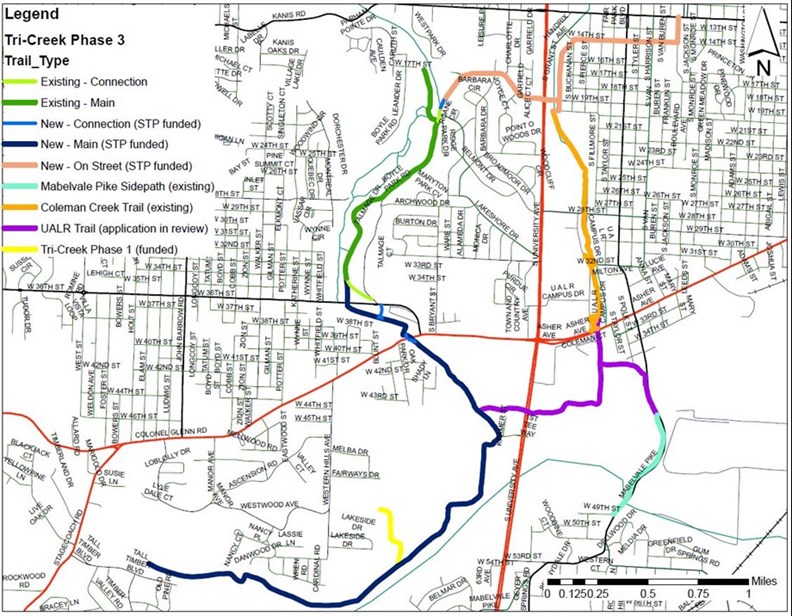 Figure 2.  Map showing the elements of Phase 3 (blue, green, and peach), immediately adjacent existing trails, and the UALR Trail (in review).
Phase Three and Bike Network
Phase Three will connect several piecemeal bike facilities in southwest Little Rock and connect that underserved area to the larger Little Rock bike network (Fig. 3).  Phase Three connects the Coleman Creek Trail, 12th Street bike lanes, and the 36th Street bike lanes to expand the project's immediate reach (Fig. 3).  When bicycle accessibility is improved on Jonesboro, a current Pop-Up project, there will be continuous bicycle facilities from the Tri-Creek Greenway to Hillcrest/Heights. When we complete our Cedar Hill bike lanes, an in-kind match for the Allsopp Park trail project, Jonesboro improvements will create a continuous connection from southwest Little Rock to the Arkansas River Trail.  If the UALR Trail is funded, it will connect to the existing Mabelvale Pike sidepath and another underserved section of Little Rock.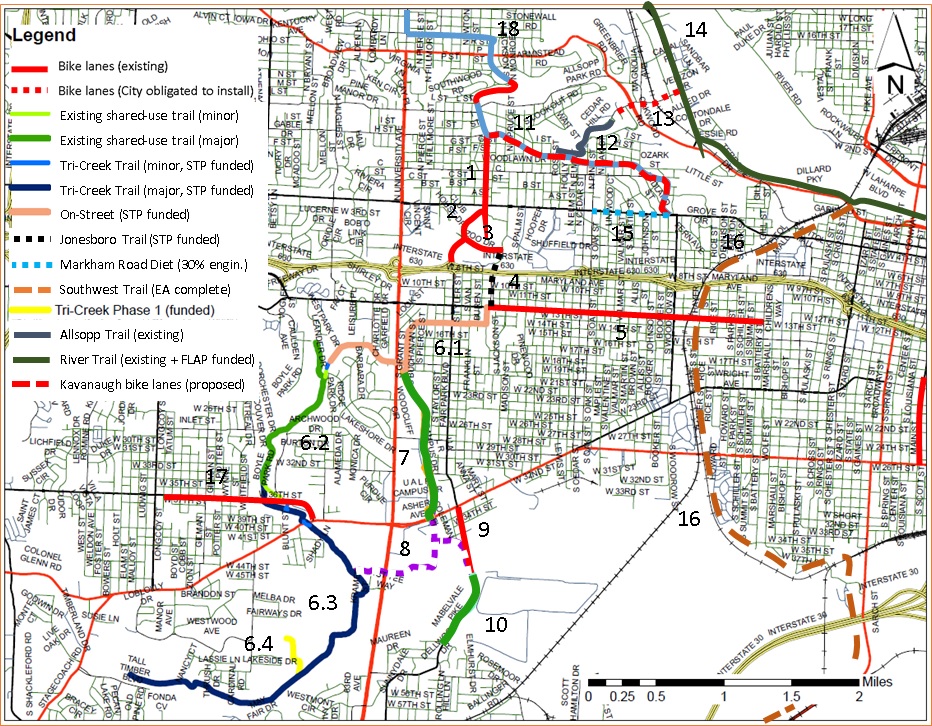 Figure 3.  Map showing how Phase 3 (blue, green, and peach lines) will interconnect existing, piecemeal bike facilities (and near-term future connectivity) and extend our bike network to a new, underserved area of Little Rock (see Emerging Bike Network for more information).