Steps to Silver 2024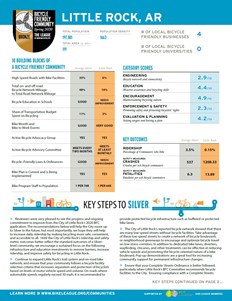 In June 2020, the League of American Bicyclists renewed Little Rock's designation as a Bike Friendly Community (Bronze).  They also included a report card (PDF) (right) to assess current conditions and guide our most effective next steps to become more bike friendly.  The League has guided hundreds of communities through this process.  These recommendations, tailored to our community's strengths and challenges, can help identify and prioritize our next steps to improving our city for bicyclists.
Click on the report card (right) for an expanded view.
In the coming months, BikePed Little Rock will build pages organized around the 10 Building Blocks, five E's, Key Outcomes, and LAB's Key Steps to Silver, digging into this assessment and these recommendations as we attempt to earn Silver designation in 2024.