Steps to Silver - Encouragement
This page considers the Encouragement aspects of LAB's Attributes of a Bicycle Friendly Community and especially Little Rock's 2016 LAB report card (Fig. 1).
Little Rock's Encouragement score was high relative to other categories and we have made significant improvements in Encouragement since.  Explore below to learn more.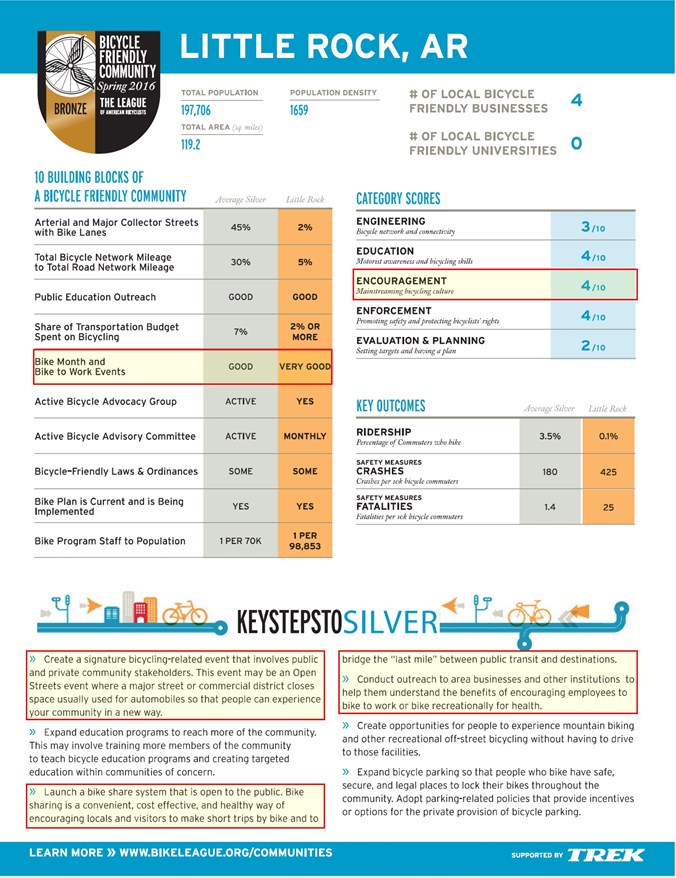 Figure 1.  City of Little Rock's League of American Bicyclists 2016 Bike Friendly Community feedback highlighting Encouragement items.
Ongoing
Riding Clubs: Little Rock has seven road riding clubs, including one women-only club and one primarily African-American club, three mountain biking clubs, and a bike polo club.  See our clubs here.

Bike Shops:  Our community has five bike shops (four in the City of Little Rock).  See our shops here.
Recycle Bikes for Kids:  Recycle Bikes for Kids continues to offer free bikes for kids and adults (three hours of service are required for adults) to make sure everyone in our community has access to a bike for recreation and transportation (Fig. 2).  As of the end of 2019, the program has given away 17,424 bicycles.  In 2017, Recycle Bikes for Kids moved from Little Rock to North Little Rock, but very much still serves and is supported by Little Rock.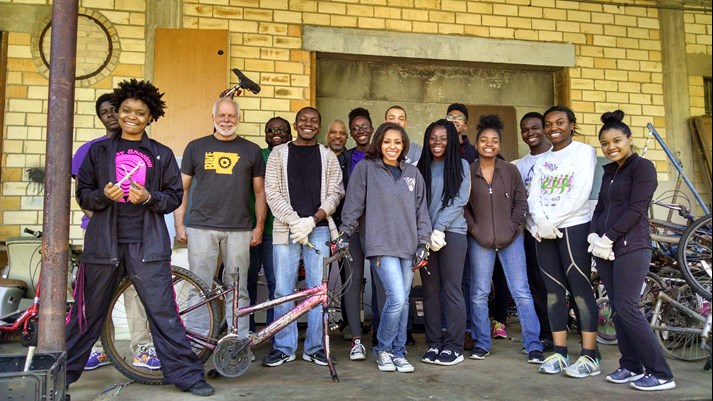 Figure 2.  Volunteers at Recycle Bikes for Kids with founder Ron King.  Photo by Recycle Bikes for Kids.
Bike Rental:  Rock Town River Outfitters offers bicycle rentals and tours.
Organized Rides (Clubs): Most of our bicycle clubs do weekly organized rides.  BikePed Little Rock attempts to aggregate these ride times and locations to increase their visibility and encourage residents to try new clubs.  Clubs also do specific rides such as gravel, hills, mountain, kids, and road.
Organized Rides (Shops): Most of our shops do weekly organized rides.  Some shops publicize their rides as "events" on their Facebook pages, including Angry Daves (NLR), Arkansas Cycling and Fitness, Chainwheel/Trek, and Spokes.  Shops organize regular mountain bike rides, gravel rides, and road rides.
Demo Days (Shops):  Many of our shops offer demo days, e.g. Arkansas Cycling and Fitness and Spokes.
Sandwiching in History:  The Arkansas Historic Preservation Program highlights the history of different buildings in their monthly Sandwiching in History event.  The Arkansas Bicycling Club leads a ride to the monthly event.
Slow Ride: The Mello Velos and Heels on Wheels, and the Arkansas Bike Club regularly offer slow rides.
Ride Events:  The City of Little Rock hosts 17 ride events per year, perhaps most notably the Big Dam Bridge 100 and the Tour de Rock.  BikePed Little Rock does not attempt to aggregate these rides but directs users to resources that do, most notably Arkansas Outside's calendar.
Big Dam Bridge Expo:  The Big Dam Bridge Expo is an annual event in the Little Rock Convention Center associated with the Big Dam Bridge ride.  Bike and bike accessory vendors, bike advocates, and other stakeholders participate.
Bike Touring:  The Arkansas Bicycle Club continues to organize the annual Lake Greeson 3-day,  Bike Ride Around Arkansas 7-day, Lake DeGray 3-day, and Petit Jean 2-day self-supported bicycle tours in Central Arkansas.
Ride of Silence:  BACA has been organizing Little Rock's Ride of Silence annually since 2014.
Arkansas Outside: Since 2014, Arkansas Outside, managed by CATA President and Governor's Advisory Counsel on Bicycling Chair Joe Jacobs, has been promoting bicycling and other outdoor activities.  Arkansas Outside covers all of Arkansas but is based in Little Rock.
Bike Arkansas:  Bike Arkansas is a periodical promoting bicycling in Arkansas since 2015.  Bike Arkansas covers all of Arkansas but is based in Little Rock.
Cyclists of Arkansas:  Since 2015, Cyclists of Arkansas has been increasing the visibility of and humanizing cyclists by sharing their stories (Fig. 3).  Cyclists of Arkansas is a BACA effort and is based in Little Rock.
Figure 3.  Cyclists of Arkansas video humanizing cyclists (released July 2019).
Progress Since 2016
BikePed Website:  In 2016, BikePed Little Rock developed a series of webpages making the case for the benefits of a bike-friendly Little Rock.
Rad on the River: In 2016, the Downtown Little Rock Partnership and Little Rock Convention and Visitors Bureau hosted Rad on the River, a celebration of BMX biking.
Encouraging Women to Ride: Since 2016, Little Rock has improved its focus on encouraging women to ride, offering of women-only rides such as Women on a Roll (Chainwheel/Trek, 2017-today), Women on a Roll Date Nights, women-focused cycling gear events, Q&As, Cyclofemme, and two women's only riding clubs: Heels on Wheels and Ladies of CARVE.
Social Media:  BikePed Little Rock's Facebook and Twitter social media accounts existed before 2016, but BikePed Little Rock has been very active on Facebook (which mirrors to Twitter), resulting in over 100% increase in Facebook page follows from ~850 in 2016 to 1,896 at the time of this writing.  This page is used to communicate news and educate, but a primary function is to directly challenge Little Rock's car-centric culture and priority and encourage people to bike and walk.
Bike Valet:  Since 2016, BACA has offered bike valet services annually at Riverfest and at special events such as the Bikes vs. Cars and the Cornbread Festival.  One Eleven and the Capitol Bar and Grill offers free bike valet service.
Booths:  Since 2016, BikePed Little Rock and BACA have promoted bicycling and specific bicycle-related projects (bikeshare and the Southwest Trail) at booths at the Arkansas State Fair, University of Arkansas for Medical Sciences Earth Day, and the Big Bass Expo.
Movie Screening:  Since 2016, BACA has been promoting bicycling with movie screenings (sometimes accompanied by a presentation/discussion).  BACA has shown Bikes vs. Cars, On Any Sunday, Blood Road, and Bikes of Wrath.
Allied Cycleworks:  In 2016, Allied Cycleworks opened in Little Rock.  Allied was one of the first companies to manufacture carbon fiber frames in the United States.  In February 2020, Allied Cycleworks will move to Rogers, AR.
Fiesta de Bicicletas:  In 2017, Recycle Bikes for Kids hosted a bicycle celebration and bike and helmet giveaway focused on promoting bicycling in our Latino community (Fig. 4).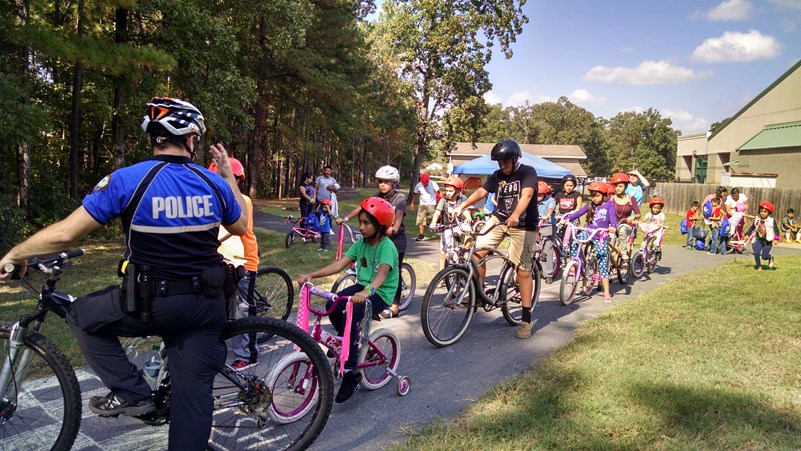 Figure 4. BiciFiesta 2017 participants receive encouragement, education and new, free helmets and bikes!  Photo by Recycle Bikes for Kids.
Meteor:  In 2017, the Meteor bike and coffee shop opened in the space previously occupied by Spokes which moved to West Little Rock) and had regular shop rides. The Meteor moved to Bentonville in 2019.
Everybody Bikes!  Since 2017, Recycle Bikes for Kids has held an annual event called Everybody Bikes!  It is part celebration of bicycle fun and mobility and part fundraiser.
National Interscholastic Cycling Association:  Since 2017, the Arkansas Interscholastic Cycling League (est. 2015) has two teams in Little Rock, Catholic High School and RazorbaCX Little Rock Composite. The Arkansas league encourages cycling and its benefits with a race series, team-building day, and trail maintenance requirement. The Arkansas league is equity focused.  
Mayoral Forum:  In 2018, BACA hosted a mayoral forum for Little Rock mayoral candidates to discuss bike-related issues. 
Outreach:  The City of Little Rock has presented our Friendly Driver Program at Thompson Driving, Central Arkansas Water, Crafton Tull, McClelland Consulting, Engineers Inc. since 2018.  The benefits of bike commuting are discussed in Friendly Driver.  McClelland recently became a LAB Bike Friendly Business.
JBar Cycling Returns:  In 2019, after a seven year hiatus, John Barton returned to his JBar Cycling Blog, giving greater visibility to cycling in Little Rock with his long-form blog writing.
Ditch the Keys Expanded:  Bike to Work is a highlighted category on the 2016 lab report card.  All Ditch the Keys events and messaging used to be in the month of May.  In 2019, Metroplan expanded the duration to include all summer months (during which ozone is most problematic), focusing on a different transportation mode each month.  While Ditch the Keys bike messaging is still concentrated in May, effective bike commuting in Little Rock often involves several alternative transportation modes.
Critical Mass Comes to Little Rock:  Starting in August 2019, monthly Critical Mass rides have been organized in Little Rock.
Central Arkansas Library System: Since 2019, the Central Arkansas Library System focus on promoting bicycling, including hosting a monthly bike maintenance class.
LR Bike Ways:  In January 2020, the City of Little Rock launched LR Bike Ways to help bike commuters chart routes that are as direct and low-stress as our current infrastructure allows.  We plan on adding bike parking points to this map when a 2020 ArcGIS update allows crowdsourcing.
Alley Cat Race:  In February 2020, Little Rock will have it's first Alley Cat race.
Bikeshare:  Launching a bikeshare system is a 2016 LAB Key Step to Silver.  The City of Little Rock has been working to launch a strong bikeshare program since 2016.  Gotcha bikeshare will launch in the the City of Little Rock with 200 pedal-assist bikes in Summer 2020.