Steps to Silver - Education
This page considers the Education aspects of LAB's Attributes of a Bicycle Friendly Community and especially Little Rock's 2016 LAB report card (Fig. 1).
Little Rock's Education score was high relative to other categories and we have made significant improvements in Education since.  Explore below to learn more.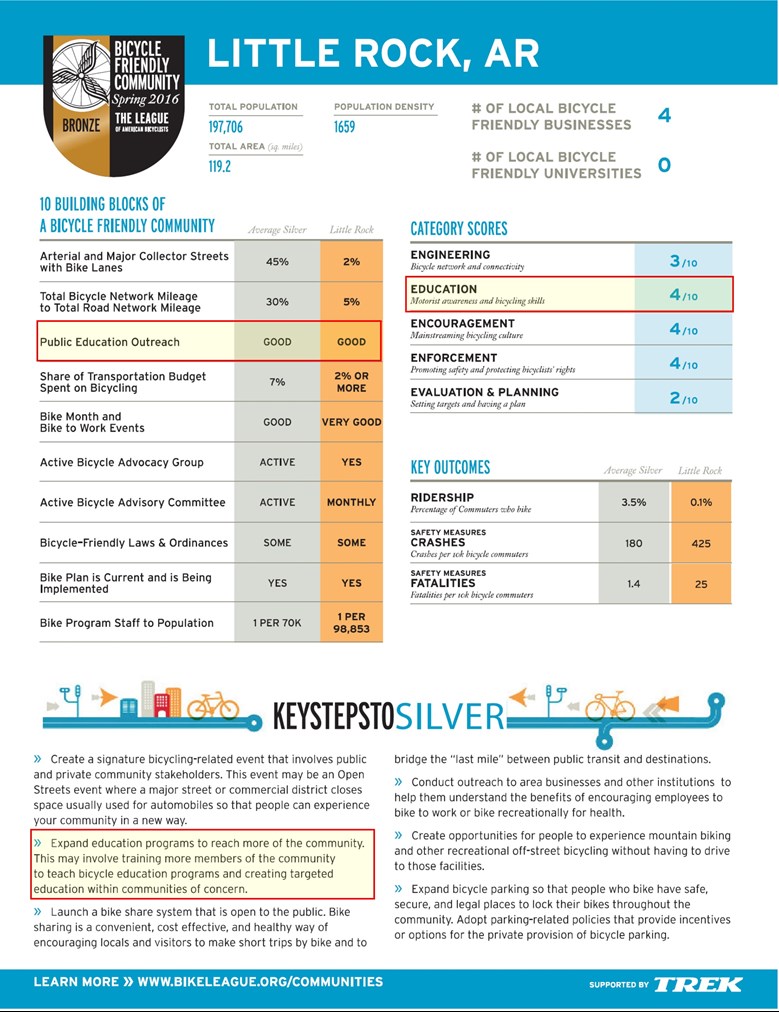 Figure 1.  Little Rock's LAB report card in May 2016.  Education items highlighted in yellow bordered by red.
Ongoing
Bike Rodeos:  BACA continues to regularly organize bike rodeos for schools and around local events.
Bicycle Safety Presentations:  BACA continues to organize bicycle safety presentations at local schools.
Free Bikes for Education:  BACA continues to partner with Recycle Bikes for Kids to ensure all students have bicycles on which to learn and couple bike giveaways with education.
Learn to Ride: BACA continues to offer learn to ride classes (Fig. 2).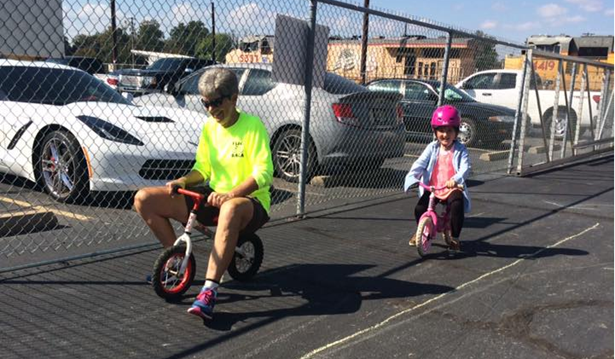 Figure 2.  League Cycling Instructor Coreen Frasier teaches a learn to ride class.  Coreen's instruction style may be slightly unorthodox.  Photo by BACA.
Cycling Merit Badge at Merit Badge University:  The Cycling Merit Badge, taught by Little Rock LCIs, continues to be a popular course offering.  The entire Little Rock Merit Badge University is organized by Arkansas Bicycle Club President Jim Britt.
Helmet Fit:  BikePed Little Rock's website includes helmet fit.  BACA offers helmet fit education coupled with their other educational outreach.  Local bike shops typically offer helmet fit when a helmet is purchased at their store or by request. 
Fix a Flat Class:  Several of our shops regularly offer free fix a flat clinics.
Bicycle Workshop:  Several of our shops regularly offer bicycle maintenance classes for beginners (e.g. Spokes and Arkansas Cycling and Fitness).  Some classes have been women-only.
Progress Since 2016
Website Development:  In 2016, our website, bikelr.com, contained some important resources, but our relaunched littlerock.gov/BikePed offers many more resources for residents, City staff, elected officials, and bicycle advocates.  While not always organized around the five E's, the website has publicly available resources that address each of the five Es. 

Education webpage:  In 2016, BikePed Little Rock's Education landing page was developed and launched, showing viewers formal education opportunities as well as short lessons (see buttons).
Social Media:  Since 2016, CLR's BikePed Coordinator has been regularly posting bicycle-related updates, soft advocacy, and information to Facebook to engage residents, City staff, and elected officials and attempt to shift our car-centric culture.  This regular engagement has helped more than double the page's following, from ~850 followers in 2016 to 1,879 currently.
After School Program: In Spring 2017, BikePed Little Rock, in partnership with BACA, Recycle Bikes for Kids, LRSD, and Washington Elementary, created and launched an after school bicycle education program (Fig. 3).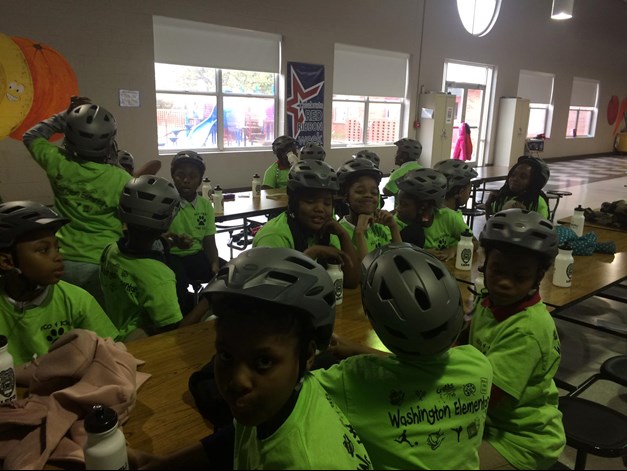 Figure 3.  Washington Elementary students learn bicycle safety in an after school program.
SMART Cycling Program:  Since it was formed in 1998, education has been a core part of BACA's mission.  It has offered SMART Cycling (or BikeEd) since 1998, but in 2017, BACA committed to offering at least two SMART Cycling courses per year.

National Interscholastic Cycling Association (NICA):  Since 2017, the Arkansas Interscholastic Cycling League (est. 2015) has two teams in Little Rock, Catholic High School and RazorbaCX Little Rock Composite.  Education is focal to the Arkansas league; their coach's training and resources are extensive (Fig. 4).  LAB LCI Coreen Frasier has been teaching an NICA course at Hall High on Mondays and Wednesdays.  The Arkansas league is equity focused.  
Figure 4. Coaching and education is central in the NICA Arkansas League's mission.

Mountain Bike Skills Camp:  Heels on Wheels also organized a mountain bike skills camp.

Educating the Candidates:  In August 2018, BACA, City staff, and outside professionals led mayoral candidates and their staff through a walk audit of the Arkansas River Trail along Cantrell Road.
Commuter Mentoring:  In 2018, BikePed Little Rock launched its Commuter Mentoring program.  CLR Commuter Mentoring teaches some SMART Cycling content, but in a one-on-one on-bike, coaching format.  In addition, we discuss a mentee's common origins and destinations and low-stress routes to connect them.  We might plan future mentoring rides between origins and destinations of interest.
Traffic Safety Merit Badge at Merit Badge University: Starting in 2018, Little Rock's Merit Badge University began offering Traffic Safety merit badge.  Starting in 2019, the course had a strong bicycle safety component through CLR Bicycle and Pedestrian Coordinator's teaching of the Friendly Driver class within the Traffic Safety merit badge class.
Friendly Driver: While this overlaps with Enforcement, this course, launched in 2018 through funding from AARP's Community Challenge Grant, is targeted at people who primarily drive on Little Rock streets, to help them better understand their legal rights and responsibilities around bicyclists and pedestrians.  One of the first programs of its kind, based on the Bike Friendly Driver Program developed in Fort Collins, the highly effective Little Rock Friendly Driver Program has gotten considerable attention through posters at conferences of the Arkansas Public Health Association (2019) and the Association of Pedestrian and Bicycle Professionals (ABPB, 2019), a panel at APBP (2019), an America Walks State Walking Networks teleconference (2019), and an upcoming panel at LAB's National Bike Summit (2020).  Through this exposure, we are helping several cities across the country launch similar programs based on Little Rock's Friendly Driver Program and we are talking with the Arkansas DOT about launching the program statewide.
Local LCI Training:  In August 2018, BACA coordinated an LCI training session.  All five CLR Friendly Driver Instructors, the CLR Friendly Driver Coordinator, CLR's BikePed Coordinator, the BACA President, Recycle Bikes for Kids Program Coordinator, and several out-of-town students became LCIs.  This effort directly addresses a Key Step to Silver (training more members of the bicycle community to teach bicycle education programs).
CALS Bicycle Workshops:  In January 2020, the Central Arkansas Library System started its monthly bicycle workshop series.  This venue likely expands the reach of bicycle repair beyond the population who would choose to go to a bicycle shop, directly addressing a Key Step to Silver.