Bicycle Advocacy of Central Arkansas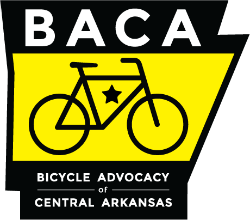 BACA is Little Rock's only bicycle advocacy organization.  If you ride a bike in Central Arkansas, BACA has contributed to your experience in ways you may not fully appreciate.
BACA just hired its first executive director.  While the organization has done great things in the past, including their pivotal role in the construction of the Arkansas River Trail, their most effective years may be ahead of them.  Now is a good time to work with and give back to an organization that is poised to make even greater contributions to our community going forward.
Join, support, and follow BACA - Bicycle Advocacy of Central Arkansas. 
For more information, contact BACA Executive Director Jodi Morris, bacaexecutivedirector@gmail.com.