Shared-Use Trails and Sidepaths
The top reason Arkansans and Little Rock residents aren't biking more is a lack of (protective) bicycle facilities.  When asked what type of bicycle facility would be most effective to encourage biking, the top answer was paths and trails (Table 1).  Creating a network of trails useful for transportation and recreation is vital to encourage cycling.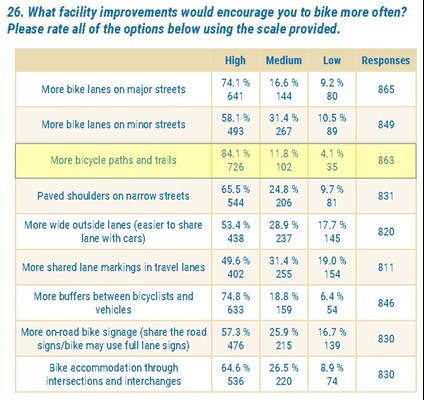 Table 1.  Bicycle paths and trails are the most effective facility type to encourage people to bike in Arkansas.
Existing Trails and Sidepaths
Little Rock has several trails and sidepaths.  This page will focus on shared use trails and sidepaths useful for transportation and recreation.  Many of our parks have looped recreational trails and natural surface trails; those trails fall outside of the scope of what is considered here. 
Current Trail Projects
These are trail projects that have been approved and at least partially funded and are in some stage of completion.  The Southwest and Southeast Trails are particularly exciting because they will directly connect to the Arkansas River Trail.  This will create an interconnected, regional trail network that will be more useful than the sum of its parts.
Plans, Funding, and Possible Future Projects
The future of Little Rock trails is bright!  As discussed above, the Arkansas River Trail is improving.  The Southwest Trail and the Southeast Trail will extend the regional reach and utility of the Arkansas River Trail.  In 2016, the City of Little Rock published the Master Trail Plan and interactive map to envision an interconnected trail network.  All of the trail concepts in the Master Trail Plan are possible future projects.  In February 2020, Metroplan announced that it would allocate $55M over 10 years to create a regional trail network.  This will create another funding resource to create those trails relevant to regional connectivity.