Tri-Creek Greenway
The City of Little Rock plans to create an off-street bicycle and pedestrian corridor in the heart of the city!  The Arkansas River Trail is an incredible asset, but not all residents can get themselves (or their bikes) to it for active recreation.  It is only useful for transportation if it is between someone's origin (e.g. home) and destination (work, grocery store, restaurant, etc.) and they feel safe/comfortable completing the trip on-street.  This means the Arkansas River Trail serves some Little Rock residents better than others.
The Tri-Creek Greenway is a 6+ mile long, 12 ft. wide transportation/recreation corridor (Fig. 1).  The Tri-Creek Greenway will take advantage of existing paved trails in Boyle Park and along I-630.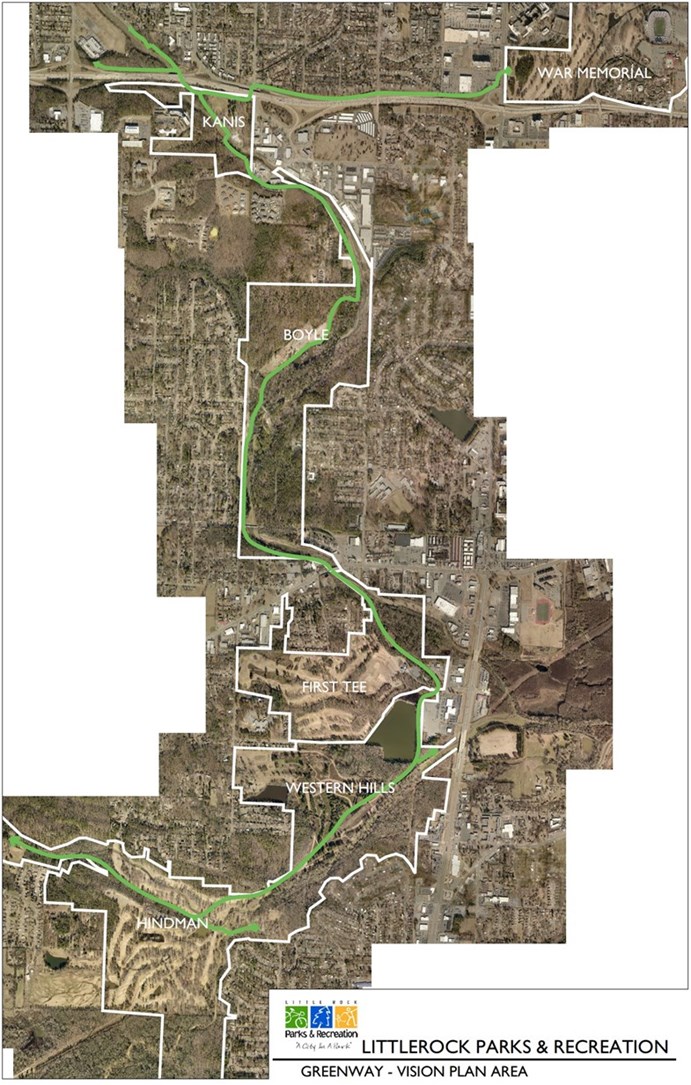 Figure 1.  The Tri-Creek Greenway would provide a low-stress bicycle and pedestrian corridor for transportation and recreation in underserved portions of Little Rock (Brodie Creek Park, not pictured, is directly west of Hindman Park and part of the Tri-Creek Greenway).
Tri-Creek Greenway Benefits
Regional Connectivity:  Creating a regional trail network is challenging; creating a regional trail network in the heart of urban development can be a Herculean task.  Fortunately, southwest Little Rock has a chain of parks through which a regional trail would be relatively easy to construct (Fig. 1).  This is the trail connectivity envisioned in the City's Master Trail Plan, our Master Parks Plan, and our "Trail Corridors" Plan (Fig. 2).  Most, but not all, of this connectivity is included in the City's adopted Master Bike Plan. The Tri-Creek Greenway does not follow exactly the alignment of Metroplan's Regional Bike Plan, but it creates comparable connectivity in an off-street, lower-stress corridor that would see greater use (link's Fig. 3).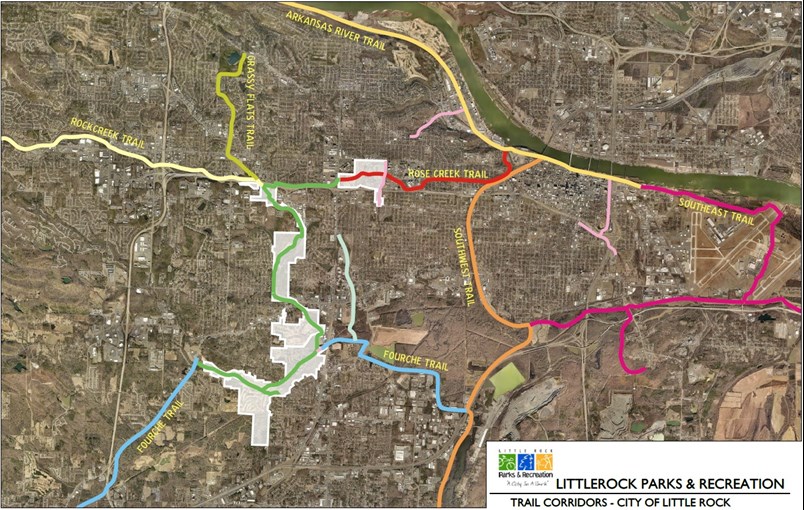 Figure 2.  CLR Park and Recreation's map of trail concepts throughout Little Rock, consistent with their mission of turning Little Rock into a "City in a Park".
Follows Public Enthusiasm:  Whether asked at the state, regional, or local levels, demand for trails is consistently ranked as a top priority.  Public outreach for recent Master Park Plan revisions found trails a top priority. Support is also high for the Tri-Creek Greenway specifically.  A recent Facebook post introducing the project received tremendous enthusiasm.  Of the 107 BikePed Little Rock Facebook posts over the past six months, the Tri-Creek Greenway post received 263 reactions, comments, and shares and 644 clicks.  This is 317% and 484% higher, respectfully, than engagement for the second most enthusiastically received post, which announced Little Rock as a Bike-Friendly Community (a very big deal)!
Safe Routes to Parks: The Tri-Creek Greenway will connect seven parks (Fig. 1).  Each of these parks offers different services, including ball fields (baseball/softball/kickball), basketball courts, disc golf (Hindman, Fig. 3), golf (First Tee), Jim Dailey Fitness Center (War Memorial), fishing, meeting spaces (Hindman), mountain bike trails (Boyle), nature viewing, pavilions, picnic areas, playgrounds, restrooms, a splash pad (War Memorial, Fig. 4), a skate park (Kanis), tennis courts, paved and natural surface trails (for biking, running, and walking), volleyball courts, and Little Rock Zoo (War Memorial).  The 6-mile corridor will also link to paved park trail systems in Brodie, Western Hills, and Boyle Parks, creating 20+ miles of recreational paved trail network.  War Memorial and Hindman Parks have recently closed their golf courses and will likely expand their programing with the newly available space; these Tri-Creek Greenway anchor parks will become even more important destinations for equitable access.  The Tri-Creek Greenway will provide safe access to all of these services and an active/recreational way to get to them.
Figure 3. Equitable access to Hindman Park's new disc golf facilities is important for equal opportunities to health, wellness, and fun.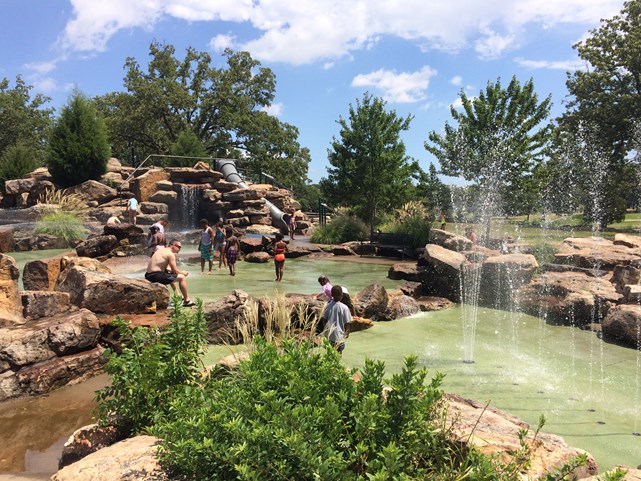 Figure 4.  Kids and adults cooling off in the War Memorial splash pad.  Photo by CLR Parks and Recreation.
Transportation Equity (Income): Transportation costs are unaffordable throughout Little Rock, but the Tri-Creek Greenway connects to some of the highest poverty areas and highest zero car household areas in the entire city (link's Figs. 2-4). The City is committed to increasing Accessible Alternative Transportation.  The Tri-Creek Greenway makes bicycling a safer and more viable transportation solution.  It does so directly by providing a bicycle off-street transportation corridor and indirectly by providing access to Rock Region Metro's #3, #5, #14, #17, #22, and #23 lines by connecting low-stress residential streets.  In this way, the Tri-Creek Greenway makes transit more viable to more households by addressing the last mile problem.
Increase BikePed Safety: Risk of being struck by a car while walking or biking is unusually high in the Little Rock metro area; the City is invested in increasing pedestrian safety. Principal Arterials (link's pg. 12) may deter bicycle and pedestrian activity (link's Table 1), but they remain the street type with the highest bicycle and pedestrian crash rates. Perhaps the single greatest intervention to increase safety and encourage activity is to build separation between cars and people walking and biking (link's Key Outcome #2).  The Tri-Creek Greenway creates a separated crossing for the third most dangerous corridor for bicycles and pedestrians in Central Arkansas (link's Fig. 4).
Safe Routes to Schools:  The Tri-Creek Greenway, coupled with only low-stress residential streets/sidewalks, would contribute to Safe Routes to Schools for Western Hills, Meadowcliff, Bale, and Romine Elementary Schools, Henderson Middle School, and Parkview Arts Science Magnet High School, creating safe crossings at dangerous Arterial streets, including Colonel Glenn at 36th St.
Risk Equity (Race): Risk is unequally distributed in the Little Rock metro area; black residents are 3.3 times as likely to be hit by a car as a pedestrian, 3.0x as likely to be hit by a car as a cyclist, and 2.4x as likely to be killed by a car as a pedestrian vs. white residents (Fig 5, link's Figs. 8-9). Mayor Scott's administration is focused on increasing equity.  The Tri-Creek Greenway runs through disproportionately Black census blocks, increasing the safety of Black people walking and biking.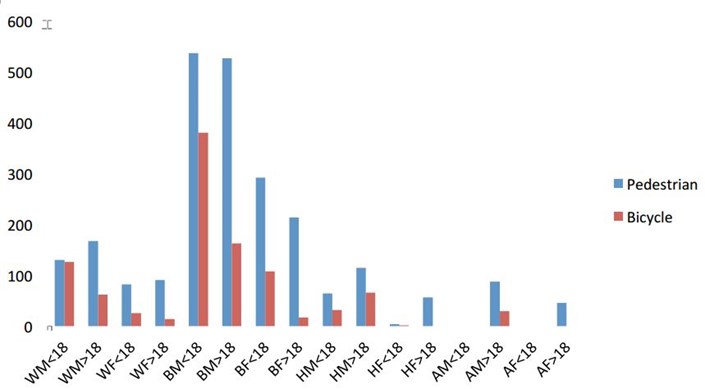 Figure 5.  Bar graph of bicycle and pedestrian vs. car crash risk by race in Central Arkansas (link's Fig. 8).
Recreation and Health Equity: The Arkansas River Trail's location makes it serve some residents better than others.  Race and income affect health outcomes in part through differences in opportunities for active recreation and transportation, The Tri-Creek Greenway will create accessibility to these opportunities for children and adults in parts of Little Rock with high proportions of low income and Black residents, increasing quality of life in Southwest Little Rock (link's pg. 42).
Economic Vitality: Property values increase around bicycle and pedestrian trails. The Tri-Creek Greenway has the potential to create an economic boost to an underserved part of Little Rock (link's pg. 10).
Unite Little Rock:  Mayor Scott has a vision to Unite Little Rock (link's pg. 7).  The Tri-Creek Greenway does this metaphorically (see above) and literally, by allowing safe bicycle and pedestrian crossings of Principal Arterials and an Interstate Highway that often demarcate socioeconomic divisions (link's pg. 34).  This includes a safe crossing of I-630, which has a problematic history in dividing our city.