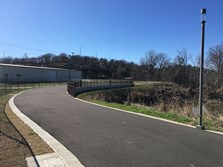 ART - West Terminus
This page highlights some of the BikePed infrastructure projects in Little Rock.  This page focuses on physical facilities for bikes (such as paths, lanes, sharrows, and parking) and pedestrians (such as paths and sidewalks).  This is not an exhaustive list of bicycle and pedestrian projects in Little Rock.
Current Projects
These are projects that are approved, funded, and are currently in some stage of being completed.
Completed Projects
This is a timeline of recently completed bicycle and pedestrian projects.  This list is not exhaustive, especially regarding sidewalk projects.
Possible Future Projects
These projects are in some stage of development, but their completion is not yet certain.
Resurfacing Projects
Resurfacing projects can offer an inexpensive opportunity to accommodate bicycles, pedestrians, and other modes.  Click the link to learn more.
Project Types
These are some of the project types that can help the safety and comfort of bicyclists and pedestrians and examples of completed projects.