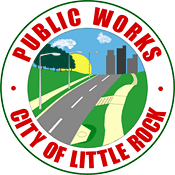 Public Works
Public Works is responsible for maintaining and improving our City's infrastructure, providing garbage collection and disposal services, maintaining the City's traffic systems, cleaning streets (online Adopt-A-Street application) and drainage systems, maintaining City maps, maintaining City-owned buildings and facilities and much, much more.
Mission Statement:
To provide an efficient and economical infrastructure for the City of Little Rock.
To provide quality management in all activities for the Public Works Department.
To provide professional service to our customers.
New Collection Days:  Beginning July 27, 2020
Click on the link to the interactive map and enter your address or just click on the map to see your collection days for Garbage, Yard Waste, and Recycling.
Public Works Divisions:   
Applications, Details, and Manuals:
Traffic Engineering:
Civil Engineering:
City of Little Rock Property Dedication Forms:

Elevation Certificate
Retaining Wall Certificates: