Operations Division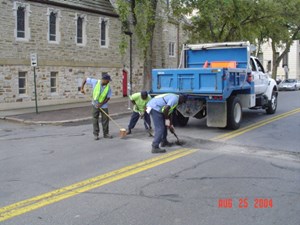 The Operations Division consists of administrative personnel, work crews, and equipment necessary to schedule and carry out the functions of Public Works related to street and drainage maintenance and traffic control signs and markings in the City of Little Rock.
Location
The Operations Division office is located at 3313 J. E. Davis Drive, Little Rock, Arkansas, 72209. You may contact our Service Request Desk at (501) 918-3600 or dial 3-1-1 with requests or questions or access the City's 311 website at http://www.littlerock.gov/citizenServices/311.aspx. The Operations Division fax number is (501) 918-3670. Office hours are from 7:30AM to 4:00PM, Monday through Friday.
Scheduling Work Requests
Scheduling personnel in the Operations Division are responsible for taking work requests from the public, City administration, or other divisions of Public Works. Once a work request has been submitted, scheduling personnel link the request with current activities and resources. The request is then given a work order number and scheduled with an appropriate work crew. Emergency repairs are given priority, and all other minor repairs or maintenance activities are scheduled as soon as available resources permit. Major repair or maintenance requests are investigated by an Operations Supervisor or Scheduling personnel to determine resources needed for the job.
Life Cycle of a Work Request
A citizen notices a drainage problem and calls Operations' Service Request Desk at (501) 918-3600, or uses the City 3-1-1 request system.
Scheduling reviews the request, linking it with an assessment of current activities and available resources. Civil Engineering provides assistance if the task will involve structural modifications or major repairs.
Civil or Traffic Engineering determine the need for major repairs to streets and drainage facilities. Work is scheduled when funds are available, and a work request file is activated based on priority of the task.
After a routine request is given a work order number, the task is given to a Operations' Supervisor for completion.
Crews are sent out to perform the task.
All activities associated with the work order are entered into the Management Information System. When the task is completed, the MIS documents the resources used for meeting the request of the customer.
Street Drainage and Maintenance
Normal street and drainage maintenance activities include street cleaning, repair, and resurfacing. Also included are bridge repair, ditch-digging and cleaning, rights-of-way mowing and cleaning, tree trimming and removal, and snow and ice removal. Routine maintenance procedures and repairs are completed with available resources.
Many major street or drainage repairs are first investigated by Public Works Operations Division. If existing street or drainage structures need major modification or repair, Public Works Civil Engineering Division is contacted to investigate and recommend project design specifics.
Included among the responsibilities of Public Works Operations are production, installation, and repair of traffic signs. Traffic signal repair and maintenance is provided by the Traffic Engineering Division. Operations is responsible for all traffic control pavement markings on City streets.
Things You Should Know...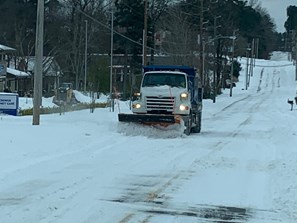 Concerns about streets or drainage should be directed to our Service Request Desk at (501) 918-3600 or dial 3-1-1 for requests and general information. This will expedite necessary investigations and/or scheduling. Requests can also be made through the City's 311 website ,www.littlerock.gov/citizenServices/311.aspx.
Potholes are usually patched with hot-mix asphalt. Other street condition problems are addressed by a number of proven repair methods. Operations works to locate the problem source in order to make complete and permanent repairs, provided weather and conditions allow. Public Works Operations determines need for street resurfacing based on engineering considerations. Questions about resurfacing should be directed to Public Works Operations at (501) 918-3600.
Operations schedules crews according to current activities and available resources at the time work is requested. A request will be scheduled as manpower, materials, and equipment are available.
Operations crews do not repair traffic signals. Traffic signal malfunctions should be reported to Traffic Engineering at (501) 379-1800.
If you are not sure where to direct your Public Works question, call our Service Request Desk at (501) 918-3600.
For More Information
Eric Petty, P.E. - Manager
Operations Division
3313 J. E. Davis Drive
Little Rock, AR 72209
Office: (501) 918-3647
Fax: (501 )918-3670
epetty@littlerock.gov
For general service requests contact:
Service Request Desk at (501) 918-3600 or dial 3-1-1.