Steps to Silver - Key Steps to Silver
This page will consider the Key Steps to Silver aspects of LAB's Attributes of a Bicycle Friendly Community and especially Little Rock's 2016 LAB report card (Fig. 1).  Explore below to learn more.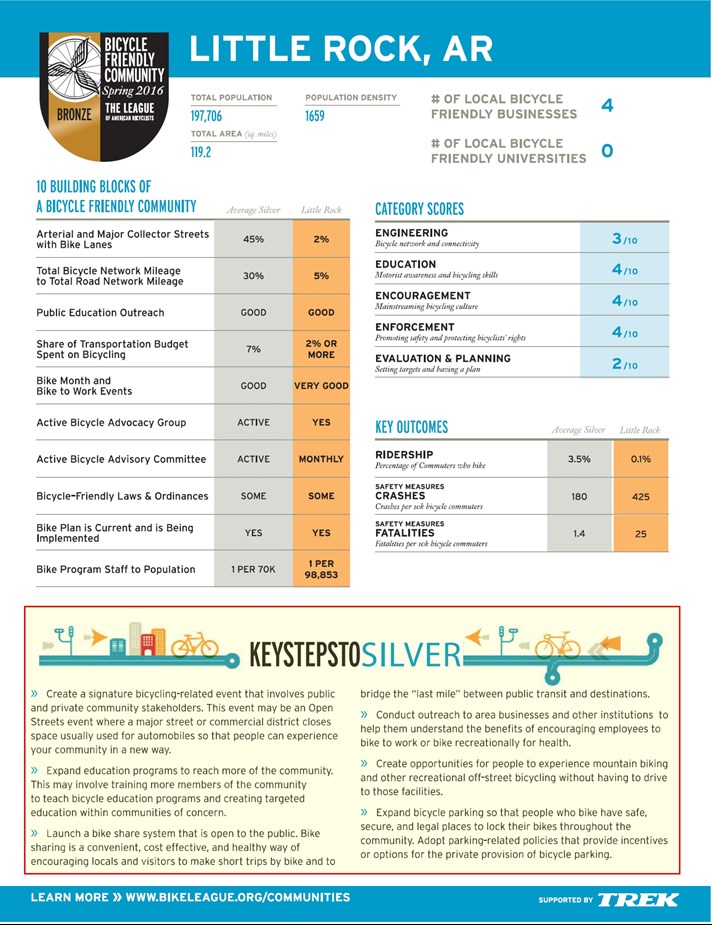 Figure 1.  City of Little Rock's League of American Bicyclists 2016 Bike Friendly Community feedback highlighting Key Steps to Silver items.
Progress Since 2016
Create a Signature Bicycling-Related Event: We have many bicycle-related events and we include bicycle visibility in local events related to but not organized around bicycling.  However, we have not created the large-scale Open Streets type event LAB proposed in 2016.
Expand Education Programs to Reach More of the Community:  The Friendly Driver Program engages an important demographic not previously reached - those who do not bike on the street.  Especially since 2016, local education and encouragement efforts have targeted women.  Washington Elementary, the public school at which we created and launched an after school bicycle education program, is 93% African American.  Hall High School (public), home of the Arkansas Interscholastic Cycling League's RazorbaCX Little Rock Composite, is 60% African American and 32% Hispanic (see also).  The Central Arkansas Library System's monthly bicycle workshop series is hosted outside a bicycle shop and attracts a broader demographic. 
In addition to attempting to broaden the draw of stand-alone bicycle education, the bicycling community creates programing within events that are already draws.  The 2019 Pop Up Southwest Little Rock event, located in a primarily Latino area of Little Rock, included a CALS bicycle workshop, a BACA learn to ride event, and a bicycle tour.  2017's Fiesta de Bicicletas was held within a larger Lantino celebration and promoted bicycling, taught bike safety by LRPD bicycle officers, and gave away bikes and helmets.
Launch a Bikeshare System:  Since 2016, the City of Little Rock has been working toward the launch of a quality bikeshare system that doesn't simply check a box, but provides a true transportation alternative in our community.  A Gotcha 200 bike, pedal-assist, lock-to bikeshare system will launch in Summer 2020 and we plan to be aggressive in expanding the system in phases after that.  Read here for an abridged history of the City of Little Rock's history with bikeshare.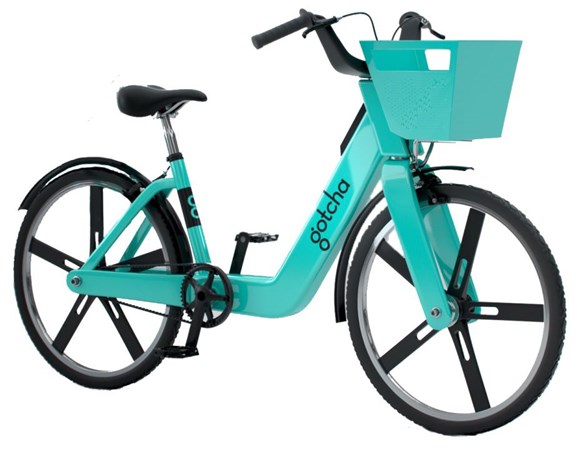 Figure 2.  In 2020, the City of Little Rock will launch its 100% pedal-assist Gotcha bikeshare system.
Business Outreach:  We have had the opportunity to engage with area businesses when we bring the Friendly Driver Program to their fleet drivers.  We also assisted McClelland Engineering with their Bike Friendly Business application in 2019.  We have noticed the Bike Friendly Business Bootcamp event in Fayetteville, AR (January 2020).  The Little Rock Convention and Visitors Bureau and Bicycle Advocacy of Central Arkansas have expressed an interest in exploring the feasibility of replicating the program in Little Rock.
Ride to the Mountain Bike Trail:  The Arkansas River Trail connects directly to the Pheifer Loop, the North Shore Trail, the Green Loop, Hospitality House Trail, and the Emerald Park Trail mountain bike trails north of the Arkansas River and mountain bike trails in Two Rivers Park, Allsopp Park (south), and River Mountain Park within the City.  Creating bicycle connectivity to the Arkansas River Trail creates connectivity to all these mountain bike trails.  Since 2016, creating bicycle connectivity to the Arkansas River Trail has been a priority.  The Overlook bike lanes (2016), North Rodney Parham bike lanes (2017), and Taylor Loop Connection all create connectivity to the Arkansas River Trail.  Arkansas Trail improvement projects like ART - West Terminus (2016), Broadway Bridge (2018), Union Pacific bridge (2018), and Riverfront Drive sidepath all improve the connection to the mountain bike trails as well.  In addition, Pulaski County is currently widening Pinnacle Valley Rd. to create a ~4.5 mile bike corridor from County Farm Rd. to Hwy. 300.  This corridor will be all bike lanes except for the portion that is a shared use trail within Pinnacle Valley State Park.  This will connect to mountain bike trails and other attractions within the park.
Expand Bicycle Parking:  Bicycle parking continues to be a challenge.  In 2016, the SOMA business district installed several bike racks highlighting their businesses.  In 2017, the City installed three bike racks on Main Street (in the 100 to 500 blocks) to strengthen it as a north-south bike corridor.  Private businesses and organizations may have installed additional racks on their properties and even in the public right-of-way; as of February 2020, even though a franchise agreement must be completed to install infrastructure in the public ROW, the City has no system of cataloging or mapping bicycle parking at this time.
2020 will bring four substantial improvements to bicycle parking: 1) BikePed Little Rock will publish City of Little Rock bike parking guidance to businesses and other interested organizations based on the Association of Pedestrian and Bicycle Professionals best practices and other resources including a request that installed, publicly available bike racks be reported to the CLR Bicycle and Pedestrian Coordinator, 2) Rock Region Metro will invest $25K into long-term bike parking solutions in Little Rock and North Little Rock to serve transit, 3) The City will install ~25 permanent bike corrals in downtown Little Rock.  Corrals will be deliberately placed to serve destinations and also somewhat evenly spaced in a network throughout the downtown area.  These corrals will serve as Gotcha bikeshare stations but will also serve privately owned bicycles.  While not a typical bikeshare arrangement, this stipulation was included in the City's bikeshare RFP to address our bike parking needs (pg. 6, 6.2).  Racks for corrals that serve transit and bikeshare may be aquired through the Rock Region Metro investment, 4) ESRI will visit Little Rock to do webGIS upgrades, which will enable wikimap functionality.  We will use that functionality to allow residents to map publicly available bike parking options.  These data will be ground-proofed by the CLR Bicycle and Pedestrian Coordinator and ultimately added as a layer into LR Bike Ways.