Headquarters Division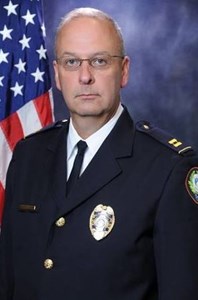 Major Ty Tyrrell
The Headquarters Division is under the direction of Major Ty Tyrrell, who reports to the Assistant Chief of Police - Executive Bureau.​
The Headquarters Division is comprised of two sections; Operations Support Section and Emergency Management Section. The Operations Support Section consists of the Property Room Unit, Warrants / Desk Officer Unit, Records Section, Technology Section, and Facility Maintenance Unit. Finally, the Emergency Management Section is responsible for emergency preparedness, and Officer Wellness.
Records Section
The Records Section is under the supervision of a civilian supervisor and is responsible for the maintenance, dissemination, and proper coding of all records by local, state, and federal laws. This section also ensures the timely submission and control of all records in a secure, orderly, and systematic manner.
The Records Section also contains the Telephone Reporting Unit, which is under the direction of a Sergeant and responsible for answering non-emergency phone requests for police service and taking reports over the phone. This unit reduces the need to dispatch officers to service calls that do not require the physical presence of uniformed officer(s). The unit is staffed with two civilians and five cadets.
Technology & Equipment Section
The Technology and Equipment Section is under the direction of a Lieutenant and is responsible for the maintenance and service of all departmental vehicles, the operation and maintenance of the department's Body Worn Camera Program, compliance with all A.C.I.C. /N.C.I.C. regulations, and assists the Command Staff in the coordination of Crime Analysis activities and reporting. This section also conducts project research analysis and compiles monthly, quarterly, and yearly reports as directed by the Chief of Police. In addition, this section ensures departmental compliance with appropriate criminal statistics reporting protocol, supervises the maintenance and upgrading of computerized police records management systems, and serves as a liaison with the Office of Information Technology and the Communications Center.