Meet the Chief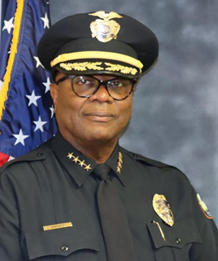 Police Chief Keith Humphrey serves as the 38th Police Chief for the City of Little Rock. The reformative Chief is working on ways to add additional initiatives that will provide opportunities for Officers and Civilian staff to completely transition to 21st Century Policing. Chief Keith Humphrey came to Little Rock after having been Chief of the Norman, Oklahoma, Police Department from 2011 to 2019. 
Chief Humphrey started as an officer with the City of Fort Worth Police Department in 1988.  In 1995, he joined the City of Arlington (TX) Police Department, being promoted to Sergeant (2000) and later Commander (2005) in that department.  In 2008, he was named the Chief of Police of Lancaster, Texas, serving in that position until 2011, before taking his position as Norman's Police Chief.
He holds a Bachelor's degree in Business Administration from Texas A&M University – Commerce and a Master's of Business Administration from Amberton University.  He is also a Graduate of the Harvard Kennedy School Strategies for Building and Leading Diverse Organizations and the Leadership in Police Organizations Program.  Chief Humphrey has been an adjunct professor at the University of Oklahoma, Langston University, and Argosy University, as well as an instructor for the FBI Law Enforcement Executive Development Association.
As our country and city experiences the reckoning with social and civil unrest, Little Rock has and continues to lead in justice and accountability efforts. Strides have been made to improve community relations by addressing policies and practices of LRPD. The Notable top ten REFORMATIVE accomplishments and changes since April 2019.
Implemented a No-Knock Warrant Policy
Created a Citizens Police Review Board
Added a Duty to Intervene policy
Banned Chokeholds
Development of a new Departmental Nepotism Policy
Chief's Open Door Policy
Added Non-Sworn Staff- Licensed Social Worker & Civilian Public Information Officer
Development of 21st Century Community Policing Divison
New Internal Affairs Process
Establishment of Field Training Units
In his career Chief Humphrey has mentored ten (10) Police Officers through the ranks, who matriculated to the rank of Chief of Police across the country; he continues the practice of commitment by ensuring leadership and development training for Officers. His innovative and inclusive policing does not go unnoticed. He has established a LBGTQ Community Liaison Division, implemented a Police Explorer Program, expanded the Freedom of Information Unit staffing to accommodate requests for Body Worn Camera video, and implemented an Online Reporting System. Projected new programs for 2022 is the Watchful Eye (Juvenile Program), and the RITE Training (Racial-Intelligence-Training-Engagement.)     
Chief Humphrey is a member of the Police Executive Research Forum, International Association of Chiefs of Police, National Organization of Black Law Enforcement Executives, and the FBI LEEDA Program. The Metro Little Rock Rotary Club, and the Little Rock Chapter of the NAACP.
Questions for the Chief?
Chief Keith Humphrey
700 W. Markham St. 
Little Rock, AR 72201
(501) 371-4621
LRPDChief@littlerock.gov