Building Services Division
Overview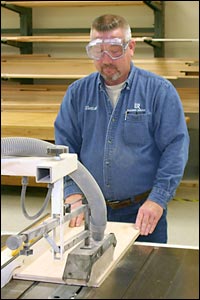 Building Services provides maintenance support for 424 buildings and service locations in Little Rock including Little Rock City Hall, the Little Rock Police Department, Fire Stations, the Communications Center, River Market buildings, all structures in City parks, emergency warning sirens, and many others.
The missions of the Building Services Division is to provide a safe, comfortable work environment for City employees while delivering all maintenance and preventative maintenance needed to extend the life of city-owned buildings and service locations.  In addition, Building Services provides contracting services for remodeling and new construction.
Building Services actively promotes energy efficient retrofits and replacements in all building components such as roofing, heating, ventilation, air conditioning, and lighting. Lifecycle costs, environmental impact and sustainability are some of the issues considered in the proactive approach to conserving resources today and for years to come.

Currently the City of Little Rock has two (2) buildings that have received an Energy Star rating. For more information on Energy Star Visit their site at http://www.energystar.gov/.
Building Services is also active in the U.S. Green Building Council's Leadership in Energy and Environmental Design (LEED) program. For more information on LEED go to the U.S. Green Building Council's web site at http://www.usgbc.org.
Building Services also administers a performance contract between Little Rock and a private contractor to perform certain energy efficient retrofits that are funded from energy savings. The current program has a guaranteed annual savings of $320,316 with activities such as installation of efficient lighting systems, conversion of traffic signal lights from incandescent to LEDs (light emitting diodes), computerized control of heating and cooling systems (HVAC), installation of a geothermal HVAC system, and other activities to reduce energy consumption. For more information on geothermal heat pumps go to Geothermal Heat Pump Consortium's web site at http://www.geoexchange.org.
Location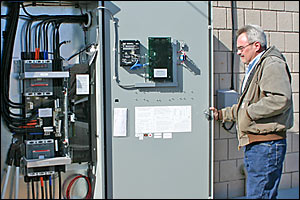 Building Services is located at 3312 J. E. Davis Drive, Little Rock, AR, 72209, at the City's maintenance facilities. You may contact Building Services personnel at (501) 918-3681. Office hours are 7:30 AM to 4:00 PM, Monday through Friday.
Heating, Ventilation and Air Conditioning Services
Building Services staff provides heating, ventilation, and air conditioning services for over 950 units in 170 City-owned buildings. Most of the major HVAC systems are controlled remotely to promote energy efficiency, and ensure prompt attention when problems occur.
Plumbing Services
All plumbing in the City's 170 buildings, and an additional ninety-eight (98) sites such as park restrooms and backflow prevention regulators are maintained by Building Services.
Carpentry Services
Building Services Staff performs carpentry and painting services required to extend the life of City-owned buildings containing approximately 1.3 million square-feet.
Electrical Services
Building Services staff maintains the electrical system in a safe and workable condition. In addition to the 170 City-owned buildings, Building Services has an additional 218 service locations including fifty-nine (59) electronic outdoor emergency warning sirens and various outdoor lighting systems.
For More Information
Jessie Trigleth, Manager
Building Services Division
3312 J.E. Davis Drive
Little Rock, AR 72209
Phone:  (501) 918-3664
jtrigleth@littlerock.gov
For Building Services Work Requests:
Butch Harrington at (501) 918-3680 or email:bharrington@littlerock.gov